If our calendar is right, it's probably been... oh, about a year since you've been to the desert, which means plenty has changed since you made that road trip to not see AC/DC (or do our list of 21 things to do in Palm Springs) last year. So what is the newest East on the 10? We tracked down all the best new stuff in Palm Springs and the rest of the desert:
Recommended Video
Ghost Kitchen: How This NYC Restaurant Is Responding to Coronavirus
Stay
Arrive
Any hotel that has you check in at the bar, then gives you a free cocktail along with your room key is all right by us. It's all part of this property's chill/tech-friendly vibe: guests can request any hotel service via text, use the property's bikes whenever, play games like bocce and ping pong (on super-cool custom-made marble tables, mind you), and they don't charge you a ridiculous amount (or anything at all, actually) to hang out in the poolside cabanas. Local architect Chris Pardo gave the place a modern, comfortable feel, with a nod to Palm Springs' famous mid-century style via clerestory windows and butterfly rooflines. Their airy eatery Reservoir focuses on interesting tacos, seafood crudos, and salads, and there's also a coffee shop serving locally made Joshua Tree java and an ice cream parlor (which doubles as a gift shop) scooping flavors like lavender and grape-nut that you can top with everything from popcorn to blue jellybeans. If you're around on a Sunday, check out the Assisted Living Pool Party, which is free and open to the public and features music by DJ Point Blake and a roving cocktail cart serving Bloody Marys, margaritas, rum punch, and plenty of beer.
L'Horizon Resort and Spa
After a two-year renovation and a fresh look care of designer Steve Herman, this 25-room boutique hotel (originally built in 1952 by renowned architect William Cody) reopened last summer and is now one of Palm springs' swankiest places to sleep, thanks to bungalow-style rooms with floor-to-ceiling glass, indoor and outdoor showers, fancy Frette linens, and private patios meant for mountain gazing. The serene setting is dotted with fire pits and water features centered around an infinity-esque pool and a guests-only cocktail bar (and, if you are there for a music festival, thankfully feels about as far away from Coachella as you can get). L'Horizon unveiled its spa in March and also just brought on Chris Anderson, vet of Chicago's Moto and Alinea, to head the kitchen at its sophisticated al fresco restaurant SO.PA.
V Palm Springs
With a $15 million complete overhaul of the old Curve Hotel property in South Palm Springs almost complete, the new V (co-owned by celeb attorney Mark Geragos) will have a good chunk of its rooms -- along with its main pool area complete with giant hot tub and tiki-themed bar -- open in time for Coachella and Stagecoach. Rooms have a desert vibe with earth tones and tribal patterns and most come with private patios or balconies equipped with comfy chair swings. The hotel plans to offer complimentary bikes, morning yoga, and pool parties and will also open its new restaurant in May.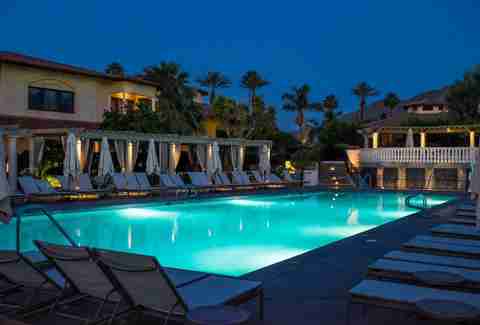 Miramonte Resort and Spa
OK, this longtime Desert favorite in Indian Wells isn't exactly new, but with $4 million in upgrades this past year it sorta could be: the villa-style rooms now feel super-fancy, and the new fire pits are perfect cocktailing hang-out spots after the sun goes down and the temperature turns; the restaurant on property, Grove Artisan Kitchen, does both higher-end New American cuisine and great bar bites like loaded nachos.
To eat and drink

Mr. Lyons
OK, so Mad Men references used to describe everything in Palm Springs are getting old, but you really can't set foot in this place without imagining Don Draper knocking back three martinis over a filet mignon. (Last time, we swear.) The décor is dark, glamorous and clubby and the dining room dishes up some serious steaks including a 24oz T-bone and a Tomahawk ribeye for two. If you want less of a big-deal dinner, order classic cocktails and upscale bar food like prime rib chili fries or chicken-and-serrano croquettes in the lounge.
The Barn Kitchen
When the two-year-old Sparrows Lodge quietly launched its little restaurant last fall, Chef Gabriel Woo's simple menu of sandwiches, salads, and snacks made with locally sourced ingredients quickly became a neighborhood favorite for lunch. More recently, The Barn Kitchen launched twice-weekly reservation-only suppers that get capped at around 25 people and are served family-style outdoors. Both are three courses for $45. And while the sides, starters, and desserts change weekly, Saturday is always steak night and their newly launched Wednesday suppers feature roast chicken.
Rooster and the Pig
This stylish little eatery has become a sensation over the last year, first with locals and now with everybody else, all going to town on Chef-owner Tai Spendley's creative Vietnamese-American offerings. Spendley changes his menu often, focusing on fresh and colorful dishes like braised beef with butternut squash and green papaya spring rolls along with more comfort-food-focused fare like a bahn mi burger and a lemongrass pork and shrimp noodle bowl. For drinks, try a craft beer on tap or one of the many $9 wines by the glass.
 

Rocco's Electric
Inside the former Tinto space at The Saguaro, this brand new weekends-only restaurant and bar (flanked with lava lamps and kitschy ceramic animal statues) focuses on fun cocktails like classic mai tais and rum Old Fashioneds with house-made Demerara syrup. (If you're in the mood for whiskey, be sure to ask bartender Mark to make you his killer Vieux Carre). The menu skews Mexican with an array of sopes -- go for the veggie version topped with fried paddle cactus -- ceviches, and a few larger entrees braised including pork shank with pasilla mole.

Eight4Nine
This restaurant-lounge that opened last summer is exactly kind of place you'd expect Palm Springs -- a dramatic, bright white space with soaring ceilings, a modern-meets-Hollywood regency design, an outdoor dining area, and a striking white onyx bar in the lounge packed with a cocktail-sipping crowd. If you're looking to eat, try the confit chicken tacos or the grilled artichoke with smoked paprika aioli off the bar menu. Since it's located in the happening Uptown Design District, you can stay on foot and hit other nearby spots like Birba and Workshop later on.
Smoke Tree BBQ
This Southern-style barbecue joint's latest location in Palm Desert features a similar menu to the Palm Springs original -- with hefty plates of hand-trimmed house-smoked meats like Carolina pulled pork, beef brisket, and baby back ribs along with salads, sides, burgers, and po-boys. While the Palm Springs location offers a mezcal-and-tequila-heavy cocktail menu, the new outpost features an array of craft beers from California breweries including Mammoth, La Quinta, and Bear Republic.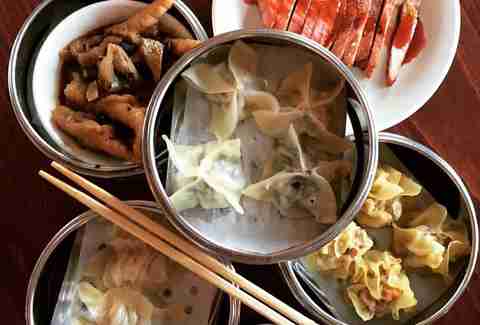 Talay Thai-Dim Sum
If you simply can't make it through a weekend without a dim sum fix, try this brand-new spot in a storefront on the 111 in Rancho Mirage. While, kind of interestingly, it's a Thai restaurant most of week, it's also the only place in the valley to roll out actual authentic steamy dim sum carts on Saturdays and Sundays, doling out everything from BBQ pork buns to shrimp balls to chicken feet.
Dead or Alive
Christine Soto and her industrial designer boyfriend Anthony Cioffi, both born and raised in Palm Springs, recently opened this sliver of a bar that serves up a thoughtful and rotating array of small production wines and craft beers. The minimalist décor is a mix of industrial (a machine-fabricated backlit bar anchors the place) and Palm Springs (vinyl-corded bar stools are made to look like outdoor patio chairs).
La Quinta Brewing Co. Old Town Tap Room
Given its name, it kind of makes sense that La Quinta Brewing Co. now has a presence in La Quinta. (Its brewery and original tap room are actually located in Palm Desert.) The new location opened last November in the middle of Old Town and is bigger than the brewery tap room; they also have an outdoor patio, live music on Thursdays, and, in addition to La Quinta's own brews, you can find a bunch of guest handles along with wine and cider on any given visit.
To do and buy

BMW Performance Driving School
If your drive out to the desert doesn't make you never want to get in a car again, you can try the course at this BMW Performance Center, one of only two in the country. Though you can sign on for intense one-to-two-day schools, you can also just plunk down $299 for a two-hour session that includes getting behind the wheel of an M-class model and doing six laps around the track and then sitting shotgun while a pro driving instructor shows you what that baby can really do during something called a "hot lap."
Yoga on the Great Lawn at Sunnylands
Local instructor and founder of Palm Springs' Urban Yoga Center Kristin Olson offers a free outdoor yoga class every Friday at noon on the lawn of the fabled Annenberg modernist estate. Her program will wrap for the season at the end of April so if you go, you might very well be the only person you know to say you did a downward dog where Obama slept. (Well, kind of.) You can also tour part of the seriously stunning 25,000sqft home if you purchase tickets in advance.
Day's Market LA
Given the high likelihood that you'll have sweated through everything you brought a day into your trip, pick up some new threads at this brand-new lifestyle pop-up shop that shoe designer Brian Day has opened as a prelude to his soon-to-be-launched Downtown LA store. In addition to plenty of hip sneaker brands like Comme des Garcons, and Public School, there's a mix of cool men's and women's clothing, many from LA-based brands including Apolis, Beverly Hills Rugby Club, Generic Surplus (an offshoot of the shoe label Generic Man that Day founded) along with everything from Moroccan market bags to Steam apothecary products to $25,000 pieces of art.  
Sign up here for our daily LA email and be the first to get all the food/drink/fun Los Angeles has to offer.
Lizbeth Scordo is a freelance writer who can never get enough of Palm Springs. And yes, she's lived through a summer there. Please stop asking. Follow @lalizbeth