12 Reasons to Drive to Palm Springs
You deserve a little R&R in the desert.
To paraphrase the great lyricist Randy Newman, "We love LA." But from time to time we could all use a break from the traffic and smog. One of the best places for weary Angelenos in need of a little rest and relaxation is Palm Springs, just a two-hour drive from the city. Now that the low desert's blazing summer heat has begun to taper off, fall is a great time for a day trip or weekend excursion.
Palm Springs is home to a vibrant LGBTQ community—including the nation's first all-LGBTQ city council—plus art and culture, as well as an abundance of mid-century modern architecture. A field of wind turbines welcome you to town, and once you're there you'll be welcomed by leaning palm trees, and craggy mountain ranges that keep inspiration flowing. Here you can find warm weather, outdoor activities and an abundance of restaurants and shops. You'll also find plenty of opportunities to lounge poolside and do close to nothing, if that's more your vibe. Use our recommendations below to craft your perfect weekend. You deserve it.
Editor's note: The city of Palm Springs requires proof of COVID-19 vaccination status or a recent negative COVID test result for entry into the city's indoor bars and restaurants. Make sure you plan accordingly.
Stay in a new-ish hotel
Palm Springs takes relaxing very seriously which is why you're guaranteed to find a hotel that not only has comfy and impeccably designed rooms, but also includes amenities to make sure you have a blissful stay. The town has some popular picks that never disappoint (yes, we're talking about The Ace and the Parker), but why not try newer accommodations like The Cole? While the hotel opened in February 2020, we can all agree that year was a wash. Stay in one of their 30 rooms that are outfitted with classic and upscale mid-century modern decor. Lay back and sip a drink by their pool and enjoy the fact that you won't get splashed by someone's kid because this hotel is 21+.
How can Casa Cody, the oldest operating hotel in Palm Springs, be considered "new-ish"? By undergoing an extreme makeover! The hotel reopened in early 2021 with Spanish-inspired and historic buildings surrounded by bougainvillea, cacti, and other desert plants. Take part in one of their "rituals" like evening tea, yoga, or pick your own citrus from the trees on the hotel's property and ask for your own juicer to enjoy freshly squeezed juice, all included with the price of your stay. Casa Cody is located in the Historic Tennis Club neighborhood, making it perfect for downtown exploring.
TBH, Dive had us at "free glass of rosé at check-in" but their generous amenities, spacious rooms, and 1960s French Riviera-inspired decor further solidified their spot. Dive offers a complimentary daily organic continental breakfast for guests as well as a poolside lunch menu.
Affordability and chic design meet at Les Cactus. The petit 27-room hotel has a whimsical design and caps group reservations at four guests for a price point that makes you say "Yeah, I can swing that."
Load up on new and new-to-you goods
Look for retro wares in the land of mid-century modern majesty. Palm Springs may not have invented the style but they sure do embrace it. Go on a vintage crawl on Palm Canyon Dr. and gander at shops like Bon Vivant, Modernway, and Revivals. There you can find eccentric accents and mid-century modern furniture to buy or give you major design inspo. While you're around, you might as well spruce up your wardrobe at vintage boutiques like The Frippery, Iconic Atomic, and Bazar.
If you prefer to be the first owner of your items, check out the Mojave Flea Trading Post. Contrary to its name, the indoor department store features about 95% new and 5% vintage goods. Browse the stylish works of 40+ local artisans and find art, jewelry, clothes, natural beauty products, home goods, and more.
Support the LGBTQ community
Bars and clubs were hit especially hard during COVID closures, so make sure to support LGBTQ-friendly establishments by buying drinks and getting sweaty on the dance floor. You know, for the economy. Chill Bar offers two different scenes. The front bar is more chill (get it) and great for a casual drink with friends. The back bar area has the largest dance floor in Palm Springs and music by internationally renowned DJs. The party doesn't stop at Hunters and not just because their happy hour is 10 am–7 pm. Their weeks are packed with entertainment like karaoke, drag shows, trivia, and DJs. Self-proclaimed as the friendliest place in town, Street Bar is fun, with a neighborhood feel and drinks that are guaranteed to make you feel friendly.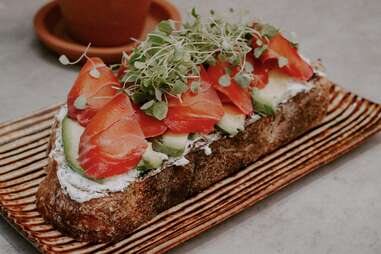 Enjoy new restaurants
Boozehounds makes you wonder: is this a dog-friendly restaurant or a human-friendly dog restaurant? Either way, we're all in! The restaurant has a large patio perfect for your pooch or if you prefer to dine sans dog, they have an indoor dining area. They serve a wide selection of foods from Japanese yellowtail to a double cheeseburger, all inspired by Southern California. They even have a menu just for dogs with items like a bowl of skirt steak, steamed rice, and sweet potato. As the name suggests, they have a great selection of booze in the form of cocktails, wine, and beer. Not to leave dogs out, you can order your fur baby a weenie-teenie, a concoction of chicken broth, chicken whipped cream, and a dog biscuit crumble. Non-alcoholic, of course.
In March 2021, Palm Springs welcomed two new restaurants; El Patio and Sam's Place. The former is a family-owned Mexican restaurant that will make you want to move in after you have their breakfast enchiladas or their chile relleno stuffed with steak and topped with a creamy chile pasilla sauce. Make sure to save room for their churro cart that comes with three different dipping sauces and sprinkles. Sam's Place feels warm and welcoming like they've been in their location for years despite recently opening. Our suggestion is to come for breakfast, eat outside, and try their never-too-soggy French toast.
Check out a happy hour
Decent happy hours can be hard to find. Happy hours on the weekends, even harder. Luckily, the bars on this list hit both notes. Bootlegger Tiki fulfills all your tiki bar dreams: kitschy decorations, moody lighting, and to top it off, happy hour craft cocktails for $5 and beer for $3 from 3–4 pm every day. At Pinocchio's, happy hour isn't a time of day, it's a lifestyle. The restaurant offers an all-day happy hour starting at 7 am.
Get your art and culture fix
Keep cool and explore the Palm Springs Art Museum, where you can see exhibitions that focus on the culture and themes of the region like Native and Western American art, contemporary California art, and mid-century architecture.
We've pushed Robolights before and for good reason. The outdoor art exhibition is impressive, unique, and answers the question: what would a Candy Cane Lane look like shoved into one property that also happens to be a sci-fi dystopia? Even if you've seen it before, it's worth another look as there's something new to be seen every time. Robolights is free and open by appointment only from 9 am–7:30 pm, seven days a week. Appointments can be made by texting 760-774-0318.
Recharge at a spa
Between work, existential crises, and living through a global pandemic, we all could use a relaxing spa moment. Book a massage at the Ace Hotel's Feel Good Spa. Try their Rose Goodness, where a masseuse will use quartz massagers to get deep into your muscle tissue. The use of rose quartz is said to help replace toxic emotions and blockages to the heart chakra with loving energy. Release tension and stress and gain clarity through a holistic treatment at The Spa at The Colony Palms Hotel & Bungalows. They offer a wide range of services including massages, facials, body treatments, vibrational sound healing, and acutaping.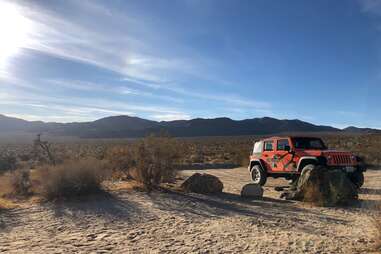 Go on a tour
Cruise through the desert landscape on two wheels (or by Jeep or by hiking) with Big Wheel Tours. If your interests are more architecture than nature, check out Modern & More Bike Tours and see architecturally and historically significant homes in South Palm Springs.
If biking is not your style, hop in Palm Springs Mod Squad's van and take part in a mid-century modern architecture tour. Choose the martini option to learn more about the cocktail and cap off your tour with James Bond's favorite drink. Their expert will explain why martinis are shaken and not stirred. They also offer socially distanced options for those that prefer to stay in their own car.
Hike historic trailheads
If you prefer to see the desert terrain by foot, the Indian Canyon Trails offers a plethora of hiking options that include cool streams and lush oases. You may even see a BigHorn Sheep. Indian Canyons is the ancestral home of the Agua Caliente Band of Cahuilla Indians, and you can learn more about their history through preserved rock art, irrigation ditches, and food preparation areas.
Explore desert plant life
See desert animals and plants thriving at The Living Desert Zoo and Gardens. The world-class wildlife and botanical park has almost 430 animals, including cheetahs, giraffes, and camels as well as creatures native to the area. After that, head to Moorten Botanical Garden aka Cactus Castle and explore over a dozen arid biomes and thousands of specimens sourced from all over the world. Plus, see rocks, crystals, fossils, gold-mining relics, and desert tortoises. If you feel inspired to become a plant parent after your visit, Moorten's has a nursery for you to take home your own prickly bundle of joy.
Take a windmill selfie
The rows and rows of wind turbines off the I-10 on your way to Palm Springs are almost as iconic to the area as palm trees. If you've ever been curious about what they do, reserve a tour with Palm Springs Windmill Tours to see these 300-foot behemoths up close and learn how they power the entire Coachella Valley.
Tee off after the sun goes down
If you burnt too much daylight at the pool or on hikes and weren't able to get a round of golf in during the day, The Lights at Indio Golf Course has you covered. The Desert's only night-lit course allows you to hit the links after dark.
Keisha Raines is a LA-based freelance writer born and raised in the Palm Springs area with a tattoo of the San Jacinto mountains to prove it.