From vegan to paleo: the 6 best spots in LA to take a picky eater
Because this is Los Angeles, at some point you're going to end up on a date with a vegan celiac who can't eat anything that's the color orange, or served on plates, or that's been touched by a left-handed chef.
But you? You're still going to want to chow down on something delicious. Well, have no fear: we found six awesome spots that'll cater to six of the most common diets, all with dishes so good (for both of you), that there will be another date. Unless you screw it up.
Vegetarian
Olio Pizzeria & Cafe
Beverly Grove
What your date will get: Classic Margherita
What you'll get: Wild Mushroom & Crispy Prosciutto
How much it'll cost you: $40
Zagat-rated as one of the best pizzerias in the country (and with a new location we told you about just last week), this tiny joint's massive, wood-burning stove churns out the perfect blistered crust every time. Bonus for your date? The meat-free margherita's so good, it may convert you to their cause. For one night. Maybe.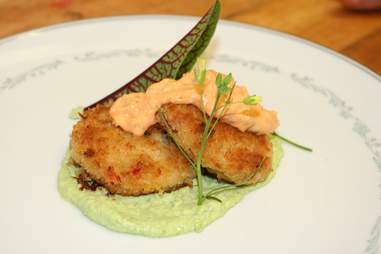 Nicole Disotell
Vegan/Raw
Willie Jane
Venice
What your date will get: Vegan Crab Cakes
What you'll get: Cornmeal-Crusted Trout; Side of Mac & Cheese
How much it'll cost you: $50
 
As long as they're willing to overlook your passion for animal flesh, there's plenty for the two of you at this vegan-friendly, West Siiiiiiiide eatery. Just maybe save the steak-eating for date three.
Gluten-Free
Salt Air
Venice
What your date will get: Seared Trout with Zucchini, Squash Blossom & Grilled Scallion
What you'll get: Aged Cheddar Cheeseburger w/ Russian Dressing & Fries
How much it'll cost you: $75
 
But c'mon, really... what is gluten? Ponder that while you share a few GF small plates, like snapper crudo and shrimp salad, before parting ways (culinarily speaking) at the entree.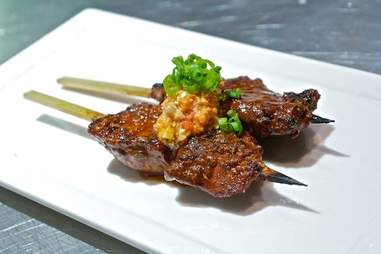 Cathy Dahn
Low-Carb/Paleo
Picca
Pico-Roberston
What your date will get: A Sampling of Anticuchos: Grilled, Skewered Meats like Ox Tongue, Diver Scallops & Salmon (to share, of course)
What you'll get: Ceviche Paiche w/ Avocado Relish (to share); Arroz con Erizo Seafood Paella (to keep)
How much it'll cost you: $60-100, depending on how many meat skewers you can handle
 
Because if you were a caveman, you'd probably choose to live in the caves of Peru... where there's SO MUCH MEAT. The plates here are all small and sharable, but with so many gilled meats and fresh ceviches on the menu, you won't miss bread.
Kosher
Ditmas Kitchen & Cocktail
Pico-Robertson
What your date will get: Fettuccine Arrabiata w/ Beef Rib
What you'll get: Eye of Rib w/ Potato Crisp & Asparagus (or, if you're feeling especially carnivorous, the 24oz Cote de Boeuf)
How much it'll cost you: $70 ($120 if you go for the Boeuf)
 
Pork, shmork. This rabbi-approved kitchen is offering up seven different beef dishes good enough to make you forget bacon ever existed. Almost. 
Juice Cleanse
Local Table
Downtown
What your date will get: Cashew Milk made with Dates, Vanilla, Cinnamon & Sea Salt
What you'll get: LT Chicken Breast w/ Red Quinoa & Crispy Kale  
How much it'll cost you: $35, unless you treat them to a second juice
 
Okay, admittedly this one is terrifying, but unlike the (approximately) 12 million other juice bars dotting the city, Local Table serves real meals too, all of which require your favorite dinnertime activity: chewing.
Keshvar Alikhani is a Thrillist contributor and she really, really, REALLY enjoys chewing. Follow her on Twitter.