It sometimes seems like half the city's vegetarian -- and depending on what diet's en vogue, that's probably close to right. Thankfully, there are a ton of chefs in the city who understand that not everyone's in that boat -- which is why there are both a bunch of actually good vegan and vegetarian restaurants, and spots that have plenty of options for your veggie friends, as well as actual flesh to keep you happy. Here are the best spots for vegetarian eats in LA (that people who eat meat will love, too).
Recommended Video
It's Worth Getting Sloppy For This Grilled Cheese Taco
Westwood (and other locations)
This beloved East Coast ultra-casual Mediterranean chain finally dropped in LA this year, and has already become beloved by both vegetarians and meat lovers for its ultra-flavorful, customizable bowls. Ingredients are sourced from local farms, with options including seasonal vegetables and falafel, as well as killer dips including lemon-herb tahini and the ultra-delicious Crazy Feta.
Silver Lake
This vegan NY import's been super-buzzy since opening next to the first 365 by Whole Foods in Silver Lake: it makes everything from pesto "meatballs" to burgers from scratch, and also does vegan ice cream, as well as a packed weekend brunch.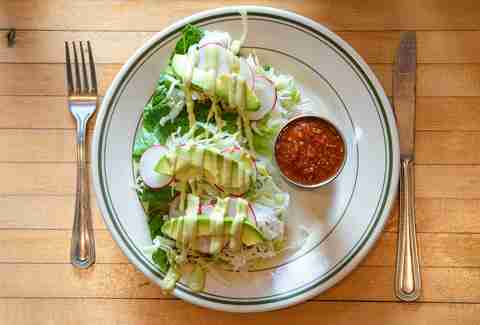 Venice
The latest Abbot Kinney hotspot is this vegetarian-leaning (but vegan-friendly) foodery. It's got stone-oven pizzas as well as hearty options like a summer squash lasagna and a carbonara with spaghetti squash and fake bacon. You can wash everything down with cold-pressed cocktails -- if you're lucky, at a seat on the outdoor patio.
Echo Park
This Echo Park gastropub (with over 70 beers on tap) is the perfect place for vegans and vegetarians who have meat-loving friends, thanks to a menu that skews mostly veggie but also throws a couple bones (get it??) to meat eaters. The buffalo cauliflower was an early trendsetter (and is still a must-order), and the brunch includes a ton of tofu-based options. But its burger (yes, with actual beef) will placate anyone who's down to go full carnivore.
Downtown
If there was an LA-based answer to Portlandia, it'd feature a sketch about this Arts District oasis, which is part plant-based kitchen, part juice bar, part yoga studio wellness center (yes, seriously). It may be the only place in LA where you can get a deep-tissue massage and a kelp noodle summer roll back-to-back. For brunch, it's got both egg-loaded and eggless options, depending on how hardcore you want to be.
Westwood
According to tabloids, for the brief moment Beyonce went vegan, Native Foods was her go-to spot -- and if it's good enough for the Queen, it's good enough for you. The portions are generous, the flavors, uh, flavorful, and the faux meat (especially the corned whatever that stuffs the Reuben) so meat-like that it'll fool all but the most devoted carnivores.
Hollywood
Smack in the heart of Hollywood is this little Peruvian restaurant, which uses California produce to create Latin American dishes. It may lack meat, but it's far from lacking in flavor -- the mole verde enchilada's stuffed with cashew nacho cheese and lime crema, and the blue corn tamale's got a heaping helping of sugar pie pumpkin.
Sherman Oaks
The Valley's stacked with veggie and vegan options, but this meatless Pan-Asian kitchen blasts out coconut curries, pad Thai, and Japanese gyoza that could compete with any fully meaty options. Make sure to hit the goji berry-infused ginger-quinoa fried rice for a bit of sweetness with all the savory.
West Hollywood
It's probably the most famous (and most expensive) vegan restaurant in LA, and with good reason: the food at the date-friendly Crossroads is made with the same precision and care that any major chef would give his or her product, whether or not meat was included. Start with the lentil flatbread, then work your way through the menu; the pastas are mouthwatering, and the desserts -- including a full-vegan hot fudge sundae -- will knock you out.
East Hollywood
This basically hidden Indian restaurant's an all-vegetarian mecca, in a part of town where you'd be far more likely to find a great selection of bargain tires than incredible Far East eats. Go through the iron gate into a deceptively huge dining room and get the combos, which will hit you with chickpea curry, coconut chutney, and plenty of hearty flavor.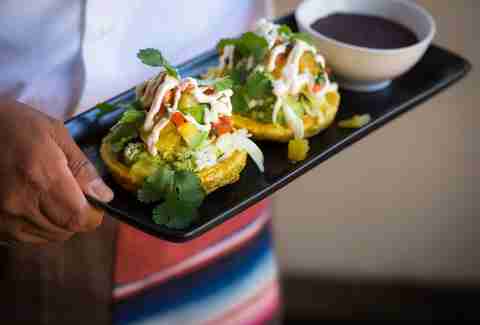 West Hollywood
This vegan Mexican restaurant pleases meat eaters as well, thanks to ultra-hearty portion sizes and flavors that will make your tastebuds happy instead of wistful. Lunch here has also become a favorite, thanks to massive bowls of lentils with peanut sauce and pineapples, and the drinks (including weed-infused cocktails -- seriously!) are constantly heralded as among the best in the city.
Redondo Beach
This South Bay Mexican restaurant doesn't play favorites: it has meat if you want to go for it, but also a separate vegan and veggie menu if you don't think the slaughterhouse rules. That means actual short rib tacos (and short rib-less cousins) as well as guacamole (and margaritas) for everyone.
Hollywood
Vegans have basically made this place their mecca, and if you're a meat eater who's bitten into its faux Big Mac, it's easy to see why. It's somehow juicy, savory, and fulfilling (and tastes, uh, meaty) even without any cow products at all. That said, pro tip: you can add real cheese instead of the cashew stuff by request, and if you're not full-boat vegan, that's definitely what you should do. It also has BBQ "pork" sandwiches, mac & cheese, and fried "shrimp" -- yeah, it's confusing, but it's all delicious.
Sign up here for our daily LA email and be the first to get all the food/drink/fun Los Angeles has to offer.