A few good reasons to eat weird animal parts: 1) you're cutting down on food waste; 2) anyone can make a delicious meal out of tenderloin, but knowing how to cook an animal's so-called lesser cuts takes real skill; and finally, 3) timid diners will fear and respect you, which is way more valuable than love. Here are 15 tasty LA dishes based on parts that no one should ever throw away again.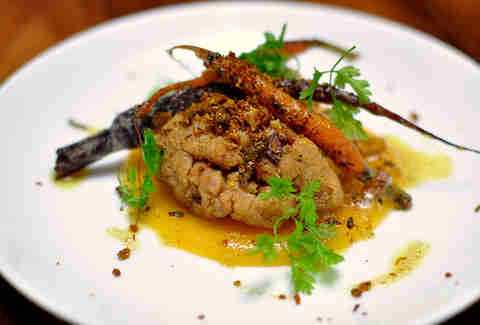 Veal Brains at Animal
Of the many eclectic animal parts featured on Jon Shook and Vinny Dotolo's carnivore-friendly menu, the cranial matter of young calves is a favorite. It's like biting into a crisp cloud -- one that's lightly breaded, cooked to a custard-like consistency, and offset with sweet apricot purée.
Chicken Gizzards at Bestia
At Bestia (Italian for "beast"), it's totally normal to eat the food-processing organ found in a bird's digestive tract. It was also totally normal for your grandma to eat this organ, but she probably didn't sear it to a crisp, serve it on a bed of roasted beets, and top it with blade-thin slices of cheese.
Ignore the bulgogi and kalbi at this Korean BBQ place, and go straight for their specialty -- intestines. All night long (all night), servers will come to your table, cook the raw, fatty tubes at your grill, then slice them with scissors at the peak of their sizzling-hot crispness.
Sweetbreads -- that harmless-sounding name for young calf glands so often accidentally ordered by people looking for cinnamon rolls or something -- are kind of the OG of "parts", having found their place on fine dining menus well before many of the tasty random bits populating today's menus. Get some variety in your pancreas/thymus diet with this Argentinian steakhouse's slightly charred mollejas de ternera -- moist, tender, and seasoned with a little lemon and salt.
Of all the places that have perfected the art of cooking the spongy, dense tissue, Chi Spacca's the only one that sticks it in the center of a flaky, hearty pie filled with beef cheek and mushroom. For those who like their cow with more cow.
If you like your tongue action "with a toasty tortilla" instead of "French", head to the Olympic and La Brea intersection. There, you'll find tender, melt-in-your-mouth shreds of lengua folded into burritos, tacos, or quesadillas and, if you so desire, topped with smoky chile arbol and tomatillo salsa.
Chicken feet are pretty polarizing -- you either like them, or you're like, "are you kidding me there's no way in hell I'm eating these things and by the way you're now dis-invited to my wedding you crazy person". If you're part of the more adventurous camp, head to this Monterey Park joint for fall-off-the-bone meat that tastes like it's been marinated in spices for weeks.
Any day you find this hand-missile on Guerrilla's rotating menu is Thanksgiving. Besides that neck, the burrito's also stuffed with scrambled eggs, braised leeks, and raw tomatillo.
To some people, pig ears are dog treats. To the Lazy Ox, they're a delicious (and surprisingly filling) starter for humans, the cartilage cooked to a half-crunchy, half-chewy consistency and served with dipping salsas and pickled cucumbers. Unless he regularly rescues kids from wells, your dog doesn't deserve to eat this well.
If you need further proof that pigs taste great nose-to-tail, order the tail at this WeHo spot, which specializes in Thai street food. Don't expect a plate of curly bits though -- they work with the tail's chunky base, frying each one in a light batter and seasoning it with lime, garlic, and chile.
Beef Heart at Picca
The heart's the hardest-working muscle in your body, the James Brown of your vital organs, so naturally most are going to taste a little tough and snappy. But Picca's found a way to tenderize their anticucho corazon -- bite-size beef hearts on skewers -- and enhance the robust flavor with a kicky walnut pesto.
Still feeling the effects of Friday night? Greasy diner food's an option, or you could take a cue from the Koreans, who like to cure next day migraines with haejangguk, a soup typically made with congealed ox blood and cabbage. Yangji Gamjatang's version is packed with good stuff, all simmered in a deliciously hearty, headache-killing beef broth.
The cousin of chicken feet, duck feet are a little bonier (and fortunately look a lot less like a human hand), giving a palatable crunch to this Thai joint's duck feet salad, which comes dressed in a spicy-sour mixture of chili and lime juice.
Chef Kuniko Yagi's simply marinaded dish is a great introduction to a cut that's popular in Europe, but just gaining ground here in the States, where some believe it's destined to become the next pork belly -- hopefully it can live up to expectations, because that's the pig-parts version of being anointed the next Britney.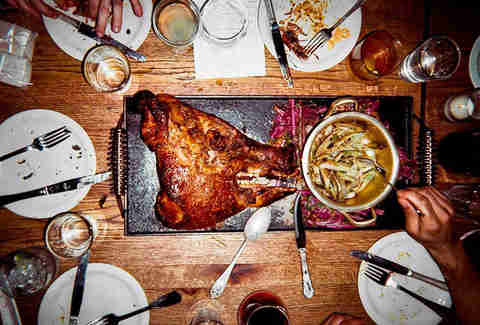 Give Top Chef winner Ilan Hall's restaurant 24-hours notice to prepare their roasted-for-12-hours pig's head, which is then sliced in half and served with snout, ears, and other extremities intact. The porker's mug, enveloped in tender meat and a layer of crisp skin, serves five or six mouths. Better eyeball that eyeball though, because that's one part that's tough to divvy up.