Los Angeles It's easy for most to dismiss ultra-famous Beverly Hills thanks to the Aaron Spelling clichés of yesteryear. But you, dear reader, are way smarter than most. You know there are delicious eats to be had throughout this neighborhood, from hot new bistros to classic neighborhood diners. These are the 12 best restaurants tucked in your 90210 to 90212 file:
143 S Beverly Dr, Beverly Hills, CA 90212 The couple behind Chaumont has been bringing high quality croissants, yule logs, eclairs, cakes, and tarts to Beverly Hills for the past few years. They make them with traditional European equipment and are sticklers for the old way of doing these sorts of things. Go in the morning and stay for a breakfast that includes a selection of omelettes, sandwiches, salads, and other entrées. More Stuff You Will Like
Recommended Video
Go Camping in the Comfort of Your Own Home With S'mores Dip
  347 N. Canon Drive, Beverly Hills, CA 90210 Sometimes you're in the mood for great New York Style pizza in Beverly Hills, and who better to grant your wish than a Bronx native with his mom's marinara recipe? Whether you visit the Canon or Beverly Dr location, you're in store for a solid, thin slice of heaven at this area favorite for over 20 years. Richie has even bottled his sauce, should you wish to replicate the pizza -- at your own peril. Continue Reading
  9400 W Olympic Blvd, Beverly Hills, CA 90212 This brand-new, Kelly Wearstler-designed restaurant with mid-century lines and a beautiful poolside patio isn't all looks. It's also got fantastic brunch food, from egg white frittatas and biscuits to ricotta pancakes and bloody marys. Whether you're with a date, friends, or family, you'll find something on Viviane's brunch menu worth ignoring your companions for.
Best wine bar: Wally's
  447 N Canon Drive, Beverly HIlls, CA 90210 Pull up a stool at one of the high top tables and enjoy great French Provence fare with fresh, Californian ingredients -- go simple with some grilled octopus to share, or go big with the bone-in half chicken. Then, of course, you'll pair your dish with a wine of your choice -- and whether you're going by the glass or the bottle, red or white, Italian or Argentinian, there are plenty of choices here.
  235 N. Canon Drive, Beverly Hills, CA 90210 Order the burger at Bar Bouchon confidently, and without looking at the menu, since this hidden gem is, well, not
on
the menu. Saddled between freshly baked brioche buns and tightly packed underneath lettuce, tomato, and your choice of cheese, this thick but lightly seasoned patty packs a punch. The thin-cut fries with the skins left on make for that essential, crunchy side of potatoes.
212 N Canon Dr, Beverly Hills, CA 90210 With 10 seats at this omakase-only bar, and its namesake being the (in)famous "Sushi Nazi," you'd better believe that no-nonsense Nozawa Bar is also reservation-only -- and no last-minute cancellations without financial penalty. It's all worth it, of course: Master Chef Osamu Fujita serves up a 20-plus-course meal featuring the freshest of fish. You'll get primarily nigiri, with a few sashimi and handrolls, at the round price point of $150 per person.
  50 N La Cienega Blvd #120, Beverly Hills, CA 90211 Open for dinner and lunch, this new spot offers a contemporary spin on classic Indian flavors while incorporating local ingredients. The butter chicken is not to be underestimated. There are plenty of vegetarian and gluten-free options as well, like the chote mote aloo and the fisherman's biryani, making this a great place to invite your veg-obsessed friends and call it a group tasting.
414 N Beverly Dr, Beverly Hills, CA 90210 Nate'n Al has earned its reputation as a deli institution over the past 70 years. The pastrami is well-seasoned and juicy, and the hot dogs have a satisfying snap to them. Need more proof? Larry King has been known to eat here up to seven days a week -- and if it's good enough for Larry King, best believe it's good enough for you. 
Best vegetarian option: Momed
233 S Beverly Dr, Beverly Hills, CA 90212 There are lots of intriguing meatless menu items resulting from Momed's take on Mediterranean -- the brunch menu includes great egg selections, like the Shakshuka, and sweet options like the challah bread cinnamon French toast. You'll also find a wide range of flatbreads, salads, and soups, as well as an avocado hummus that'll change the way you look at hummus.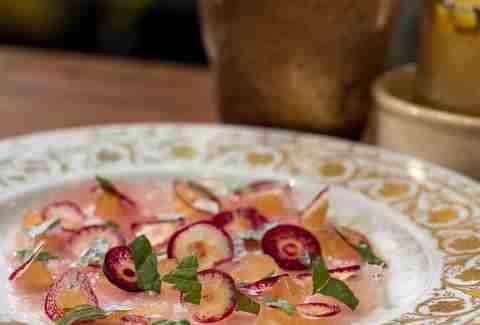 Best tasting menu for when the parents are paying: Maude
212 S Beverly Dr, Beverly Hills, CA 90212 Best known for hosting that one cooking show, Curtis Stone is also the owner of this top-shelf spot (it's named after his grandmother). Reservations are tough but worth the hassle, because who else could consistently provide an inspired tasting menu centered around one ingredient per month? Stand by your phone, ready to strike as the clock ticks toward reservation time. 
225 N Canon Dr, Beverly Hills, CA 90212 Considering that your glass of Macallan neat will be enjoyed out on an upper-floor patio furnished with a fireplace and endless Hook's 3-year-aged cheddar, as well as pressed strips of bacon, you might not have a problem with a $50 per person minimum bar tab. But you're also here for the full food menu, which starts with Fennel Risotto Balls and goes as big as a 9oz Dry-Aged New York Striploin. If you just want something small, though, you could always go with the caviar.
Best patio dining: Spago
  176 N Canon Dr, Beverly Hills, CA 90210 The legendary Beverly Hills giant known as Spago continues to reign supreme. It boasts arguably the best wine list in the country, but its brick-ensconced, romantic patio also makes it perfect for dates. Go a la carte from the three-tiered menu, or go all out with the tasting menu. Plus, Wolfgang Puck is still around to fine-tune his flagship, ensuring the level of service and quality of food is up to his name's snuff.
  9570 Wilshire Blvd, Beverly Hills, CA 90212 It wouldn't be a true Beverly Hills power lunch if farmer's-market-fresh fare and a view of the Hollywood Hills weren't on the bill. Freds has both, with a weekend brunch menu also in tow for your mid-morning aspirations. After all, pizzas, pastas, and cocktail toasts taste much better with an eighth floor view.
Sign up here for our daily LA email and be the first to get all the food/drink/fun Los Angeles has to offer. Esther Tseng is a freelance food, drinks, and travel writer who is based way east of Beverly Hills, but she's been finding herself crossing The 405 a lot more often recently. Follow her along on her eating and drinking adventures in LA and beyond: @estarLA.