We can probably all agree that a hearty plate of spaghetti and meatballs with garlic bread, a quick slice of pizza, and a plate of chicken Parmigiana at a neighborhood spot can be great, but sometimes simple won't do. Thankfully, Los Angeles has amassed a wealth of regional and high-end Italian restaurants that actually make pastas and cure meats in-house and deliver a higher class of hospitality -- which is why now's a good time to update you on LA's best Italian restaurants.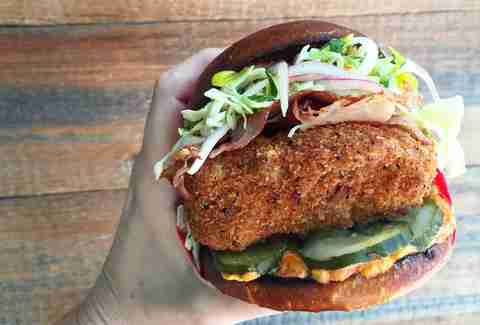 Silver Lake
The City of Los Angeles drained the Silver Lake Reservoir and Spaceland became the Satellite back in 2011, but the neighborhood is still popping thanks to a new crop of restaurants, none better than Alimento. Zach Pollack, Sotto's co-founder, traded his previous post's Southern Italian focus for the top half of the boot. That doesn't mean that Pollack is bound by tradition. Far from it at this family-run, glass-fronted restaurant, where a soup-stuffed tortellini en brodo resemble xiao long bao, and chicken Milanese forms the backbone of one of LA's best fried chicken sandwiches.
Mid-City
Gino Angelini has been a champion for his country's cuisine since emigrating to LA from Italy's Emilia-Romagna region. He cooked at some of the city's best Italian restaurants before opening Angelini Osteria, where he's mentored many chefs, including Bestia co-founder Ori Menashe. He opened other restaurants, but only his namesake Mid-City restaurant perseveres. Regulars who frequent Angelini Osteria enjoy consistent quality and a sprawling menu that includes a parade of house-made pasta dishes, including his famed lasagna verde, and hearty secondi like veal chop Milanese or Dover sole finished in the wood oven.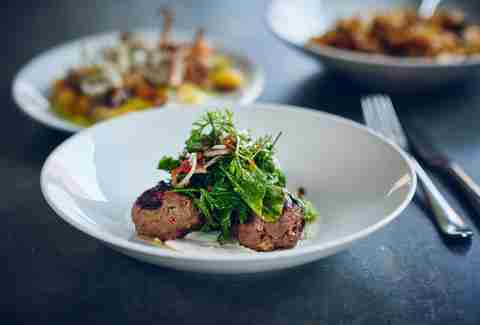 Arts District
This modern Italian restaurant from chefs Ori Menashe (savory) and Genevieve Gergis (sweet) was a game changer for downtown LA's Arts District. Meat hooks in the dining room might come across as macabre, but here that accent just hints at intentions. Salumi is made in-house, roasted bone marrow's spooned over spinach gnocchetti, and a whole roasted lamb's neck comes slathered with salsa verde. Handcrafted food extends to the bread, pastas, wood-fired pizzas, and to dessert; there are usually at least least eight sweets in play, most of them seasonal, typically including cakes, tarts, and fritters.
Hollywood
Nancy Silverton, Mario Batali, and Joe Bastianich transformed a seldom-used kitchen classroom into a salumi bar, and ultimately, LA's most over the top monuments to meat, adding even more value to a compound that also includes Pizzeria Mozza and Osteria Mozza. SoCal native Ryan DeNicola now helms the open kitchen, which includes a wood grill that yields massive cuts like bistecca Fiorentina and a fennel pollen dusted tomahawk pork chop that are consistent with the restaurant's cleaver logo. House-made charcuterie is made in house using exacting standards, with capocollo, salumi, and rarely seen culatello all making appearances. The crispy flatbread -- focaccia di Recco -- contains no meat, but it does ooze Stracchino cheese. Mozza Group pastry chef Dahlia Narvaez, a James Beard Award winner, furnishes desserts, though it's tempting to just order the beef cheek and bone marrow pie.
Arts District
Chef Angelo Auriana and front of house partner Matteo Ferdinandi turned an Arts District back alley into an industrial chic dining destination in 2013. Since then, this tucked away Italian restaurant has become a popular choice for pastas like handkerchief pasta tossed with Ligurian almond basil pesto. Dinner brings out big guns "from the sea and land" like juicy porchetta and a veal duo. The Factory Kitchen also makes their own focaccia di Recco, which is filled with Crescenza cheese and available topped with combos like San Marzano tomatoes, capers, and anchovies or ham and rosemary.
Mid-City
Chef Vic Casanova left the hotel restaurant world to open Gusto with wife Jessa in 2011. Their small restaurant near the Beverly Center has big flavors and a well-deserved reputation for serving premium house-made pastas. Bucatini carbonara is a particular standout, with chewy tubes sticky with pancetta and washed with egg yolk. Tagliatelle verde is tossed with lamb neck ragu, but tastes surprisingly light. In summer, linguine with crab, zucchini pickled Fresno chilies, and sea urchin sauce is a seasonal star. His sister restaurant Pistola is the one that's better known for meat, but don't sleep on Gusto's meatballs, topped with zesty tomato sugo on a whipped ricotta bed.
Fairfax Village
Jon Shook and Vinny Dotolo transformed a dingy Fairfax Village pizzeria into a ray of edible sunshine. The family-friendly Italian-American restaurant has pretty much everything an adult (or kid) could want, including pizza with crave-worthy crust, house-made pasta dishes, and donuts and Straus soft serve ice cream for dessert. If you wake up early -- a big if -- you'll also find the restaurant makes a killer breakfast pizza and BLT. The duo's front of house partner/beverage director Helen Johannesen also presides over Helen's wine shop in back of the restaurant, with a small but vital selection -- and home delivery.
Arts District
Chef Angelo Auriana and front of house partner Matteo Ferdinandi built on the success of The Factory Kitchen by opening this nearby trattoria. Chef Mirko Paderno is in the glass-fronted kitchen daily, using almond or orange wood, depending on whether they're cooking meat or fish. Seasonal pastas and salads get prominent placement on the menu, as do big cuts of meat. Risotto also gets the rare spotlight: chewy carnaroli rice hosts proteins like milk-braised salt cod and bone marrow. Pro tip: Officine Brera also has an off-menu dish at dinner, a delicious chickpea pancake called farinata.
Hollywood
Osteria La Buca, located down Melrose from Paramount Studios, has been a neighborhood favorite for over a decade, which has allowed the restaurant to grow and improve its design. New owners Stephen Sakulsky and John Moezzi made a big score when they hired Chef Cameron Slaugh, who previously worked at Manhattan culinary temple Eleven Madison Park. Slaugh takes an inspired approach at Osteria La Buca, which is now worth a drive. He makes pastas in-house, pizzas and salads starring seasonal ingredients, and some precisely prepared proteins like fish and a top-flight pork chop.
Hollywood
Nancy Silverton, Joe Bastianich, and Mario Batali created the Italian Army knife of restaurants with their Osteria, which combines a high-end Italian restaurant with a lively amaro bar and a mozzarella bar where Silverton herself can also be found preparing dishes with mozzarella and burrata. Dahlia Narvaez makes sure seasonal desserts keep pace. The only thing this mozza doesn't have is pizza, but neighboring Pizzeria Mozza more than covers that territory.
Mid-City
Vic Casanova claimed A.O.C.'s former home, teaming with Seth Glassman on an upscale Italian steakhouse. Pistola is a classy place with marble bar, black seats, and white clothed tables. There's some overlap with what you'll find at his other restaurant Gusto, but with boosts of luxury: i.e., here, spaghetti comes topped with spicy tomato sauce and Maine lobster. The restaurant also has fun riffs on Italian classics, including "cacio e pepe" arancini. Really, though, the best reason to eat here is for steak and sides. USDA Prime beef from Nebraska is dry-aged and available in cups like a bone-in New York strip or massive tomahawk, all hit with a dry rub, grilled, broiled, and finished with olive oil and arugula.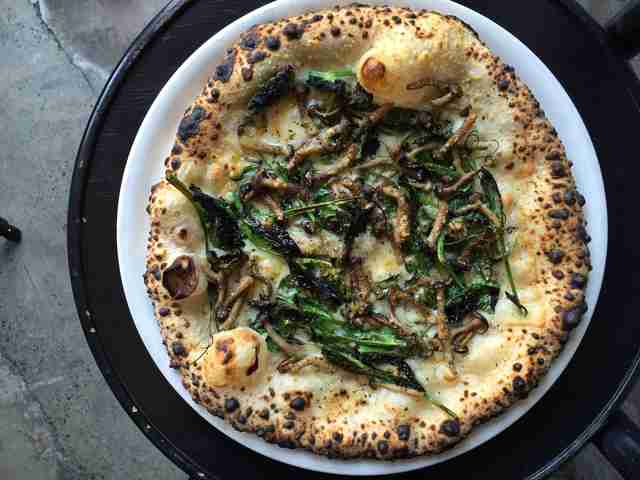 Beverlywood
Steve Samson and Zach Pollack devoted this subterranean Beverlywood restaurant to soulful southern Italian cooking -- and even though Pollack is now focused on Alimento, Samson ensures that Sotto is still going strong. Stefano Ferrara installed a yellow-tiled, wood-burning oven patterned after the best versions in Naples, which burns oak and beechwood to produce the city's best pizza. Guanciale pizza with fennel pollen is a particular standout. House-made pastas like chewy rigatoni with chicken liver ragu or spaghetti with crab and tomato are also delectable. Grilled pork meatballs and Caesar-style romaine hearts are similarly memorable.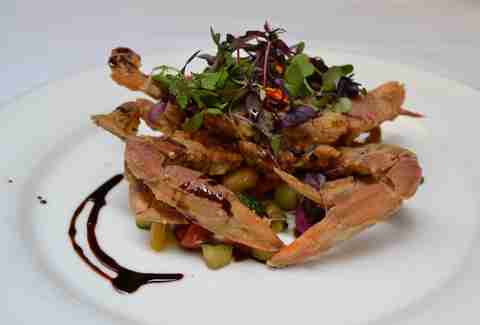 Brentwood
Brentwood's San Vicente Blvd has become a hotbed for Italian restaurants, but the refurbished restaurant that Maureen Vincenti and Chef Nicola Mastronardi have steered since 1997 still stands out in the crowded field thanks to the level of their food. In summer, they serve a great soft-shell crab with roasted vegetables, and house-made tagliolini with Manila clams and zucchini. Cooler weather calls for richer meat dishes like porchetta. No matter the season, Vincenti also always hosts Monday's popular pizza night.
Sign up here for our daily LA email and be the first to get all the food/drink/fun Los Angeles has to offer.