The 8 best dim sum spots in LA
CLARISSA WEI
CLARISSA WEI
How many times has your buddy said, "Dude, we SHOULD totally get dim sum, where's a good place?", and how many times have you replied, "I have no idea, 'cause Thrillist never wrote an awesome guide to dim sum like they did with Korean BBQ and Thai and Vietnamese and sushi"? Well starting today, your answer to the latter will be "never". Here's Thrillist's guide to the best dim sum in LA.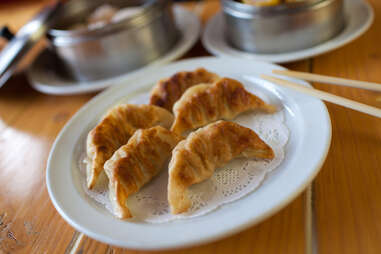 <em>Downtown</em><br />
If you're the guy who's like, "San Gabriel Valley? That's like 20 minutes PAST DOWNTOWN", hit Chynna -- especially on a weekday when $8 gets you a lunch combo that includes four dumplings (a scallop, a shrimp with leek, a pork and shrimp, and a vegetarian).
<em>Beverly Hills</em><br />
Okay, Hakkasan is pricey... like, REALLY pricey. But their dim sum's super legit, and you can also get fancy other-Chinese food like duck with caviar and black pepper beef with Merlot.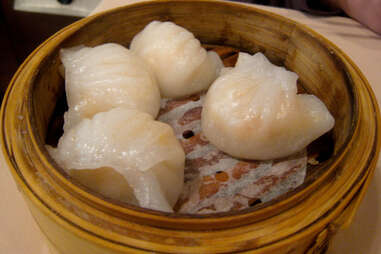 <em>West Covina</em><br />
If you're the guy who's like, "I want to eat dim sum, but sitting in a chair in a busy room is just too much to ask of me", hit Dim Sum Station, a crazy-cheap West Covina spot with sesame rice balls for less than a buck, and roast pork buns that're baked enough that they, too, don't want to sit in a chair in a busy room.
<em>Arcadia</em><br />
This Arcadia dim sum joint is smaller than most, making it an idyllic place to head to if you're sick of the large, booming banquet rooms typical of most dim sum restaurants. You can't leave without hitting their signature dish, the almond soufflé -- it's almond milk topped with a bread crust that's flaky on the outside but soft when it crumbles into the milk.
<em>Monterey Park</em><br />
If you're a traditionalist and prefer hailing down a cart full of food to (ugh) ordering, Empress Harbor is the place for you. The dim sum here is pretty great, and it's the best place in town if you are more of a visual person/like pointing at food.
<em>Monterey Park</em><br />
The dim sum staple, shumai -- a chewy, pork-stuffed, egg noodle-enrolled piece of Chinese magic -- is topped with a scallop here, giving it a seafood hit on top of the pork fantasticness. You should get that, but also their almost donut-like baked pork buns (see above).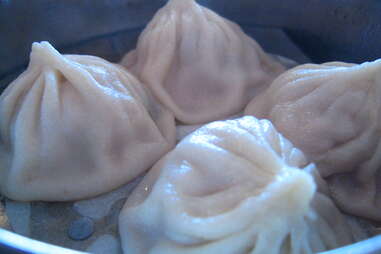 <em>Rosemead</em><br />
This longtime go-to's been around since 2002 and has killer everything, but you gotta hit the low-fat milk bun. Despite a name that reminds you of everything you hate in the world, it's actually crusted with non-low-fat sugar on the outside, and a sweet creamy custard on the inside.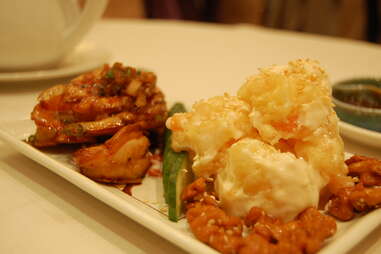 <em>Alhambra</em><br />
Simply put, Lunasia is LA's best dim sum joint. It's beautiful on the inside, the servers all speak fluent English, and most importantly, the food is transcendent. Unlike most dim sum, the portions at Lunasia are massive -- a single har gow is stuffed with at least three pieces of shrimp inside its gummy, thin, and translucent wrapper. And don't leave without trying the flaky egg tarts, which're nearly overflowing with delicious custard.<br />
<br />
<em>Clarissa Wei is 1) a food writer, 2) the founder of food tour company Curated Gnomes, and 3) the head of marketing for Out of the Box Collective, a farm-to-kitchen grocery delivery service. You can find her on both Twitter and Instagram at @dearclarissa.</em>