The top 13 places for fried chicken in LA, as chosen by 8 LA food writers
Because fried chicken has totally earned it (one day, burritos, one day), we asked a panel of ultra-esteemed food writers to give us their picks for the best fried chicken in LA (FWIW, ChocoChicken was disqualified for being too new). Then we tallied up all the votes and came up with this list of the definitive top 13.

Let's break down the top 13:
South Central
This spicy soul food shack's fried chicken is worth venturing into South Central for. Or -- if you live there already -- staying in South Central for.
The judges say: "When it comes to my fried chicken, crunch is king, and the crisp in Jim Dandy's gets it just right. The slightly sweet side of corn fritters is a must-order." -- Esther Tseng
Westchester
This '50s-style diner has been on your way to LAX (if you take the right route) since, uh, the '50s, and it's been famous for its fried chicken that whole time. Expect it to be classic (and served with waffles in the AM).
The judges say: "Every trip to LAX deserves a stop at Pann's. It's the diner that time forgot, but ironically, their fried chicken can't be forgotten." -- Jason Kessler
Koreatown
It may be best known for its Korean-flavored meatsticks, but Seoul Sausage Co.'s jalapeño/kimchi-topped "KFC" (aka Korean Fried Chicken) was one of the judges' favorites.
The judges say: "It's consistent, inexpensive, and the Korean Fried Chicken with cornmeal crust is one of the greatest munchies of all time." -- Matt Kang
Venice
Spoiler alert: its younger brother made it farther up the list, but the OG Superba is still on it, with its vinegar-glazed, red pepper-topped bird.
The judges say: "Their marinated chicken thighs are cooked sous vide first -- a clever trick to make the meat so damn juicy and tasty -- and then dredged in flour and cornstarch and fried for extra crispiness." -- Lesley Balla
Mid-Wilshire
One of the best patios in LA? Check. One of the best fried chickens in LA? Double-check. Served with waffles at breakfast? Oh yeah, that's a triple-check.
The judges say: "The Spanish fried chicken has a little spicy kick that sets it apart from any other in town." -- Carole Dixon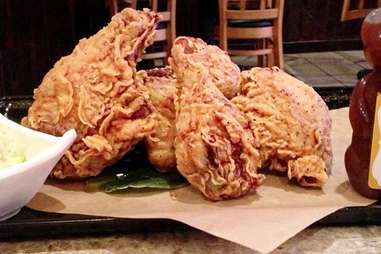 San Gabriel Valley
Like Pete Holmes, this strip mall-located, Monterey Park Asian eatery keeps it crispy. It does it with perfectly fried chicken, but the real killer here is the sauce selection, which includes homemade spicy ponzu and soy. Thankfully, it's also got a great craft-heavy, Asian beer list to wash it all down with.
The judges say: "The delectable marinade -- a blend that includes ginger, garlic, and soy sauce -- is downright addictive." -- Joshua Lurie
Beverly Hills
The Beverly Hills outpost of Thomas Keller's beloved bistro busts out this famous buttermilk-fried chicken (from his infamous Yountville restaurant Ad Hoc) on the first Monday of every month.
The judges say: "Hands-down one of the best crispy golden birds around. It's lemon-brined, coated in a seasoned flour, and fried until absolutely perfect." -- Lesley Balla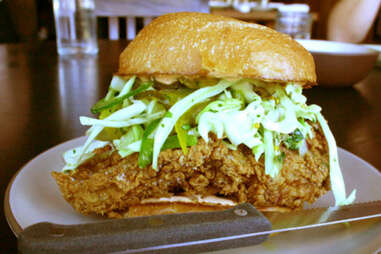 Mid-Wilshire
When the two dudes behind Animal opened their seafood-centric restaurant Son of a Gun, it's hard to imagine they'd think their fried chicken sandwich -- perfectly juicy & topped with slaw and sauce on a moist, buttery bun -- would become the signature item. It has. Deal with it.
The judges say: "It's not a whole fried chicken and you can't choose individual pieces, but the fried chicken sandwich from Jon & Vinny (and Bakesale Betty, really) is legendary." -- Jason Kessler
Brentwood/Santa Monica
The higher-ranked of the two versions of Thomas Keller's famous Ad Hoc fried chicken on this list is -- ironically enough -- not the one at the Keller-owned restaurant. But that's not a huge surprise -- the chef at this Westside favorite (which serves that chicken as a family-style dinner on Sundays) did major time at Ad Hoc before moving to LA.
The judges say: "The fried chicken is the best reason to make the trek to Brentwood on a Sunday night." -- Esther Tseng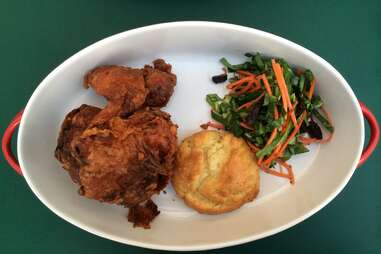 Venice
Venice's recently opened, ultra-casual, open-air lunch spot's made a rapid ascent up this list, with a Sunday-only dish that's served as a half-chicken with a collard greens slaw and a legendary biscuit that has something to do with General Robert E. Lee.
The judges say: "For high-class, cheffy-fried chicken, this peanut oil-fried version -- for me -- barely nudges out the one at Farmshop in Brentwood. Both are only served one night a week, though, so I plan accordingly." -- Garrett Snyder
Koreatown
It's a good thing this Korean fried chicken joint is open until 3am, because the soy-glazed amazingness tastes even better when your eyes are, uh, glazed too.
The judges say: "A thin, crisp coating and juicy, delectable wings smothered in garlicky -- or spicy -- sauces." -- Lesley Balla
Multiple Locations
Big 'ol burgers and delicious cocktails make up much of the menu at this fast-growing gastropub chain, but the real treat is its maple-glazed, savory-and-sweet fried chicken.
The judges say: "It's my favorite non-traditional rendition of fried chicken, with smoke, sweet, and spice all coming together with each bite of a properly crunchy thigh." -- Esther Tseng
Culver City
It wasn't even a close race: this Culver City soul food standby took the top spot handily.
The judges say: "If anybody tells you that Honey's Kettle isn't the best fried chicken in all of LA, then you can immediately discount their opinion on everything else. It's the perfect batter fried to the perfect temperature with the perfect crunch." -- Jason Kessler
This list -- and all the rest -- look even sexier in our iPhone app. Get it now!
Jeff Miller is Thrillist LA's Senior City Editor and would like to thank all of the judges for their fried chicken knowledge, including Jason Kessler (FlyAndDine.com), Carole Dixon (TheCaratDiet.com), Joshua Lurie (FoodGPS.com), Lesley Balla (Zagat.com), Lesley Bargar-Suter (LAMag.com), Matt Kang (Eater.com), Garrett Snyder (LAMag.com), and Esther Tsent (EStarLA.com).