The 14 best places to score a lobster roll in LA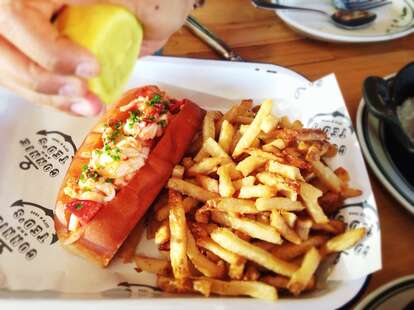 Connie and Ted's
Connie and Ted's
Sumptuous lobster stuffed between bread, covered in mayo. It's a staple on the East Coast, but the lobster roll has only recently made inroads in LA, finally making it worthy enough to be in a list of the city's 14 essential ones. Speaking of which, here they are:

West Hollywood
No surprise here that the chef from Providence would be cooking up one of the best lobster rolls in town: his version is mayolicious, Rhode Island-style, and depends on the meat for flavor... which it delivers, solidly.
Century City
The magic component of this relative newbie's all-star sandwich is the roll it's served on -- a Japanese charcoal bread that gives it a slightly smoky flavor, which (along with Thai basil and green curry aioli) makes it a truly unique take on the classic.
Hollywood and Santa Monica
This seafood-and-great-cocktails favorite across from ArcLight's not doing anything special with its lobster roll, but that's kind of what makes it so special: classic Maine-style with mayo, celery, and a butter-laden brioche bun.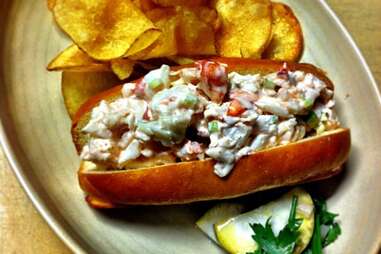 Hollywood
Given the location of this seafoodery (right by the Cahuenga corridor), you wouldn't expect it to be as legit as it is, but Littlefork's parsley-salad-rocking roll is, and then some. AND THEN SOME MORE. Bonus: it's also got amazing oysters and smoked fishes.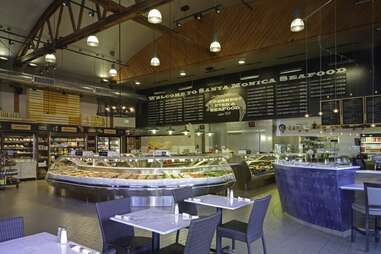 Santa Monica
Another Maine-style roll, this one's done on a hot dog-style bun, served with a lemon wedge, and cut with chives to give it a bit more (lemon/chive) flavor.
Various Locations
Some serious love on Shark Tank scored the guys behind Cousins enough capital to invest in multiple trucks and an entire lobster import business, which means you can not only get its incredibly fresh l-rolls by chasing them on Twitter, but it'll also deliver the key ingredients right to your door.
Downtown and Santa Monica
Unlike, well, almost every place on this list, Water Grill offers its lobster roll Connecticut-style and topped with butter instead of mayo, so you can savor each chunk of lobster rather than eating it more salad-style.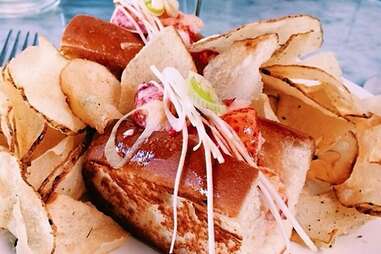 Venice
This lobster roll's not as crustacean-stuffed as some of the other essentials, but the meat that is there is succulent, and the bun is perfectly buttery and toasty... making each bite's ratio near-perfect. It's basically the In-N-Out hamburger of lobster rolls.
Various Locations
Another truck that came to the party a bit late, Roll'n Lobster's bread choice is a bit controversial in traditionalist lobster roll circles (which honestly sounds like it'd be delicious to be inside of): it uses a chewier, almost-Hawaiian-style roll to suck up both its Connecticut- and Maine-style juicy bits.

Santa Monica
Sure, you can call this pier-adjacent spot a tourist trap, because it totally is. Thing is, the food is shockingly good for a tourist trap, and the lobster roll next-levels the traditional version with Japanese mayo and pickled cucumber.
Various Locations
This roaming crustacean-mobile flies in "lobsta" fresh from Maine, then offers them up with your choice of butter or mayo. Added bonus: it's got crabs too. The good kind.
Mid-Wilshire
Joan's Maine-style roll is extra large, slathered in mayo, and served with super-thin, super-crisp fries.
Mid-Wilshire
The lobster roll from the Animal dudes' lauded seafood shack is creamy, flavorful, and buttery -- even if it is a bit small. Just order two!
Santa Monica and Mid-Wilshire
Both locations of this East Coast-themed restaurant (including the new one on W 3rd) make their roll way larger than most of the competition, and -- thanks to its claw-to-tail ratio and toasted brioche bun -- it's been called one of the best lobster rolls in the country by both Conde Nast Traveler and Bon Appétit. So who are we to argue?
This list -- and all the rest -- look even sexier in our iPhone app. Get it now!
Jeff Miller is Thrillist LA's Senior City Editor, and he always orders two. Follow him on Twitter and Instagram.