Where to Get the 16 Ooey Gooey-est Mac & Cheeses in LA Right Now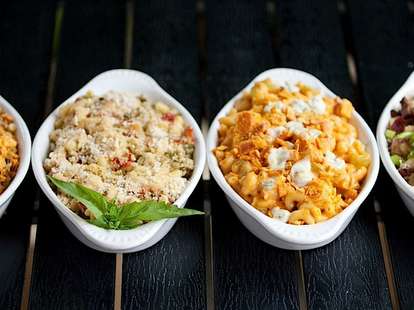 Slater's 50/50
Slater's 50/50
Is there a food more crave-able than mac & cheese? Okay... but is there a food more crave-able than mac & cheese that ISN'T pizza or ramen?? Yeah, there isn't. Which makes this something you're gonna want to read. Here are the 16 best spots for mac & cheeses in LA right now.

Multiple locations
Let's not forget that mac & cheese is perhaps one of the best (cough, cough) late-night (cough) fixes that you could dream up. So, it would only make sense that the folks at Slater's might have had some "inspiration" when devising its mouth-watering array of mac offerings: Buffalo chicken and blue cheese with toasted Cheez-Its crust; jalapeño and bacon with Cheez-Its crust; alligator andouille with Parm and panko crust; or mashed potato, cheddar, bacon, sour cream, and Parm with panko. Just sayin'.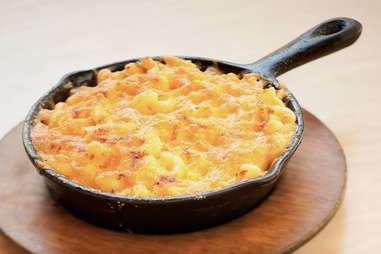 Arts District
The gratin de macaronis et fromage at this classy Downtown joint will totally impress both you and your date. Elbows are mixed with Gruyere/Emmentaler cheeses and a heavenly béchamel sauce, then the whole thing is baked in a copper skillet for a crisp crust over the chewy, molten core.

Fairfax
This reliable Fairfax watering hole maintains a strong mac & cheese game with a mini casserole of noodles baked with Hook's two-year-old cheddar, smoked Gouda, and topped with a green herb crust and chunks of Benton's ham. And, in case you get thirsty, the craft beer and Scotch selection totally have your back.
Beverly Hills
Like your dorm room Easy Mac, this five-star truffle mac & cheese is leveled up with crushed black truffles, white truffle oils, and a Taleggio sauce. So... actually nothing in any way like your dorm room Easy Mac.

Silver Lake
The creamy, molten four-cheese mac (cheddar, muenster, mozz, Pecorino) at this Silver Lake haunt has a deservedly strong fan base, and the truffled mac has a deservedly stronger one.
Multiple locations
It has a mac & cheese pie. Let that sink in for a minute. A breaded and flaky puff pastry shell encases an old-school version of the bright golden noodles and serves as a great lead-in to any one of the sweet pies/several more of the mac & cheese ones.

Valley Village
Once a humble food truck, this new-ish Valley joint devotes itself to the worship of all things mac, with the five-cheese mac (asiago, fontina, Gruyere, Parm and cheddar) held high on the altar. Sure, as a main course it's pricier than your average side, but, with plenty of variations (Bacon! Hot dog!! Sausage!!! POT ROAST!!!!!), it totally makes sense.

Beverly Hills
This re-imagined BH hot spot dishes up a compelling variation on the classic with a rich smoked Gouda orzo mac. Enjoy it with a juicy NY strip steak and a live show.
West Hollywood
Look, if you haven't already impressed a date by the fireplace patio of this grandiose and revamped WeHo stalwart, then the creamy and cheesy handmade orecchiette with bacon from the new chef Martha Esquivel is your open invitation.

Multiple locations
The classic version of the baked and creamy side dish remains the perfect compliment to 'scoe's namesake chicken and waffles.
Los Feliz/Franklin Village
What's better than filling your very own personalized stein with a rotating selection of craft beer at this gastropub? Devouring a sizzling-hot cast iron pan loaded with macaroni, Swiss, smoked Gouda, provolone, mozzarella, crab, smoked bacon, tomato, and a Parm crust, and then having your very own mug filled again. THAT'S WHAT.

Santa Monica
Leave the classic yellow version of mac & cheese at this SM institution to the amateurs; the gold that you want behind the counter is the dense eight-cheese version, piping-hot out of the tray. But get there early for lunch as it goes fast.
Santa Monica/West Hollywood
Obviously you're here for some absurdly delicious steak, but leaving a steakhouse without overstuffing yourself with indulgent side dishes would be a foolish mistake. Complement that 40-day dry-aged NY strip with the Mac, Cheese N Peas, which arrives oozing with a smoked Gouda-cheddar mornay sauce, peas, stackable orecchiette, and a toasted panko crust.

Downtown
It's hard to trust a BBQ joint that doesn't offer a side of mac & cheese. And while there are a lot of great 'cue joints around town serving up quality mac (see: Bludso's and Baby Blue's), this Texas-style joint offers a creamy rendition that pairs perfectly with its spot-on brisket.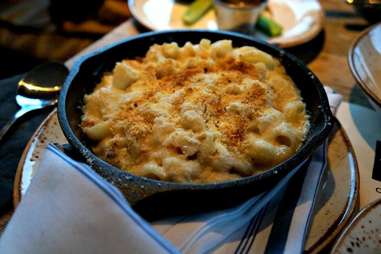 Playa del Rey
When you order cheese and macaroni this close to the ocean, you shouldn't be surprised that seafood joins the party. The Dungeness crab mac & cheese delivers strong on rich and creamy texture with generous chunks of the famed crustacean, topped with a satisfying, spicy crunch.

West Hollywood
When you're like, "I need some lobster with my mac & cheese," first off, relax, fancypants. Then head to Barton G, who has you and your pants covered with the Lobster Trap: 1b Maine lobster and pasta in a three-cheese lobster sauce.
Sign up here for our daily LA email and be the first to get all the food/drink/fun Los Angeles has to offer.
Danny Jensen is a regular Thrillist contributor who survived many late nights in college with the help of Easy Mac. Share your late-night mac & cheese schemes with him on Twitter and Instagram.