Because only a crass heathen would give you a list of the 10 best restaurant openings of 2014 in LA, here are... 11! And they're all totally awesome, and filled with 24oz oyster jus-grilled ribeyes, carnitas pizzas, and more.
Recommended Video
This Mexican Street Cheesy Corn Dip Is Coming for Your Guacamole
Hollywood
For all of the hype given to Ludovic Lefebvre for his ultra-creative LudoBites pop-ups, the Frenchie's always been at his actual best making food that's... well... French. So it's no surprise that his teenie-tiny French bistro is superlative: the steak frites is perfect, the chicken leg is, uh, perfect, and the omelette (yes, the omelette -- you will regret not ordering it) is -- you guessed it -- perfect.
Beverly Hills
Not only does Curtis Stone drink a mean margarita, but he also runs an intimate Beverly Hills restaurant that's the f'real-deal: Stone chooses one ingredient to focus on each month, and then twists it in the most unique and delicious ways you can imagine, creating a singular experience every time you go in. Pro-tip: sit at the bar to watch the dude in action -- many may write him off as a TV chef, but when you watch him slice tiny slivers of citrus to enhance your duck breast, you realize that's straight BS.
Downtown
This stunning Downtown bistro straight-up killed it from day one: every single thing on the small plates-leaning menu is totally delicious (bacon-wrapped pork tenderloin! 24oz oyster jus-grilled ribeye! Carnitas pizza!), the drinks are insane (The Stormy Phosphate? Go-to.), and the vibe is beautiful but not pretentious. Also: it's about three blocks from Staples Center, and (pro-tip!) you can valet there cheaper than parking at the lots. Basically, uh, go.
Venice
This under-the-radar, blink-and-you'll-miss-it Main St barstaurant has its seafood game on lock: one of the best lobster rolls in the city, for sure, and braised octopus that's crazy good. But it's also got killer chicken & waffles and a seared skirt steak with a celery root and raisin puree that's both as classic and interesting as it sounds.
Silverlake
This Taiwanese fast-casual spot in Silverlake is one of those restaurants you eat at once and crave forever: it knocks out beef rolls and pork dumplings with the care of their San Gabriel Valley brethren, and do up noodle and vegetable dishes that truly approach transcendent.
Downtown
Is it cheating to name-check Downtown's GCM -- which has been there since before you were born even if you're a certain Thrillist editor's Grandma Connie -- rather than just one of the many killer stalls that opened there this year? Yes, yes it is. Do we care? No! No we don't! A few favorites though: the smoked fish platter and insanely good pastrami at Wexler's, the bivalves at Oyster Gourmet, and the burger at Belcampo Meat Co... and we're missing, like, eight other equally good stalls, but that should get you started.
Koreatown
Superstar Chef Roy Choi opened both this traditional-leaning Korean restaurant and the just-upstairs, forward-thinking Commissary this year, and frankly either one deserves to be on the list, but we're giving the spot to Pot for a few reasons: 1) everything BUT the hot pots (BBQ pork! Cold noodles!) is insanely great, 2) the hot pots are still super good, 3) it's named Pot, and 4) our buddy from high school is now running the kitchen there. Eat first, scream nepotism later. Trust us.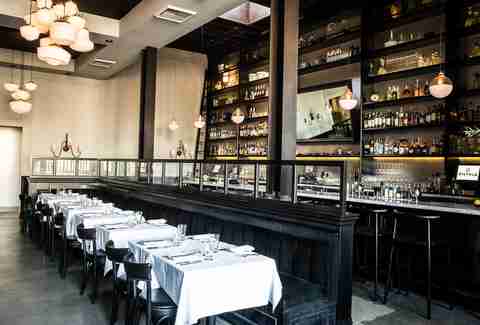 Mid-Wilshire
After crushing the neighborhood Italian-pasta game his first go-out with Gusto, chefstaurateur Vic Casanova knew the pressure was on with Pistola, his massive Italian steakhouse concept in one of LA's most beloved spaces -- which used to house small-plates phenom A.O.C. Thankfully, he delivers: it'll set your wallet back a chunk, but the juicy-exactly-where-it-counts Tomahawk is absolutely worth it, as are (no surprise) his squid ink- and lamb ragout-laced pastas.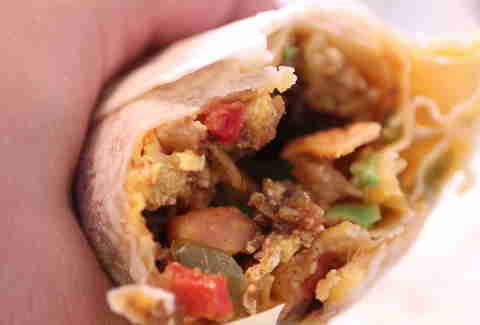 Mid-Wilshire
It's just a stand, with basically no seating, and only a few things on the menu: insanely great donuts, absurdly good coffee, and, oh yeah, the best breakfast burrito in the city, stuffed with crispy chips and perfectly spicy chorizo, with an excellent ratio of eggs-to-avocado(you have to get the avocado)-to-smoked-potatoes-to-meat. Yep, we're saying it: the best.
Downtown
It's such a simple concept: take Sugarfish's crazy-good hand rolls, and make ONLY THEM in a super-simple menu, for under $20. There's only one location now, but our guess is that -- by this time next year -- there'll be, like, 10, because it's basically the perfect lunch.

Sherman Oaks
This list would be incomplete without mentioning the Valley at least once: the crazy scene in Studio City and North Hollywood seems to have one fantastic opening a week, but Tipple & Brine stands above the competition by offering what none of the other myriad gastropubs do: an actual, honest-to-goodness raw bar, with oysters, crudos, and other sea-based deliciousness, raising it above its competition while it deep-dives below.
Sign up here for our daily LA email and be the first to get all the food/drink/fun Los Angeles has to offer.
Jeff Miller is Thrillist LA's Senior City Editor, and knows he left out your favorite, so you can scream at him in the comments below or on Twitter @ThrillistLA or Instagram @jeffmillerla.