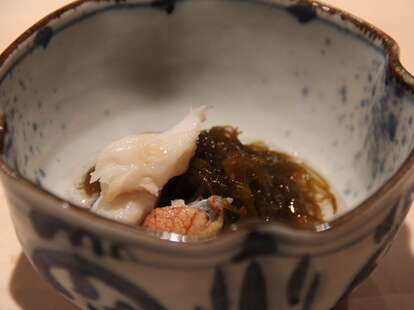 Hidden in the back of Sugarfish Beverly Hills, behind an "Employees Only" sign, is Nozawa Bar: a wood-laden 10-person room where a 30-year protege of famed "Sushi Nazi" Nozawa makes a no-ordering-allowed, 20-or-so-course omakase meal featuring fish bought that day from a fish market where the chef's given exclusive access before anyone else to guarantee freshness. Speaking of exclusive access... you're gonna want to see drool-worthy photos of every single dish from a typical meal there, and we've got them, if you click on that delicious picture above.
... and move on to sashimi -- in this case, three pieces each of kampachi and live octopus, which unsurprisingly tastes grEight.
You'll start with a cold sumonomo app, like this guy with sweet vinegar, seaweed, and Dungeness crab...
It's sushi time: warm rice topped with bluefin toro.
Extra-creamy uni from Santa Barbara.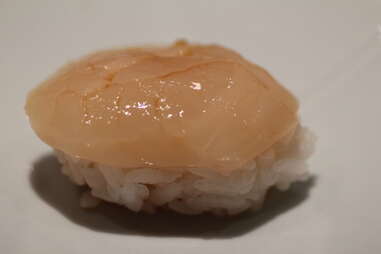 ... and a garlic-ponzu topped bonito katsuo, a fish also known -- by both women spurned by Nicholson and fishermen -- as the slapjack.
Move on to this lobster handroll, wrapped in crispy nori seaweed...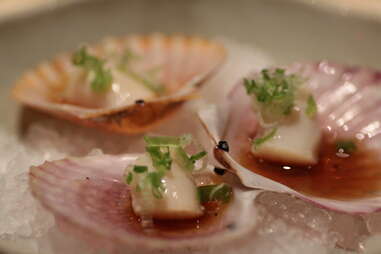 ... and three-sauced Taylor scallops, which are more than up to par. Yep. Golf joke.
Nope, it's not dessert time yet. This is pate-textured monkfish that's miso-glazed, which's likely what's starting to happen to your eyes at this point.
DON'T GIVE UP. You've still got this golden-eye snapper.
And this salmon roe, which has been marinated before being scooped into this rice cylinder and purposefully filled to overflowing.
This usually-hard-to-find-in-the-US fish is a Japanese swimmer named Isaki, aka Three Line Grunt, who must have opened for Creed at some point in the '90s.
More handroll? Yeah. More fatty toro?? OH YEAH.
We're still not done: this guy's a live sweet shrimp with just a little salt, like that time you walked out of that Angelina Jolie movie after the first 20min.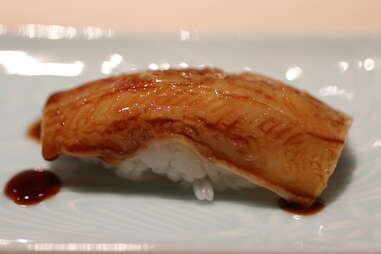 Don't be fooled by your final piece of sushi: this simple-looking tamago (egg) is actually stuffed with rice and sour Japanese plum.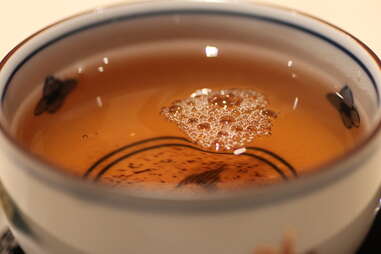 You've finally come to the end, so take down this roasted green tea. Then make a reservation for tomorrow.