There's no food group that gets Angelenos more worked up than sushi; everyone has an opinion that is TOTALLY right about the best place in town to eat raw fish on rice, which is why we've risked Jeremy Piven-levels of mercury poisoning to bring you the definitive list of the best sushi in town.
Downtown
Sushi Gen usually gets all the Little Tokyo love, but we're firm believers that time can play a factor in quality -- and Gen takes an eternity thanks to that massive, unrelenting line outside. Hama, however, is usually a pretty quick seat, and the traditional sushi (and baked yellowtail collar!) is second to none. Just make sure you ask what's off-menu... and then ask again. Sometimes they don't believe you want to eat it. You do.
West Los Angeles
This nondescript Little Osaka hole in the wall has been a longtime favorite, not just because its fish is unbelievably fresh, but the prices are, too: at lunch, for under $20, you can get a plateful of nigiri and rolls, which means even if you're hungry for more you can double up the order for less money than it would usually cost for fish of this quality.
Studio City (& other locations)
It's almost become a cliche to claim Sugarfish as some of the best sushi in LA, but it's true: when "Sushi Nazi" Nozawa closed his namesake restaurant on Ventura and launched the chain, it was a genius move -- his customers now get to enjoy signature dishes like his sauce-soaked tuna sashimi and the crazy-delicious blue crab hand roll, stuffed with perfectly warm rice, and he gets to lay in a pool of money somewhere sipping on sake, and all of LA's the better for it.
Beverly Hills (& other locations)
Not to be confused with the greasy (but also delicious) Chinese place Asakuma Rice, these delivery guys -- in Beverly Hills, Marina Del Rey, and Santa Monica -- may not be, like, better than non-delivery, but they are the best at what they do: somehow actually getting the fish and rice to you in good shape and tasting fresh, with hand roll-wrapping seaweed that's crisp, not chewy.
Downtown
Yeah, it's a wallet-buster. But it still may be dollar-for-dollar the best sushi in town. Master Chef Hiro came to LA from Japan with the goal of recreating as high-quality an experience as he had delivered in Tokyo, and his fish (from brilliantly briny mackerel to melt-in-your-mouth salmon) is exceptional -- and that's not even mentioning his rice, which is far more al dente than you've been grown to expect, and that much more flavorful for it.
Studio City
Located in a converted house on Ventura Blvd (of course), this sushi-war survivor's been holding it down for decades, which means it's seen trends come and go, and the menu's all the better for it: current on-trend dishes like yellowtail sashimi with jalapeño are among the best versions in the city, their classic nigiri is always flavorful, and they've got creative rolls that are smart rather than just stuffed with sauce.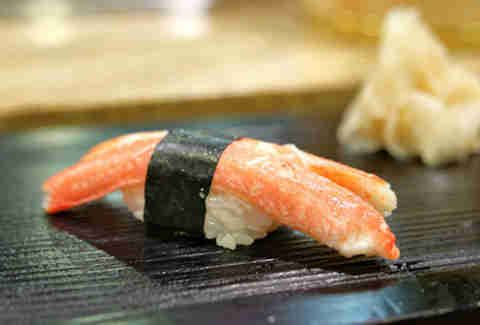 Pasadena
What, you thought we'd publish a best-sushi list without one of Ike-san's restaurants on it? Never. The namesake of the also-excellent Sushi Ike in Hollywood is now found behind the bar here, which is what pushes it to elite status: his take on his signature seared salmon right away and grilled octopus are always worth getting from the man himself.
Beverly Hills
Piece-by-piece, Sasabune has always been excellent. But keeping price in mind, the bang-for-your-buck is the omakase, which -- for $50 -- offers a game-changing, gut-filling menu with fish on par with any of the fancier places (Nozawa Bar, Zo, Matsuhisa, etc.) that'll charge you at least three times as much.
Culver City
It's not a sushi restaurant, per-se, and reservations are nearly impossible to get, but this beautiful set-menu-only restaurant (which blew up thanks to both impeccable food and a featured episode of Netflix's hit series Chef's Table) does include a sushi course or two; every bite's immaculate, naturally, and, when you'll leave, you'll say a little prayer that someday chef Niki Nakayama actually does an all-sushi place of her own.
Downtown
Wait, Sugarfish is on this list already -- does it deserve two spots, really? Yes, it does: the group's handroll-only downtown outpost Kazunori is not just one of the best sushi spots in LA. but it's also one of the most genius concepts in town. The spot is an extremely efficient, affordable lunch, dinner, and takeout spot that'll set you back no more than $20 and (if the line's short) 20 minutes. Brilliant.
Torrance
For a part of town that's got such a huge Japanese population, it's sort of surprising there aren't more top-level sushi spots (that said, you can't throw a baseball without amazing soba, or ramen, or izakaya food). But Nozomi's a local favorite, and for good reason: they only serve ultra-fresh, traditional seafood, including uni straight from Santa Barbara that's submerged in salt to maintain its flavor and a ton of fish straight from Japan, presented with unusual toppings, marinades, and infusions made with killer technique that take it from a neighborhood restaurant to one worth traveling for.
Santa Monica
Tucked in the corner of a strip mall (natch) is this beloved roll-zone, as noted for its celebrity clientele as it is for its food. That's a shame: it's consistently great, with the rolls its known for not just over-the-top but smartly over-the-top (The Lourd: spicy tuna. Avocado. Tempura flakes. Spicy rice. Mango. Jalapeño sauce. Tell me that doesn't sound good.) and a chef who takes his omakase very, very seriously.
Mid-Wilshire
Tucked in the corner of a strip mall (again, natch), everyone who does make it to this longtime spot leaves talking about melt-in-your-mouth salmon, perfectly pickled cucumbers, and an omakase that splits the difference between cooked dishes like ground shrimp-stuffed zucchini flowers and their perfectly proportioned nigiri.
Sign up here for our daily LA email and be the first to get all the food/drink/fun Los Angeles has to offer.
Jeff Miller probably-definitely has mercury poisoning. It was worth it. See more pics at @jeffmillerla on instagram and @thrillistla on Twitter.