17 Awesome Black-Owned Restaurants in LA Featured on HBO's 'Insecure'
Celebrate the final season by eating like Issa.
The year is 2016: Obama is president, Beyonce blew your mind with Lemonade, face masks are an optional skincare routine—not a necessary accessory—and life is good. That's the year that HBO debuted Issa Rae's Insecure series. The show centers on a group of Black millennials in LA navigating through the all-too-relatable ups and downs of romantic relationships, careers, and friendships. Featured prominently is the city of Los Angeles itself, and throughout the show, creator Issa Rae makes it a point to celebrate her hometown by featuring the city's favorite eateries as well as under-the-radar spots, many of them Black-owned.
The fifth and final season of Insecure premieres on Sunday, October 24, on HBOMax. While we've covered what we do know about the show's highly anticipated return, there's a lot that remains to be seen. (Warning: light spoilers ahead.) What will happen to Issa and Lawrence? Condola, seriously? Will Issa and Molly reconcile? How will they address the pandemic and 2020's June uprisings? Will Kelly ever get her own episode?
While you impatiently wait for the new season, comfort yourself by revisiting the Black-owned restaurants featured throughout the show, ranging from Little Ethiopia's finest to classic Southern restaurants, neighborhood coffee shops, and more.
Little Ethiopia
This lowkey Fairfax restaurant pops up throughout the series and for good reason—scooped up with spongy injera flatbread and stuffed directly into your mouth, Ethiopian cuisine is best shared with close friends and family, as Molly and Issa were until…(TBD on how that last Merkato meetup panned out for the possibly-former-BFFs.) Vegan-friendly and open late, you'll want to get an Ethiopian coffee to go, regardless of what time you place your order.
How to order: Call 323-935-1775 for in-store pickup. Delivery and pickup via: doordash.com, postmates.com, seamless.com, and grubhub.com.
Various locations
Just like us, Lawrence and Chad couldn't resist the combo of Southern fried chicken paired with fluffy waffles and drenched in syrup in season one—a now-global food trend that Roscoe's introduced to Hollywood in the 1970s. And while a lot has changed (both in the show and IRL) since Insecure's inaugural season, but one thing that remains consistent is the hella tasty Obama Special (three wings with a waffle).
How to order: Call specific locations for in-store pickup; takeout and delivery via UberEats, Postmates, Seamless, Grubhub, DoorDash, and Caviar.
Baldwin Hills
Issa and Molly couldn't have chosen a better place to lament about their season one love lives than in the comfort food utopia that is Post & Beam. The charming Baldwin Hills restaurant has a lush garden patio and serves up custom pizzas, Southern staples, and craft cocktails with a Cal-fresh spin. While grabbing a drink in-person might be off the table right now, you can still build-your-own hand-stretched pizzas with toppings like wild mushrooms, pickled garden veggies, turkey and Impossible meatballs, and their house plum tomato sauce. Don't bypass their to-go drink menu that includes classic cocktails like old fashioneds and hurricanes, with a focus on fresh, high-quality ingredients.
How to order: Pickup and delivery via their Square site.
Inglewood
Molly and Issa seemed at home at Stuff I Eat, celebrating Issa's birthday over vegan tacos, burritos, and a soul food platter. Vegan Tex-Mex might sound like an oxymoron, but long-time plant-based advocate and owner/chef Babette makes absolute magic converting your dairy-laden faves, like enchilada pies and nachos, into vegan delights. The food is so good, it's appeared in a few episodes and Babette has even made a cameo in the series.
How to order: Pickup and delivery via Postmates.
Leimert Park
Technically, Earle's was not featured on Insecure but Molly and Issa did talk about the fast-casual restaurant's reopening on Crenshaw in season two and we'll take that as their stamp of approval. Earle's is a can't-miss spot, and has been a fixture in the Crenshaw area since brothers Cary and Duane Earle opened their brick-and-mortar in the '90s. The Brooklyn natives serve NY-inspired hot dogs alongside burgers, sandwiches, Jamaican patties, with plenty of vegan options, and an impressive dessert menu. In 2020, they launched Earle Cares, a nonprofit geared towards providing healthy meals to underprivileged families, the elderly, and immune-compromised.
How to order: Walk-ins accepted for takeout and outdoor dining, place pickup phone orders by calling 323-299-2867; pickup and delivery via Seamless, Doordash, Grubhub., and postmates.com.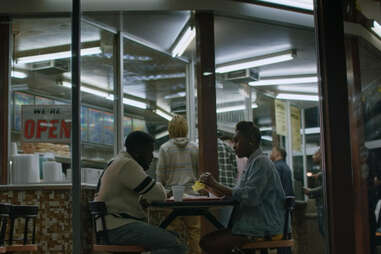 Inglewood
This outdoor burger stand has been in the neighborhood since 1970 and is easy to recognize for its circular, dome-like design with an umbrella-style roof. We see Brolly Hut in season three's episode "Familiar-Like" as Daniel and Issa share an order of post-nightclub chili cheese fries (awww, remember clubs?). Brolly's menu includes American diner classics like burgers, fries, and pastrami sandwiches, as well as tacos and burritos. While every menu item hits that craving for greasy fast food, we suggest trying out their shakes made with real ice cream.
How to order: Order in person or call 310-674-2344 for takeout.
Windsor Hills
What could've been a lovely lunch ended up being a tense meet-up between Issa and her "We Got Y'all" colleagues at Simply Wholesome in season three's "Familiar-Like." Don't let that happen to you. Enjoy their freshly made sandwiches, tacos, and Caribbean classics drama-free. Try out one of their many veg-friendly offerings, like the double lentil burger with BBQ sauce or the grilled tofu fajita wrap. Stop by the connected health store that sells a large selection of products from small, Black-owned independent manufacturers. And did we mention, it's located in an authentic mid-century modern building? Food, groceries, and classic architecture sounds like a good time to us.
How to Order: Walk-ins accepted or call 323-294-2144 for take out.
West Adams
If you blink, you might miss Chef Marilyn's appearance in season three. For over 30 years, chef Marilyn has lived up to her title as the "Queen of Down Home Southern Goodies." The small restaurant serves large helpings of classic Southern foods like macaroni and cheese, fried chicken, and mashed potatoes.The menu changes frequently, but we guarantee there will be something either smothered or fried that you'll want to sink your teeth into.
How to order: Order takeout in person or through their website. Delivery and pickup via Ubereats, Grubhub, Postmates, and Seamless.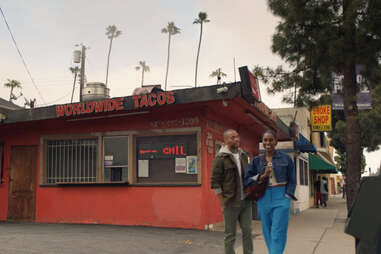 Leimert Park
In the infamous Party Lyft, Issa and Molly insist that Houston transplant Nathan try this taco spot in season three. And just like Nathan, you should trust the ladies on this one. Worldwide Tacos's menu has over 200 different tacos and burritos options using fresh ingredients and unexpected meat and flavor combos like teriyaki lamb and curry duck. They also offer a large selection of vegetarian options. Try Issa's favorite, the BBQ salmon taco.
How to order: This walkup spot doesn't take pre-orders so you have to order at the location. Depending on the order, it could take anywhere from 15 minutes to 3 hours. They will give you a call once your food is ready. Don't let the rules and wait time deter you from trying these tacos. We're pretty sure the phrase "The best things in life are worth waiting for" was in reference to this place.
Leimert Park Village
When Issa becomes Nathan's impromptu Leimert Park tour guide in season three, she makes sure to point out Hot and Cool Cafe. The coffee shop opened in 2018 as a hub for local artists and performers. Now, they're weathering the COVID storm by continuing to serve healthy bites like vegan breakfast burritos loaded with vegetables and comforting coconut curry lentil soup. You can't go without grabbing coffee, which is perfectly roasted and made from beans that support Ethiopian farmers.
How to order: Order in store for takeout or outdoor dining; pickup and delivery via Doordash, Postmates, Seamless, and Grubhub.
Inglewood
While Issa Dee may have faced a cold exchange from the owner of Rusty Pot Cafe in season three's "Ghost-Like" episode, we can assure you that real-life interactions with the cafe staff are the complete opposite. The Inglewood cafe is cozy and friendly with homestyle Southern-inspired food to match. It's open for breakfast and lunch, and we're big fans of their all-day breakfast offerings.
How to order: Order takeout by calling 310-412-5901; delivery and pickup via Doordash and UberEats.
View Park, Inglewood, and Glassell Park
Issa Rae partnered with fellow Angelenos Ajay Relan and Yonnie Hagos to open this coffee shop in View-Park, which has since expanded to two more locations. The shop was built with the purpose of providing a place that promotes creativity and allows people to connect with one another. While you can't sit inside and meet up with friends as on-screen Issa did, you can make your own self-care Sunday by ordering a lavender latte and breakfast sandwich (with egg, thick-cut bacon, cheese, and spicy mayo on a brioche bun) to go.
How to order: Available for takeout by ordering in person or by phone 323-743-8100. Order delivery or pickup via Postmates, Grubhub, Ubereats, and Seamless.
Compton
Owner Keith Garrett started All Flavor No Grease in his front yard, and now he has his own food truck that appears in an HBO show. As the name implies, Garrett cooks up grease-free Mexican favorites like burritos, quesadillas, and tacos that are heavy on the flavor. Their quesadillas, filled with your choice of shrimp, chicken, or steak, can easily feed two people. Whether or not you want to share is up to you, but whatever you do, don't skimp on their Papa's green sauce—you'll want to douse every bite in this spicy-cilantro emerald elixir.
How to order: Order takeout in person and check out their Instagram to find their location.
West Adams
Issa and Lawrence have certainly made mistakes throughout the series, but choosing Alta for season four's reconnection date was one of their best choices—too bad they left before they could sample the menu. What they missed out on was a modern take on Southern food, with dishes like fried chicken with Fresno chili hot sauce, shrimp and grits with grilled okra, and a house-smoked brisket. If you go in person, check out Adams Wine Shop next door and pick up a bottle produced by women and BIPOC winemakers.
How to order: Takeout and delivery via Chownow, Tock, Doordash, Ubereats, and Postmates. They do not take phone orders.
Crenshaw
Taco Mell is one of many local Black-owned businesses Issa spotlights in season four's block party. While their name may rhyme with a certain Mexican-American fast food chain, Taco Mell's tacos and burritos are distinctly their own. The Crenshaw eatery uses fresh and flavorful ingredients and prepares your food right in front of you. We recommend ordering their Surf & Turf burrito, which comes with grilled steak and shrimp, if you truly want to live más.
How to order: Order in store for takeout; delivery and pickup via postmates.com.
Crenshaw
Before Issa's block party took a turn for the worse in season four, viewers were privy to some of LA's most exciting up-and-coming Black-owned spots: one of which was Southern Girl Desserts. As the name implies, the ladies behind this dessert factory whip up a variety of baked goods inspired by their Southern roots. If the wide selection overwhelms you, try the spongy red velvet cupcakes that have amassed their own cult following.
How to order: Order in-store or call 323-293-2253 for pickup; takeout and delivery via Doordash, Postmates, Seamless, and Grubhub.
Farmers markets across Los Angeles
Let's face it, vegan desserts can sometimes leave something to be desired. That something is usually real butter. But, Cobblermania's dairy-free, diabetic-friendly sweet treats are the delicious exception. Take a page out of Issa and Lawrence's book and plan a date to the farmers market so you can pick yourself up one of their famous strawberry rhubarb cobblers.
How to order: Available at farmers markets across the city. Give them a follow on Instagram to see where they will be next.
Keisha Raines is a 15-year veteran of LA. Follow her on Twitter and Instagram at @reishakaines.