Los Angeles Brentwood often gets a bad rap as the home of calorie-counting soccer moms and acai-slurping yogis. But if you dig deep enough, you'll find some truly bold eats. Yes, many restaurants here hawk organic, raw, sustainable, and gluten-free fare (this is Gisele Bündchen and Tom Brady's former home, after all). But it's done with discerning taste buds and a growing, diverse community in mind. From a French-Japanese favorite that serves uni and steak to a refined farm-to-table brunch spot, here are 16 essential restaurants to try in Brentwood. More Stuff You Will Like
Recommended Video
This Tiny Kitchen Gadget Turns Radishes Into 'Super Mario' Mushrooms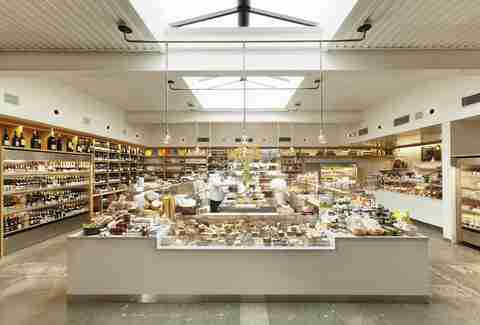 225 26th St Ste 25 This celeb hangout serves quintessential brunch food made better -- like coddled eggs with brioche, or French toast topped with locally grown organic blueberries. Definitely peruse its attached marketplace as well, which sells everything you could ever want for a gourmet picnic, like wine, artisanal cheese, and cured charcuterie. Continue Reading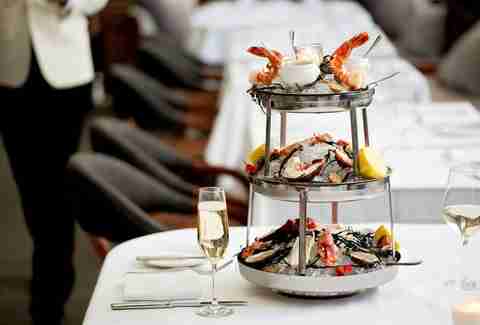 Best fancy restaurant for when the parents are paying: Baltaire
  11647 San Vicente Blvd The 'rents won't mind footing the bill at this classy steakhouse, which also happens to do a great job with shellfish, crudo, and pretty much everything else. For extra fancy-pants flair, order its incredible Greek salad or Dover sole -- both are proudly prepared tableside.
Best date spot: Maru
  12400 Wilshire Blvd #150 Two reasons why Maru will impress: 1) your date probably hasn't been there yet, since the French-Japanese spot opened late last year, and 2) it's French-Japanese. Under chef Jason Park's direction, the restaurant -- which straddles the Santa Monica/Brentwood border -- turns out high-end steak just as well as an excellent omakase program.
Best outside-the-box ice cream flavors: Sweet Rose Creamery
  225 26th St Ste 51 Known for exotic creations like yam swirl with salty sesame brittle, or cherimoya, this ice cream shop is a homegrown talent (the first of its five LA locations is at the Brentwood Country Mart). But don't worry: it also has die-hard classics, like coffee and salted caramel, all of which are made from organic milk, cream, and eggs.
Best meal you'll ever have in a former Hamburger Hamlet: Tavern
  11648 San Vicente Blvd It's hard to believe this sophisticated space was once a Hamburger Hamlet, but partners Suzanne Goin and Caroline Styne transformed the place into a triumvirate of exemplary dining options: full-service, sit-down dining in a naturally lit atrium, an easy-to-go marketplace/restaurant, and a bar serving craft cocktails and artisanal wine.
  11740 San Vicente Blvd In Brentwood, even the burgers are "healthy" -- like Burger Lounge's legitimately tasty versions made with grass-fed beef and sustainable, organic ingredients. You can also dig into quinoa, turkey, and albacore burgs, as well as a rotation of limited options like elk and boar.
  11633 San Vicente Blvd Ste 100A This quaint, cozy eatery is known for all sorts of authentic Italian pastas and insalatas, but their pizzas are can't-miss. Baked in a wood-fired oven using a proprietary recipe, each pie boasts a thin crust, flavor-packed sauce, and plenty of cheese. Do yourself a favor and order the tartufo nero (black truffle).
  11625 Barrington Ct Superbly crafted hot and cold sandwiches are the name of the game at this casual joint tucked away in Brentwood. It's also probably the only bakery in town that serves Oreo croissants.
  12225 Wilshire Blvd A French-inspired bakery/patisserie that serves breakfast all day, Amandine makes its breads, pastries, cakes, and desserts from scratch every morning. It's also the perfect place to go when you're in the mood for homemade quiche or ratatouille, FYI.
  140 S Barrington Pl Few places in Brentwood are open late, but this Italian spot serves phenomenally good pizza and pasta until 3am for late-night carb loading. Pro tip: use the site to order wine for delivery until 1:30am.
  13016 San Vicente Blvd This sorta-Mediterranean spot has a ton of vegetarian-friendly dishes (veggie burger salads, falafel wraps, and spinach enchiladas), but thanks to lemon garlic chicken and spicy salmon tacos, carnivores and pescetarians won't starve.
  225 26th St It's Brentwood, so nothing's ever really
that
cheap. That said, this food stand has been around since 1979 and still whips up tender, fall-off-the-bone rotisserie chicken and fries (as well as ribs, fried clams, and chicken tenders) at a more-than-reasonable price.  
Best place to eat with free Wi-Fi: Coral Tree Café
  11645 San Vicente Blvd You can't have a Brentwood restaurant guide without mentioning Coral Tree, a neighborhood staple off the main San Vicente thoroughfare. Here you'll find UCLA grad students studying while gorging on hot paninis, egg skillets, and plenty of organic coffee.
Best sushi: Nagao
  13050 San Vicente Blvd Ste #110 The area has a few solid sushi restaurants, but Nagao takes the cake for its exquisitely fresh fish. Get one (or several) of its signature no-rice Moonlight Rolls—cucumber strips wrapped around a ton of raw goodness and doused in tangy ponzu sauce.
Best Vietnamese when you're in a rush: Mama Hong's
  11819 Wilshire Blvd #106B When Mama Hong's first opened on Wilshire, it received a warm welcome from hungry West LA residents who longed for a decently priced, well-prepared bowl of steaming hot pho with beef brisket. Or a rib eye steak banh mi sandwich. Or even a vermicelli combo with grilled shrimp and egg rolls.
  12009 Wilshire Blvd The folks behind EMC Seafood helm this restaurant, located in a nondescript plaza on Wilshire, so its seafood is on point. You can "build your own catch" by choosing from various crawfish and shellfish, or order brilliantly seasoned charbroiled fish and Cajun-style entrees a la carte.
Sign up here for our daily LA email and be the first to get all the food/drink/fun Los Angeles has to offer.
Tiffany Tse is a freelance contributor at Thrillist and, for the record, would like everyone to know she actually loves acai. Follow her adventures around town at @twinksy.