This indoor/outdoor two-story burger stall's stretched their menu out significantly, with expanded non-bunned selections like a corn beef hash w/ brisket, shank, and piquillo peppers, as well as a pork belly and bacon sandwich. They're also doing cocktails that include a two-whiskey number (w/ mole bitters and tobacco aromatics) that Sean May is really unhappy about called "Breakfast With The Duke".
Recommended Video
This Popular Burger Spot Used to Be a Public Restroom
Previous Venue
Next Venue
Venue Description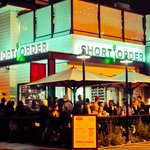 1. Short Order
6333 W 3rd St, Los Angeles, CA 90036
This indoor/outdoor burger slinger serves up gourmet patties, man-meal salads, and an array of sides you'll have a tough time choosing from. Definitely top your meal off with a shake -- boozy or straight -- and prepare to loosen that belt. The seasonal menu is crafted by emphasizing locally raised, organic, artisanal and handmade products.