Taste-testing the best food hybrid since Doritos Locos Tacos
Because, um, THEY ARE THE MOST GENIUS PEOPLE EVER, the dudes in the tasting lab for Carl's Jr. stuck a big ol' scoop of vanilla ice cream between two strawberry Pop-Tarts, tasted it, said, "Um, we should probably sell these immediately," and, finally, after a breathless wait, they now are: behold the very appropriately named Pop-Tart Ice Cream Sandwich, available starting right now at most Carl's Jrs. And because we were nice -- and begged -- they brought us some as soon as they were available, so we could taste-test them and find out if this truly was the greatest idea since people started shoving Pizza into Rolls:
The whole thing is made in-store and pretty damn self explanatory: a Pop-Tart halved to serve as the sandwich slices and French-style vanilla scoop of 'scream, served in this plastic wrapper for freshness. It holds together well until the first crunch...
You've got to be careful to get far enough into the 'Tarts to actually get to the middle: a perfect bite gets crunchy frosting outside, moist cake-like 'Tart pastry, a dollop of interior fruitiness, and a hit of ice cream. Then your face melts, and you faint.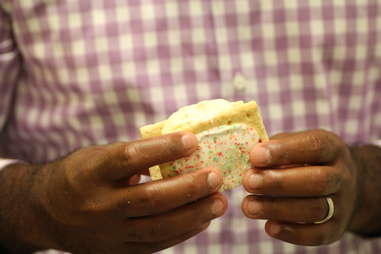 Two small gripes: the ice cream to Pop-Tart ratio is a little much, leaving the ice-cream-mush outer layer to melt or be licked up separately...
... and if you don't take a big enough bite, you're just eating the edge of a Pop-Tart. Which is not the worst thing to be stuck eating. Look, we said they were SMALL gripes, okay?!!?