Tequila, Tortillas, and Bogart: The History of Venice's Casablanca Restaurant
Themed restaurants tend to come and go over the years as trends shift (Magic Restroom Cafe, we're looking at you, kid), but thankfully one Mexican restaurant in Venice has proven to be the exception to that rule. Decked out from floor-to-ceiling with memorabilia from the classic 1942 film starring Humphrey Bogart and Ingrid Bergman, Lincoln Blvd's Casablanca has earned generations of loyal customers since opening in 1980. And while the kitschy decor is certainly a big part of the restaurant's charm, what keeps crowds coming back are the freshly made flour tortillas, a roving margarita cart with a huge tequila collection, and a friendly crew of employees that have worked there for decades.
If you haven't yet been to Casablanca, chances are you've probably been to at least one of the half dozen other restaurants around LA owned by the same family. The roster includes Paco's Tacos, Gilbert's El Indio, La Choza, and La Cabaña, which opened in 1963 across the street from where Casablanca now stands. Carlos Haro, Sr., the late patriarch behind the family-run operations, moved to the US from Mexico in 1959 to open a restaurant. Originally from Guadalajara, he was a popular radio DJ in Nogales, Sonora, and later operated restaurants, a nightclub, and a movie theater in northern Mexico. A huge movie fan, Haro especially loved Bogart's films and Casablanca was a favorite. The film stayed with him, and years after setting up shop in LA, he decided to dedicate one of his restaurants to the classic. Here's what happened:
Bringing seafood and tortillas to the people
When Casablanca initially opened, Haro wanted to introduce a seafood-focused style of Mexican cuisine to LA distinct from most restaurants at the time that offered enchiladas, burritos, and tacos. Taking cues from the coastal city of Ensenada, where he once had a restaurant, the Casablanca menu offered a range of fresh seafood, as well as land-faring options.
"In the early years, the style was much more fine-dining focused," explains Carlos Haro, Jr. who now owns and operates Casablanca after taking over when his father retired in 1982. "Waiters wore white dinner jackets and fez hats, and you saw fewer children at night because the menu was more aimed at adults." The early menu -- presented on Moroccan-style fans -- was fairly short and featured oysters, clams, lobster, escargot, steak, and other upscale options. "Customers would get confused and say 'This isn't Mexican food', but little by little people began to appreciate what we offered, which had a more subtle Mexican touch," says Haro, Jr.
His father also wanted to add abalone to the menu, a popular dish in Ensenada, but much more expensive here in LA. Haro, Jr. suggested large calamari as a more inexpensive alternative that was readily available at Santa Monica Seafood. The suggestion stuck and calamari, prepared in a variety of ways, remains a hugely popular part of the Casablanca menu to this day.
Another huge draw to Casablanca is the freshly made flour tortillas, which are pounded out, flattened and cooked on a griddle in the middle of the restaurant. Haro, Sr. wanted to focus on flour tortillas, more typically found in northern Mexico, instead of the corn ones often found around LA. And we're glad he did -- these delicious, pillowy-soft works of art are pure magic. He also refused to serve tortilla chips, though these days they keep some on hand in case someone asks.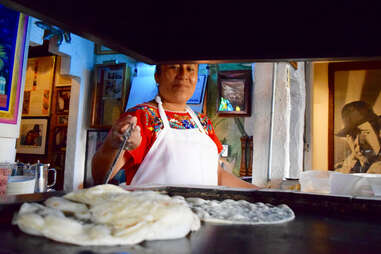 The tortillas arrive at your table steaming hot, accompanied by butter and a tremendously addictive salsa verde. Known as salsa de abañil or bricklayers' salsa -- as it's traditionally a popular lunch option for construction workers in Mexico -- the blend includes tomatillos, lime juice, onions, garlic, and typically serrano chiles. Though here the chiles were nixed after enough customers complained about the heat. Haro, Sr. was inspired to add the salsa to the menu after seeing workers chowing down on it, and also brilliantly added cubes of cheese, in this case jack instead of the usual queso fresco used by the workers.
Seriously, you could live on the tortillas and salsa alone.
"Of all the gin joints in all the world"
While some customers were initially confused by the restaurant's theme as they were expecting Moroccan cuisine, eventually word spread about Casablanca's upscale Mexican fare and the booths were packed nightly. It also soon became a popular spot for celebrities, including film, TV, and sports stars. Some of the early guests even included cast and crew from Casablanca, including Leonid Kinskey who played the bartender Sascha, Dan Seymour (the bouncer, Abdul the Arab) and Paul Henreid (the suave, Nazi-battling resistance leader).
With the help of those that worked on the film and in the industry, as well as other Casablanca fans and customers, Haro, Jr. took his father's film theme even further, adding to the existing white-stuccoed archways and Moroccan flourishes. He gradually accumulated and covered the walls with posters and movie memorabilia, props from the set, and a huge collection of autographs from the cast, including Bogart and Bergman. You'll also find a small piano identical to Sam's in the film, which was painted by Seymour's wife, and there's a time capsule by the front door loaded with artifacts from the film.
At one point, Haro, Jr. tracked down an artist to create a life-size statue of Bogart from fiberglass, after requests for one made by the Hollywood Wax Museum were declined.
He also hosted special ceremonies over the years at the restaurant where Kinskey, Seymour, and Henreid were invited to place their handprint in cement by the front door. "Those are two of the most special parts of the restaurant to me," Haro says of the statue and handprints. "I have a very strong personal connection with them."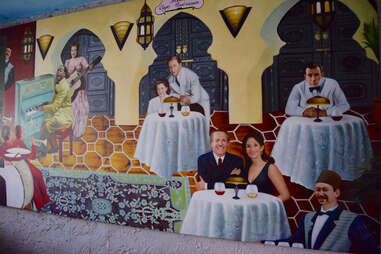 You'll also find large murals and paintings throughout the dining room that depict scenes from the film, painted by various artists, employees, and Haro, Jr.'s wife. "I wanted to do something for Casablanca after several years, but I didn't want to change the atmosphere because people like the way it is and say 'Oh, it's the same restaurant as when I was a kid," Haro says. "But I wanted to refresh things a bit, so I invited an artist to create a mural about the characters in Casablanca. And he surprised me by adding me and my wife into the mural. At first I wasn't sure about it, but then I figured down the road it would be nice for my grandchildren to see us up there." The collection of murals and paintings have since grown, covering many of the walls with one even hanging from the ceiling.
From fine dining to enchiladas
While Casablanca remained successful through the '80s as a fine-dining destination, the recession of the early '90s began to take a toll. While the more casual, family-oriented restaurants operated by his siblings, including La Cabaña and Gilberto's El Indio, maintained steady business, Haro, Jr. found that not as many customers were willing to splurge on oysters, lobsters and steak as much as they once did.
"Everyone was making a lot of money -- except for me, because the concept was so expensive," he admits. "The food cost was high and you needed more waiters for the type of service we offered. It was also more of a romantic experience with live performances each night, including jazz, flamenco dancers, Moroccan music, Hawaiian dancers, orchestral music and dinner theater."
Rather than let the restaurant suffer, Haro, Jr. decided to shift the focus to a more bustling, family-friendly approach and leave behind the quieter fine-dining style. You'll still find live music on weekend nights, though don't expect any French-German sing-offs as in the film. He also added dishes that were crowd-pleasers like enchiladas and burritos, while also retaining some of the seafood dishes like the calamari and towering brasero.
All aboard the tequila express
The drinking habits of customers also began to shift with the changing menu. "I used to sell much more wine, vodka, and classic cocktails," Haro, Jr. explains. "And now it's really only tequila, mezcal and beer." But rather than just simply add tequila to the menu, he immersed himself in studying the topic.
When he was growing up, Haro Jr. had always wanted to be a writer, but his parents were not particularly encouraging of the endeavor and instead he studied law. So, later in life with more freedom to explore his interest, he published his first novel Cocula in 1998, which featured stories about musicians in the town of Jalisco that is considered the cradle of mariachi. He then followed up with the novel Tequila in 2000, which focuses on the town in Jalisco and tequila production. The book also incorporates stories of his family, as well as lots of detailed descriptions of food and even recipes. Many of the recipes in the book, many of which involve tequila, were later added to the Casablanca menu.
To promote the book Haro Jr. decided to add a margarita cart to Casablanca. Dubbed the "Tequila Express," the cart was stocked with a variety of tequilas and wheeled around the dining room for margaritas to be made table side. Not surprisingly, it was a big hit.
Initially one of the waiters worked the cart, but after he left to visit family in Mexico and didn't seem to be returning, Haro, Jr. began to look for a replacement. Fortunately for all of us, Chip Minot was up for the task, a man who has since become a legend behind the "Tequila Express" cart.
Chip grew up in Santa Monica and had been one of the early employees at Casablanca. He began working the door in 1982 and continued on as one of the fez-wearing waiters until completing his degree in accounting at Loyola Marymount in 1989. He would often bring his clients to Casablanca for lunch, but eventually grew weary of some of the shady dealings he encountered in the business. That's when Haro Jr. invited Chip to bartend a few catered parties and eventually to man the cart at the restaurant. Chip found the gig to be a welcome and fun break from the stresses of his work. It was supposed to last three months -- he's now going on five years.
"I think this is the beginning of a beautiful friendship"
With a laid-back demeanor, cheerful banter, and the most awesome white handlebar mustache you've likely seen, Chip has earned a devoted fanbase. Some even consider him synonymous with the restaurant, while others walk in knowing his name even if they've never been there before.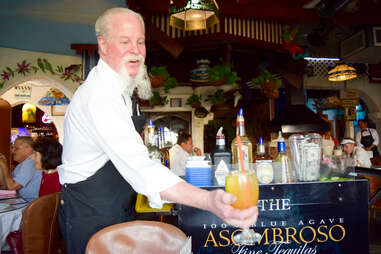 "Now I have a cult following, so I figure if I quit, everyone will probably just end up at my house, which is fine with me as long as you pick up after yourself," Chip admits. "I also don't have 450 different tequilas to choose from."
That massive collection is due in large part to Haro, Jr.'s passion for searching out the best tequilas, often securing rare cases and bottles that are no longer available thanks to friends in the industry. "Carlos surprises me all the time, he'll come up with a tequila that most people have never seen before," Chip says. "And that's the beauty of the cart: he'll put things on here you've never seen before and some that you'll probably never see again." Some of Haro, Jr.'s favorites include El Tesoro De Don Felipe and Fortaleza, while Chip is a fan of La Familia Extra Anejo and Maestro Dobel. But Haro, Jr. adds, "The best advice I give to people is to not look for a particular name or price or because it's very popular, but instead to look for the ones that are made the right way."
But much like Bogart's Rick in Casablanca -- at least in the first half of the film -- Haro, Jr. doesn't drink, mostly just out of preference. Instead he smells the tequilas for their quality and reportedly has a great nose. "I've known him since '82," Chip says, "And since then I've seen him cumulatively drink probably one drink."
On the cart you'll find a range of tequilas varieties, as well as mezcals, and Chip will walk customers through the offerings and customize the drink just for them. "I give people enough information so they can decide what they want to drink because I don't really know their taste," Chip explains. "I know what the regulars want of course, but otherwise, I'll go through descriptions of what I have on the cart to help them find what they want."
"We always have two silvers, two reposados, and an añejo, and every once in awhile we'll have an extra añejo in there. We also have a couple mezcals, and we'll have a mezcal and a tequila with chiles in them for people who like a little spice," Chip says. "The people who make one of the mezcals actually live in Santa Monica and when they come in, they always have the one with the chile in it because they can't bottle it with chiles themselves or it would just be on fire. On the weekends, I'll go two to three bottles of the spicy mezcal a night."
The citrus blend used for the margaritas is made fresh daily and remains a house secret. The margaritas from the cart go for $12 for what might be a $20+ drink elsewhere given the quality of booze that goes into each. And Chip always sticks around to make sure he's found the right balance for your drink. "I won't leave the table until they're happy," he says. "I have them taste it first and if there's something about it they don't like I'll change it. I tell them, 'We'll get it right or I'll go get you a beer and try next time.'"
"As time goes by"
Besides the addictive tortillas, the movie memorabilia and Chip with his marg cart, one of the other charming fixtures of Casablanca is the team of employees that have been with the restaurant for years. In a town where restaurant jobs are often temporary gigs for actors and musicians waiting for a break, Casablanca is one of the few remaining LA spots (along with far-more notorious steakhouse staples, like Musso & Frank and Dan Tana's) where the same people have waited on generations of customers. The employee with the longest continuous stint at Casablanca has been working there for 32 years, and like many others got his start while in high school. Many credit the longevity and loyalty to Haro, Jr.'s father-like guidance and support. "It's like a second family," Chip says.
"Working in a restaurant has always been a place where people who don't have a specific skill can get a start," Haro, Jr. explains. "Everybody can wash a dish, which is really the most important part of the restaurant. From there you can go to the kitchen, or the dining room or the bar. And this is my idea, to give opportunity to everyone to try something that they want to do and get started somewhere." Those that have moved on, often go on to another career or business opportunity, and in many cases Haro, Jr. has helped them out with advice.
"One time I heard my father teaching my older brother, 'There's no such thing as bad employees, just bad owners. Each employee can be the best if you are doing your best as an owner.'" Before moving to the US, Haro, Jr. had coached basketball at the Universidad Autónoma de Guadalajara, and he says many of the lessons he used on the court apply to running a restaurant. "We work as a team, it's not just about one person -- everybody loses and everybody wins together."
And while Haro, Jr. encouraged his own children to pursue other careers, they now work alongside him. His daughter works at Casablanca, while one son helps manage their massive catering business and another son is graduating culinary school and plans to join the family business as well. He's thought about retiring, but says his son keeps bringing in more and more catering business to keep him busy.
Asked about his favorite Casablanca memorabilia in the restaurant, Haro, Jr. says, "For me, the best decoration for a restaurant is the customers. You may have a restaurant that's very pretty, but it can be so cold. People like people. And the best part of this for me is that this restaurant is a part of my life -- everything from the movie history, my family, the experiences, the customers. For me it's more than a restaurant, it's my life, it's a part of me. And I think it's the same for the other restaurants in the family and why they've all been in business for so many years."
Sign up here for our daily LA email and be the first to get all the food/drink/fun Los Angeles has to offer.
Danny Jensen is a regular Thrillist contributor who is pretty sure he could survive on Casablanca's tortillas and margaritas for his only sustenance. Witness the grand experiment on Twitter and Instagram.