A Stunning New Steakhouse and Celeb Hot Spot Opens on Melrose Place
This luxe modern take on steak has an official Kobe license from Japan, a Beef Sommelier, and draws an A-list crowd.
Photo courtesy of catchrestaurants.com
It's not easy to predict the popularity of high-end restaurants; the whims of the celebrity and disposable-income set in LA change like the weather in other parts of the world. But sometimes, you can just tell when a place is going to draw a huge crowd. Catch Steak LA, a lavish new temple of beef that's an offshoot of the mega-popular Catch, has only been open for a short while, but it's already clear that it's a premier place to see and be seen.
The space is as palatial as you might imagine from a restaurant group with locations in LA, NY, Vegas, and Aspen. The new Catch Steak LA is 13,000-square-feet of modern-meets-classic steakhouse design located right on Melrose Place, just down the street from Balmain, Bottega Veneta, and Oscar de la Renta. The restaurant has several different themed rooms, some with a sumptuous old-school red leather and wood motif, while others run towards a modern industrial aesthetic, with high ceilings and exposed brick, bronze fixtures and ivy crawling up the walls. You can have any kind of night you want at Catch Steak LA, as long as it's a festive one.
The opening menu is as expansive as the footprint, with a broadly appealing selection of updated steakhouse favorites, including seafood dishes like Mediterranean Branzino, Roasted Salmon, and Papa's Spicy Baked Clams. Plant-based patrons can enjoy options like Vegetarian Chicken Parm, made with a plant-based cutlet, and a Burrata and Tomato Salad with fresh strawberries. Because this is a Catch property, the raw bar is a prominent feature, and there are a handful of fusion-y sushi rolls too.
Steak is the centerpiece of the experience, though, and like any good opening at this scale they have a signature affectation—a Beef Sommelier, who will conduct a tableside tasting experience with three varieties of extremely special Japanese Wagyu. There is a Hokkaido Snow Beef, with cows bred in cold weather; an Olive Beef from Kagawa, where the cows only eat caramelized roasted olives; and a true A5 Kobe Beef from Hyogo, the standard-bearer for marbelization. You can order each by the ounce, or they offer a flight of all three, cooked right at your table like Benihana for ballers.
There are plenty of other steak options on the menu, divided between Classic USDA Prime steaks, dry-aged steaks, and American Wagyu steaks, if you want to compare the home-grown stuff to the Japanese champs. Cuts run the expected gamut from filet and ribeye on up to large format porterhouse steaks and a massive 40-ounce tomahawk that's been dry aged for 35 days. Sides hew to steakhouse classics like mashed potatoes, grilled asparagus, and wilted spinach, but with a few luxurious flourishes like the truffle aioli that comes with waffle fries, and aged cheddar and whipped creme fraiche on the twice-baked potato. In case you weren't totally sure what kind of place this is, you can also add Osetra caviar to your potato as a $50 supplement.
The primary selection of cocktails have cheeky names like the martini riff Talk Dirty To Me with vodka, olive brine, and truffle-blue cheese olives; or the bourbon, apricot, cinnamon, and lemon drink called The Side Piece. In an unexpected twist, the Reserve Cocktails turn out to be much simpler, straight-forward takes on classics with high-end spirits like Wolves' "Spring Run" whiskey in the Sazerac, and the Old Fashioned which flips in Cincoro Añejo Tequila for the expected bourbon. There are wines by the glass, of course, but if you need to go the extra extra extra mile, there is also a specific section for "Baller By The Glass" pours, from Napa's Opus One Overture to the highly regarded Clos St.Jean from Domaine Ramonet in Burgundy.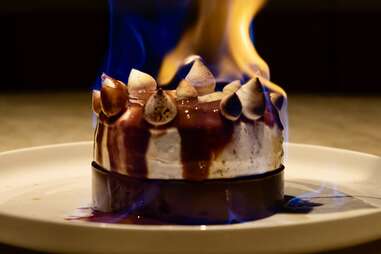 Between the Japanese beef and wine specifically for ballers, Catch Steak is your destination to party like Steph Curry, even if you can't hit an NBA three. Just don't try to keep it going 'til 5 AM, they will definitely kick you out.
Catch Steak LA is now open from 5:30 to midnight, seven days a week. Reservations can be made online.
Ben Mesirow is an Echo Park native who writes TV, fiction, food, and sports. At one time or another, his writing has appeared in The
LA Times
,
Litro
,
McSweeney's Internet Tendency
,
Los Angeles Magazine
, and scratched into dozens of desks at Walter Reed Middle School.