6 Celebratory Korean Lunar New Year Dishes and Where to Get Them in LA
Seollal, a three-day lunar holiday, calls for a feast.
Until recently, my understanding of Seollal, or Korean Lunar New Year, was limited to the more popular Chinese Lunar New Year traditions. As a Korean-American adoptee raised by a white family in the Midwest, my Korean holiday celebrations were limited to annual Korean heritage events for Korean-American adoptees. Decades later, only a few memories stand out: playing yutnori, a game that involved painted sticks; wearing hanbok, a traditional Korean dress; and, most memorably, bowing to elders in exchange for money, or sebae.
Seollal is celebrated on the second new moon after the winter solstice, this year falling on February 12. In Korea, Seollal is a national holiday lasting three days, with most Koreans given time off work so that they can gather with family. Here in the US, absent federal days off, Koreans and Korean Americans fit their celebrations in however they can: feasting on delicious food, making offerings to ancestors, spending time with extended family, and generously exchanging gifts, especially expensive fruits, all to welcome a new and hopefully prosperous year.
Much like 2020's Christmas, Halloween, and Independence Day, Seollal's long-awaited, perfectly timed holiday weekend has been thwarted by the pandemic. The lunar holiday will largely be celebrated within households or over Zoom or KakaoTalk, a South Korean messaging app. Many Korean Americans will spend the holiday working, especially those who work in the restaurant industry and are hoping to fulfill large, holiday orders.
As a resident of LA's Koreatown for nearly three years, I'm lucky to live in an area where being Korean feels ordinary or, sometimes, even fun. The greater LA area is home to the largest Korean population outside of Korea, so, for me, living here feels like the next best thing to moving across the world. Here, I can sample the tastes of my motherland—her flavors, customs, and language—and feel a bit closer to my Korean heritage. The surest way to fall in love with a culture's traditions is to share in their holidays, so this year I set out to make the most of my Seollal celebrations, learning which dishes are most significant to the holiday and where to find their best versions in Koreatown. Here are six traditional Korean Lunar New Year dishes to try this week and beyond: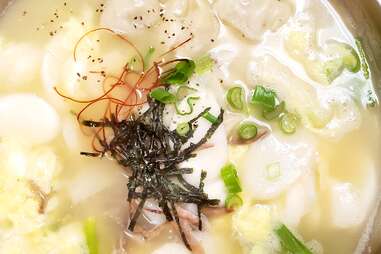 Ask any Korean what makes Seollal "Seollal", and the first words out of their mouth will be, "tteokguk." A rice cake soup, tteokguk is to Seollal as turkey is to Thanksgiving. According to a Korean superstition, eating more tteokguk during Seollal will bring abundance and good luck, as well as add another year to one's life. MDK Noodles makes their noodles, rice cakes, and dumplings from scratch every morning, ensuring excellent texture and unmatched freshness. When served in tteokguk, their chewy rice cakes are hand-cut into the traditional coin shape, which is associated with prosperity. The restaurant offers all three soups typical of Seollal celebrations: tteokguk (rice cake soup), manduguk (dumpling soup), and tteok manduguk (rice cake and dumpling soup). In Korea, the type of soup eaten varies by family and region, so you'll be able to satisfy your craving no matter which tradition you follow (or want to start!).
How to order: Call 213-385-7789 or visit MDKNoodles.com for takeout orders; pickup and delivery via UberEats, DoorDash, Caviar, GrubHub, Seamless.
The first galbi jjim recipe dates back to the mid-1700s, but this dish has royal roots and was served exclusively to the monarchy and aristocrats during the Joseon Dynasty. Near the end of the Joseon Dynasty, the Korean government began promoting the consumption of cattle, and eating galbi jjim became more widespread. Nowadays, galbi jjim is enjoyed anytime but especially on special occasions and holidays. One of the younger establishments on this list, Sun Nong Dan has already earned a reputation among Korean cuisine lovers for their melt-in-your-mouth galbi jjim, which is meticulously simmered in herbs and marinade. When dining on-site, be sure to order it with shredded mozzarella, which your server will melt with a blowtorch at your table.
How to order: Call 213-365-0303 for takeout orders; pickup and delivery via GrubHub, Postmates, DoorDash, Caviar, Seamless, and UberEats.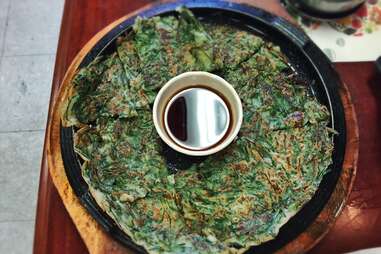 Jeon is both an everyday and a celebratory food in Korean culture. During Seollal, the most commonly served jeon are seafood (because Korea is a peninsula) and kimchi (a food considered essential to every Korean meal). Although most know this restaurant for their delicious budae jjigae (Korean Army stew), locals also love Chunju Han-il Kwan for their authentic jeon: savory, fried pancakes in flavors like seafood, oyster, potato, scallion, and kimchi, that are served in cast-iron skillets. The jeon served here is perfectly cooked, with a crispy exterior and a soft and slightly chewy inside. Like many of Koreatown's best restaurants, Chunju Han-il Kwan sits inside a strip mall off a very busy main street. Its unassuming exterior belies its charming, traditionally inspired interior, which is reminiscent of hanok, traditional Korean homes featuring broad white walls and wood accents. It's no wonder why this restaurant has been a Koreatown staple since 1993.
How to order: Call 213-480-1799 or visit hanilkwanla.com for takeout orders; delivery via UberEats.
A local favorite since 1985, Kobawoo House is a no-frills establishment whose menu reads like a must-have list of Korean comfort foods, offering everything from bulgogi (Korean BBQ beef) to bossam (boiled pork wrapped in cabbage) and everything in between. Just as an American diner might be expected to serve grilled cheese sandwiches, Kobawoo House serves japchae, a sweet and savory dish made of sweet potato glass noodles stir-fried with spinach, scallions, peppers, soy sauce, and sugar in sesame oil. The colorful vegetables in japchae represent the five elements of East Asian cosmology: metal, wood, water, fire, and earth. According to legend, during the Joseon Dynasty, one of King Gwanghaegun's servants created the dish for a royal celebration, and the king enjoyed it so much that the servant was promoted. Most authentic japchae recipes, like that of Kobawoo House, add thin slices of beef to the mix. Next time you're visiting for their much-vaunted bossam, be sure to order their mung bean pancakes, which are deliciously accented with a side of soy-citrus dip.
How to order: Call 213-389-7300 for takeout orders; pickup and delivery via GrubHub, Postmates, UberEats, and DoorDash.
The origins of samgaetang date back to 1541, in Yeongju, Korea, when meat was scarce. In order to give what protein they had more nutritional value, Koreans would stuff it with medicinal herbs like ginseng. Samgaetang, a soup consisting of a whole, young chicken stuffed with ginseng, sticky rice, Korean dates, and garlic, is traditionally eaten on the hottest days of the year. East Asian medicine believes in "fighting fire with fire"— meaning that the negative effects of hot weather are thwarted by hot food. But its immense popularity means that the soup is often eaten on celebratory occasions, as well. According to Myung Dong Noodle House owner Myounghun Kim, his family-owned restaurant serves the best samgaetang in the city. This spot is the epitome of "jipbap" (homestyle) cooking: Kim's restaurant only has two full-time employees, himself and his mother. In Korea, recipes are passed down through families, so each family has a unique way of preparing food. Kim credits his mother's expertise in the kitchen, and locals swear that their banchan, small side dishes like pickled radishes and pan-fried zucchini served with rice, tastes like it was cooked by a Korean grandmother—and, well, they're right. It's no wonder that, in the three years since Kim's family has held ownership of the popular Koreatown restaurant—27 years after it first opened—its popularity has only grown.
How to order: Call 213-251-1066 for pickup and delivery.
Nestled inside the food court of Koreatown Plaza, Awoolim satisfies your Korean street food cravings with snacks like kimbap (Korea's take on sushi), fried seaweed rolls, takoyaki (fried octopus balls), and fish cakes with broth. And just like actual street food, most menu items cost around $5 or less. After your Seollal feast, complete your meal with a glass of sikhye, a sweet rice and barley dessert punch. High in fiber, this malted beverage is enjoyed after large meals to aid with digestion and often poured directly over cooked rice. Awoolim is a local go-to spot for sikhye, which they serve in slushie form, making it especially refreshing on hot summer days. Preparing sikhye at home is tricky because of the fermentation process, so enjoy it easily courtesy of the experts at Awoolim.
How to order: Call 213-388-0053 for takeout or visit in-person at Koreatown Plaza, 928 S Western Ave, Ste 125.
Sign up here for our daily LA email and be the first to get all the food/drink/fun Los Angeles has to offer.
Lynn "Jeong" Stransky is a Korean-American artist, activist, and assembly delegate to the CA Democratic Convention based in Los Angeles.