Where to get free beer, great music, and crazy pasta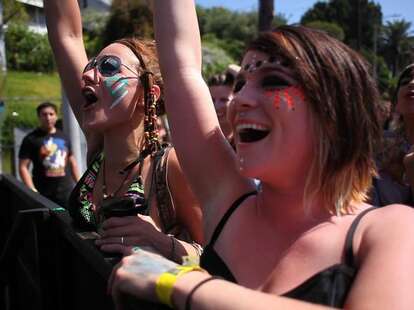 Event of The Week
Occupying downtown LA for two days is that hippie-ish guy you knew in high school Jubilee, a not-so-huge-you-feel-claustrophobic/ close-enough-to-home-that-if-you-really-have-to-number-two-you-don't-need-a-porta-potty music festival featuring rad bands like Philly's Weezer-esque riff-rockers Free Energy and the super-raucous Black Lips. Tix are onsale now, right here
Thurs, June 6th
One of the last days to hit Casa Indio, a totally free beer-and-music popup, which tonight's got Secret Colors and Skin Town, as well as free suds with a $1 donation. The whole schedule is here
Friday, June 7th
The Villains Tavern peeps have taken over a rooftop across the street for a two-night-only popup pow-wow overlooking the Jubilee masses, w/ DJs and drink specials all night.
The upcoming sweet, sweet spot Sticky Fingers is launching two popups for National Donut Day (yes, it's a real thing), one in Santa Monica and the other on Fairfax, where they'll be serving up maple-bacon donuts and more. All the info's at their FB
Saturday, June 8th
The two-day annual LA WineFest commences with deliciously educational panels like "Artisanal Cheese & Wine Pairing Adventures". Buy tix right here
The Complex in Glendale's hosting a Game Of Thrones trivia night w/ hundreds of dollars in prizes, although if the band that looks like Mumford & Sons starts playing a minor-key song and the old dude in the corner sketchily keeps staring at you while he's drinking from a goblet after he's let his underage daughter go to a "bedding ceremony", GET THE HELL OUT OF THERE IMMEDIATELY BECAUSE IT'S A TRAP.
The new Palihouse Hotel in Santa Monica is officially open, with a similarly trend-forward interior as the chainlet's other location in WeHo. Check it all out here
Mon, June 10th
Today's the last day to get free churros (!) w/ the purchase of any entree at La Sandia in Santa Monica. Arrriba
Tue, June 11th
Hit the new lunch at Hinoki and the Bird in Century City for deliciousness like a filet sandwich w/ roasted tomatoes & pickles and monkfish w/ yellow curry noodles. Here's the full menu
Wed, June 12th
Mercato Di Vetro's got a four-course, wine-paired pasta tasting, with beef cheek ragout and English pea agnolotti. Book now at 310.359.8369 and check out more at MercatoDiVetro.com
'Cause it's been, like, 40yrs since the Sailor Jerry dude passed, True Tattoo in Hollywood's inking free anchors today only. Yep: one day, many daddy issues. Find out more about True here.