Cheetos Are the Newest Weird Food Trend Taking Over LA. Here's How.
The Cheetos Inferno Sushi Burrito from Okipoki

| Courtesy of Okipoki
The Cheetos Inferno Sushi Burrito from Okipoki

| Courtesy of Okipoki
There are two groups of people in LA: the health nuts who juice and eat kale salads, and the junk-food addicts who love their dishes powdered with cheese dust. If you belong to the latter category, then you most likely appreciate the fact that our city has been blessed with not only the genius creation of Taco Bell's Doritos Locos Tacos, but also Burger King's Mac N' Cheetos, which is both a food abomination and gift from the gods. And now it isn't just fast-food joints jumping on the Cheetos train: Non-chain restaurants everywhere from Okipoki to Ameci Pizza are straight up coating and crumbling the curls into their stoner-fied dishes. To get down to the bottom of how Cheetos got so hot and where this trend is going, we had to put our diet on hold for research on some food that's orange-finger-lickin' good.
Why did Cheetos become the new it thing?
Stuffing our faces with neon-orange, cheese curls is a kind of battle cry against health food, according to Nevin Barich, a food-and-beverage market analyst by day and junk-food blogger by night. "Whenever there is a big push towards healthier food and healthier beverages, I think in contrast, there's always going to be a kind of backlash... where you can see an opposite trend towards items that are basically the opposite of what the primary trend is," he says.
Cheetos also just happen to bring back those warm and fuzzy feelings from our childhood. "There's something to be said for nostalgia," Barich says.
He's not alone in this idea. The inspiration for the fiery, Hot Cheetos-stuffed Inferno Sushi Burrito from Okipoki in Downtown stems from sentimentality. You also might find yourself sweating after taking a bite of the sushi burrito, as it's stuffed with spicy tuna, drizzled in spicy mayo, and then rolled in a vibrant red furikake-and-Flamin' Hot Cheetos crumbs blend. "While growing up, a lot of us had an intense obsession with Hot Cheetos (it's still pretty severe for some of us) and we would often joke about incorporating it into an item on our menu," Josh Estrada of Okipoki says. "What started as a jesting suggestion eventually turned into a popular order request as others, too, were able to find a sense of nostalgic satisfaction for themselves."
While many Americans can't even imagine a life before Cheetos, this junk-food obsession can also start later in adulthood. That's where Jjan's 420 Fries come into play; it's an ooey-gooey dish for anyone with the munchies, consisting of crispy fries smothered with nacho cheese, and topped with sticks of Flamin' Hots and a sunny-side-up egg. The love for the crimson curls go way back for Tommy Lee, the co-owner of the Koreatown gastropub, but he's doing something a little different -- he's introducing the spicy snack to some Koreans for the first time. "Most of our customers here -- Koreans who were not raised here, immigrants -- don't really know about the American culture," Lee says. "When I was in high school, we used to eat [Hot Cheetos with cheese] all the time, so I wanted to introduce how we eat nacho cheese with all kinds of stuff."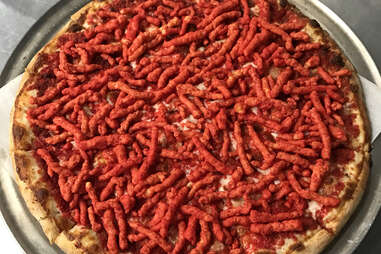 Nobody thinks they're reinventing the wheel here, but they're bringing a piece of their childhood into their dishes in a big way. For Hayk Igraryan, owner of Ameci Pizza in Burbank and Glendale, his inspiration for creating his Hot Cheetos Pizza came from his school days when his buddies would top their pies with the fiery and crunchy snack. He admits that his pizza idea isn't "anything crazy new," but he doesn't just simply toss Cheetos onto the slices: There's some finesse that he puts into his junk-food art. The Flamin' Hots get ground up and mixed in with the cheese and sauce before it's spread onto the pizza; the tiny crumbles make it so that the Cheetos don't get soggy while they're baking and it also ensures that the sauce absorbs the flavor better. Once it's out of the oven, it gets topped with whole Hot Cheetos curls.
"It came out a lot better than expected," Igraryan says. "A lot of customers actually really like it." In fact, photos and videos of his Hot Cheetos Pizza have gone so viral that out-of-state customers, from Texas to Michigan and Colorado, have journeyed specifically to try out a slice of Ameci Pizza's spicy pie.
"There are some crazy fans out there for Hot Cheetos," he says. No kidding.
Who was the first genius to do it?
There's the age-old question, "Which came first, the chicken or the egg?" Did fast-food restaurants kick-off the trend of adding Cheetos to menu items or did they follow other eateries that were already slinging the goods?
"These kinds of trends will always start in fast food," Barich says, referencing Burger King's Mac N' Cheetos and Cheetos Chicken Fries. "I know a while back Taco Bell came out with some sort of Cheetos Burrito, so sometimes when you see it in those places, which are in the mainstream, it's easy for it to trickle down to other more boutique restaurants as well."
There's a very good chance that the idea of adding Cheetos in dishes may have been embedded into our subconscious from Burger King's Mac N' Cheetos hullabaloo over the summer since it's been showing up in all shapes and forms. It's even made its way to desserts. Most recently, at Cookie Good in Santa Monica, you'll find Cheetos mixed into a sugar cookie and then rolled in the cheese dust to ensure "the famous orange fingertips," says co-owner Ross Canter. He first thought of the idea as he was dreaming up new holiday flavors for his cookies; as he considered rolling his cookies in crushed candy canes, Cheetos suddenly popped into his head.
"Not to sound too Harry Potter-ish, but it felt more like Cheetos chose me," Canter says. "The inspiration hit and I just had to give it a shot. I've done other savory/sweet cookies in the past (Pancakes & Bacon with maple syrup glaze, for one), so the idea of a non-traditional cookie flavor didn't scare me. But, I will say that despite its savory-cheesy nature, our Cheetos Cookie is still very much a cookie."
University Park's Poke by Hawaii is another spot that just recently added Cheetos to its menu. For the last two months since the restaurant's launch, Cheetos hounds have been able to add crumbled Flamin' Hots to their poke bowls. Co-owner Isaac Kim gives Cheetos credit to his girlfriend, who insisted they offer it as an option during a pre-opening event. It was a hit at the event -- and the rest is history.
Poke purists will argue with Kim that Cheetos just doesn't belong in the Hawaiian bowl, but Kim says once they're willing to try it out they usually change their tune. "What they don't know is that the Cheetos adds a certain texture -- like the crunch aspect -- to poke," which Kim says is relatively soft because of the fish, rice, and toppings. For other customers, it isn't hard to convince them to add the crumbs because it takes them back to their childhood.
Burger King may have pushed their breaded Mac N' Cheetos sticks into the mainstream, but one of the OG purveyors of Cheetos dishes is The Attic in Long Beach, which has been slinging its cheesy option for the last five years. These guys are serious about their coagulated Mac N' Cheetos goodness; theirs is a decadent bowl of pasta mixed with cheddar and mozzarella, and topped with Flamin' Hots. What makes their cheesy dish different is that it leans towards the gourmet end, with six different options for additions, including a ridiculously good slow-braised short rib that gets added into the mix.
The Attic owner Steve Massis, a self-proclaimed "mac n cheese fanatic," says, "I'm proud to say we are the originators of the Mac N' Cheetos dish. We are going on 5 years serving it. [There are] a lot of imposters out there, don't be fooled."
Will the Cheetos trend last forever?
While some of us would happily treat ourselves to Cheetos-laden stoner meals for the rest of our lives, Barich, the market analyst, doesn't think the trend is here to stay. "I don't know how much of a shelf life it'll have," he says. "The products at Burger King only lasted for a short time and I believe the Cheetos Burrito at Taco Bell is no longer there, so I think it's kind of -- I don't want to go as far as to say the trend has run its course -- but I think we're past the peak of that trend [as far as chain restaurants go]."
Disheartening news, but there is a light at the end of the tunnel as Barich suggests the next growing trend is all-day breakfast. He sees other major chains following in the footsteps of McDonald's successful campaign, and that's all right with us.
Sign up here for our daily LA email and be the first to get all the food/drink/fun Los Angeles has to offer.