6 new LA restaurants you need to book a table at IMMEDIATELY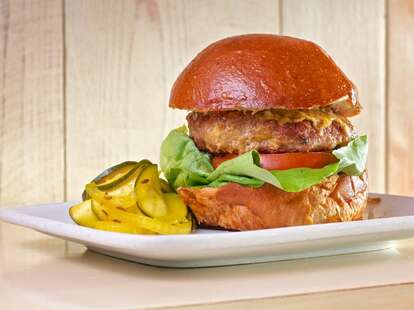 Because you're actually going to have some time on your hands when your seven-day five-day two-day one-day holiday kicks in next week, you're either gonna want to spend it 1) having a long sit-down chat with HR (dude, your benefits are terrible), or 2) at one of these six just-now-open eating and drinking establishments.
Mud Hen Tavern (click here for address and deets)
This gastropub from a crew that includes Top Chef Masters-ticipant Susan Feniger took over the spot that used to house her street-food concept called... um... Street, but now leans far more towards American comfort food, with an extra-juicy burger, braised short rib, and crazy-good chicken and waffle croquettes.
Ristorante Al Mare (click here for address and deets)
Right frigging there on the Santa Monica Pier's this three-story, traditional-Italian ristorante from the guys behind The Grove's La Piazza. The've got a schload of classics going down based on Mama-approved recipes, like rigatoni w/ meatballs, roasted octopus, and a bone-in (heyo!) 16oz NY strip.
Brickworks Roasthouse & Grill (click here for address and deets)
Espresso-cured brisket? Slow-roasted oysters? Where do you need to go for these things? Would it maybe be the South Bay? Yes, yes, yes, and yes. BRH is a brand-spanking-new Manhattan Beach smokery that's now busting out carbon-fired goodness as well as a 30-strong bourbon list.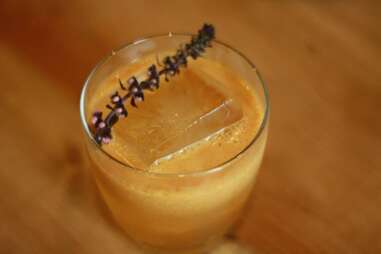 The Wallace (click here for address and deets)
Culver City's brand new resto's helmed by a former Pittsburgh Pirates minor leaguer, who's knocking it out of the park (see what we did there? DO YOU??) with Asian-influenced deliciousness like lemonfish crudo and next-level drinks, including the coffee-infused, Scotch-based Day Rate.
Scopa Italian Roots (click here for address and deets)
This crazy-stunning Venice add is anchored by this gargantuan bar stocked with tons of rare spirits, which makes sense, 'cause its partners include dudes who used to bartend at La Descarga. But wait, there's more: the chef's a former Top Chef'er who'll do must-eats like a whole seabream w/ fennel and pork shank pappardelle.
Rare by Drai's (click here for address and deets)
The guy who convinced you to wait in line for hours outside of The W only to be told your shoes were "a bit too scuffed" to get up to his rooftop club, is back (!) with a high-end, on-Sunset steakhouse doling out massive Wagyu ribeyes and whole roasted loup de mer.