LA's 12 best banh mi sandwiches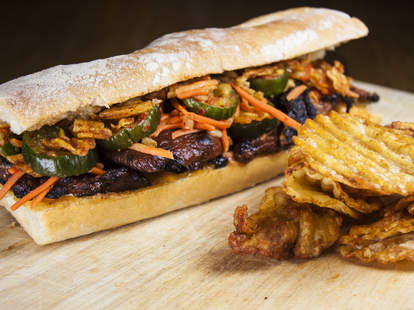 Despite what everyone in OC's Westminster might tell you, you don't need to drive past the Orange Curtain for delicious Viet-ness. You can just drive to these 12 places, all of which are armed with one of the best banh mi in LA.
 
Tocino banh mi
Bowld (address and info)
Various Locations
You'll have to track Instagram or Twitter to see when Bowld -- a delivery concept that hosts a weekly pop-up at Villains Tavern -- serves their specialty banh mi, but it'll be worth it because 1) it's made with a Filipino caramelized salt-cured pork ("tocino"), 2) it's smothered in Sriracha mayo and sprinkled with spiced potato chips, and 3) yes, the chips are also INSIDE the sandwich.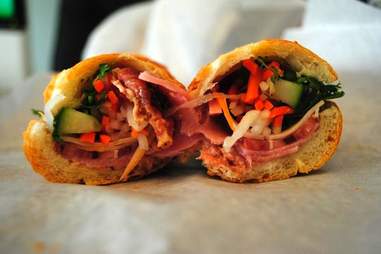 BANH MI MY-THO
#8 (charbroiled pork banh mi)
Banh Mi My-Tho (address and info)
Alhambra
You can't go wrong with any of the under-$3 sammies at this cash-only hole in the wall, though the #8 is a favorite, featuring lemongrass-marinated pork and all the traditional fixings, nestled in a baguette with the ideal crunchy-to-soft ratio.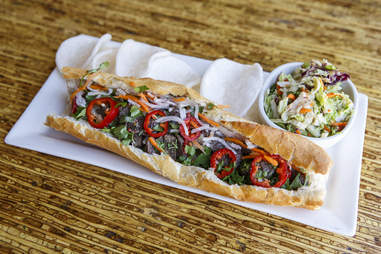 Gingergrass
Beef rib eye banh mi
Gingergrass (address and info)
Silverlake
This Eastside spot focuses on their sandwich innards, getting bread straight from Mr. Baguette and filling each one with grilled meat, fresh herbs, veggies, and a chili garlic aioli spread.
East Borough
Pho Baguette
East Borough (address and info)
Culver City
This fusion joint has found a way to combine two of Vietnam's greatest imports by serving up their brisket banh mi with a side of rich, earthy pho, which also acts as a delicious dipping sauce for the sandwich.
 
Mr. Baguette Special banh mi
Mr. Baguette (address and info)
Various locations
The folks at this Viet cafe mini-chain know that bread quality can really make or break a banh mi. That's why they've perfected the super-fresh, fluffy vessels for a vast selection of sandos, including a thin-sliced cold cuts and pâté special.
Mendocino Farms
Kurobuta pork belly banh mi
Mendocino Farms (address and info)
Various locations
Mendocino's version isn't going to win points with banh mi purists. But when you're dealing with chunks of fried Kurobuta pork belly pressed between pillowy ciabatta squares, who cares about authenticity? Not you!
Hero Shop
Brisket banh mi
Hero Shop (address and info)
Downtown
The guys behind Black Hogg recently opened a joint devoted to banh mi, and the winningest winner on the whole winning menu is the fatty beef brisket -- dry rubbed with spices like star anise, cinnamon, cloves, ginger, and garlic, then braised in fish sauce and beef stock for a missile of meaty flavor.
 
Go Fish Mi
Banh Mi Venice (address and info)
Venice
This brand-new spot on the corner of Lincoln and Rose whips up a cod fish version of a banh mi (whaaaaa?), drizzled in yogurt and lemon (yes, you can still try meaty options like braised short rib, turmeric chicken, and pork belly).
Superba Food & Bread
Pork sausage banh mi
Superba Food + Bread (address and info)
Venice
Because the only thing better than noshing on banh mi is noshing on banh mi by the beach, Venice-based Superba makes fresh, house-made baguettes loaded with juicy pork sausage, mayo, and spicy peppers. By the beach.
Ink Sack
Pork shoulder banh mi
ink.sack (address and info)
West Hollywood
If you've ever eaten banh mi and thought, "hey, this could use some fried pork rinds", then you and Michael Voltaggio share a brain. The chef's gourmet sammie outpost uses chicharrónes as the perfect crunchy foil to their soft, chewy loaf.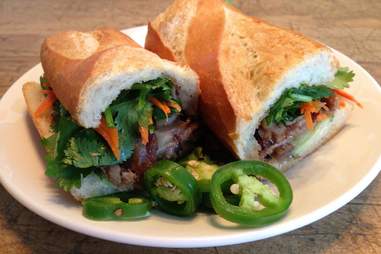 Phorage
Berkshire pork shoulder banh mi
Phorage (address and info)
West LA
Phorage adds extra heft to its baguette by stuffing it with Berkshire pork shoulder and Kurobuta pork belly that's been marinated in lemongrass overnight, then slow-roasted to a sweet/savory, melt-in-your-mouth tenderness the next day.
BBQ pork banh mi
Ba Le (address and info)
Alhambra
This no-frills, takeout-only place does it right, heaping its meat-filled hoagies with plenty of julienned and pickled carrots, daikon, and cucumbers; a splash of soy sauce; and a few springs of cilantro and jalapeño slivers for a kick. Plus, they usually have a buy-five-get-one-free deal, which comes in handy for tomorrow's breakfast. Bring cash!
Sign up here for our daily LA email and be the first to get all the food/drink/fun Los Angeles has to offer.
Tiffany Tse is a freelance writer for Thrillist, and thinks banh mi is the breakfast of champions. Check out what she's up to on Twitter and Instagram at @twinksy.