From boom, to bust, to boom again, Culver City continues to grow as one of LA's great dining districts, and while Downtown gets all the hype, there are plenty of phenomenal options to be found in the surrounding parts of town. From old-school tacos to new-school... well, tacos, here are the 14 finest places to gorge yourself in Culver City.
3229 Helms Ave
The only argument against this dry aged beef patty, topped with blue cheese, arugula, and onion jam (with no substitutions) is that it's actually closer to a sandwich than a burger. In which case, it's the best burger and the best sandwich in Culver City.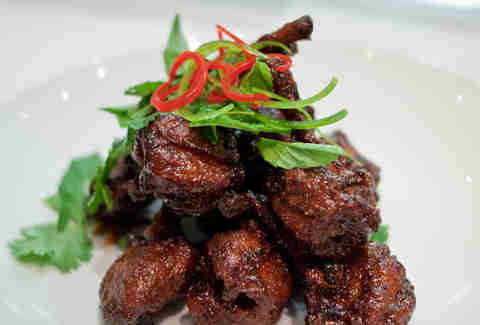 3239 Helms Ave
The dude who invented the Father's Office burger is no one trick pony, and all the proof you need is next door at this modern Asian restaurant. Get the dan dan noodles, spicy chicken wing pops, and black rice with Chinese sausage, and you'll leave pretty damn happy.
3973 Sepulveda Blvd
Gone are the days when you used to have to drive over to West Adams or Inglewood for BBQ -- now Culver City has its own meat temple dedicated to brisket and pork ribs. Lunchtime is for standard sandwich and BBQ combo plates, while they get a bit fancier for dinner with small plates and Scottish ocean trout.
10700 Washington Blvd
The menu at this fast food Indian counter is smaller than the original Samosa House just up the street, but it's got one thing the other location doesn't have: fake (aka soy) chicken tikka masala that's so good you'll want to use at least two of your three combo choices on it when ordering. This is as close to a delicious-yet-guilt-free meat experience as you're gonna get.
3829 Main St
Korean BBQ from the dude behind Seoul Sausage on Sawtelle? We're in. The lunch specials are fantastic -- like spicy pork bowls and dolsot bibimbap -- and the uni-topped Korean steamed egg doesn't hurt either.


4017 Sepulveda Blvd
Not to be confused with the thick-cut stuff you get at delis like Langer's, this classic Culver City diner specializes in the piles of shredded pastrami made famous by The Hat (and others). Pick a song on the old-school mini jukebox, then grab the jus-dipped sandwich in your fist and go to town.
9537 Culver Blvd
The original Compton location of this fried chicken shop closed over two years ago, but the Culver City location is still going strong with buttermilk biscuits, honey from a spout, and intensely crunchy, heavily battered fried chicken.
11172 Washington Blvd
This mini chain that started in Torrance specializes in the kind of fatty pork bone ramen that's become super-popular in LA over the past five years. Between the spicy tonkotsu and the premium shoyu, you're not gonna do better than this without driving over to Sawtelle.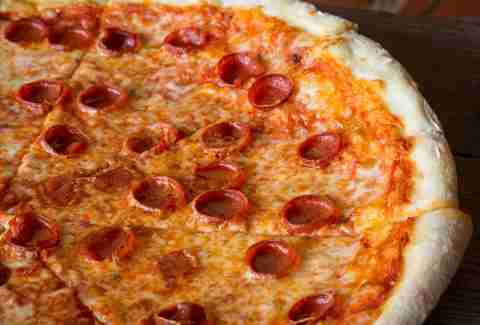 3819 Main St
People who complain that there's no good New York pizza in LA have clearly never been to LaRocco's. This local spot does everything it can to evoke the feeling of the Big Apple (it's even got a Statue of Liberty logo), but perhaps the most authentic flourish is the "two slices of pizza and a soda" lunch special.
11222 Washington Pl
This cash-only taco stand, with its perpetual lines inside and out, is probably the most controversial place on our list, but if you can't see why the hard shell beef tacos with fluorescent yellow cheese here are the best hard shell beef tacos with fluorescent yellow cheese ever, we can't be friends.
6114 Washington Blvd
This tiny coffee shop has got all of your expensive and fancy pour-over coffees with single origin beans, alongside great pastries from Proof in Atwater Village. It's also got one thing that too many other hipster coffee shops neglect: a cup of regular old drip coffee for under three bucks. And on Wednesdays, there's...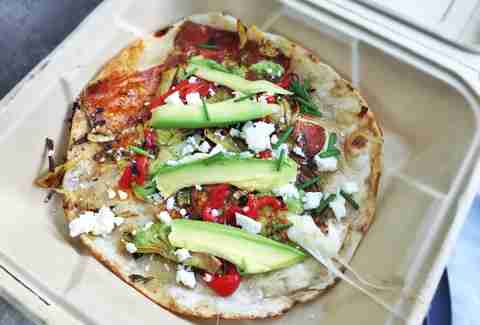 6114 Washington Blvd
Most of the time Chef Wes Avila parks his award-winning food truck Downtown, but one day a week Culver City wins the taco lottery, getting access to his always-rotating menu of tacos and tostadas that are determined by whatever's locally available each day. The resulting fare's good enough to be served in a world-class restaurant -- think sweet potato tacos w/ almond chile, feta, and fried corn, or a poke tostada w/ tuna, white miso, lime, furikake, chile del valle, and avocado.


6000 Sepulveda Blvd
Who says there's no good Chinese food on the Westside!? This food court stall in the Fox Hills Mall Westfield Culver City might not be as good as the SGV original, but the beef roll (sweet beef and cilantro wrapped in a thin scallion pancake) is the best Chinese dish you'll find West of the 405.


9748 Washington Blvd
There are plenty of brunch options in Culver City, but none are as good as this old Western-themed diner with a big but no frills menu -- because sometimes you just want two eggs, over easy with bacon, toast, and a regular cup of coffee for less than $10.

Sign up here for our daily LA email and be the first to get all the food/drink/fun Los Angeles has to offer.

Zach Brooks is the founder of Midtown Lunch and host of the Food is the New Rock podcast. He lives in Culver City, and wouldn't be caught dead anywhere but these 15 places.