Since egg rolls all kind of taste the same, it's actually pretty hard to put together a list of the best ones in LA. Unless, of course, you only consider ones that're stuffed with something unexpected (pastrami, hot dog, cheesecake...?!), which is exactly what we decided to do. Here're the best non-traditional egg rolls in LA:
Del Frisco's Grille (click here for address and info)
Santa Monica
Someone had the genius idea of taking all of the things that make a Philly cheesesteak delicious (cheese and... um... steak), stuffing them in a wrapper, and deep-frying the guy. Like we said: genius.
Yaki's the Original Teriyaki Bowl (click here for address and info)
Burbank
At some point in your life, you've probably thought, "What if someone took a hot dog, dipped it in cheese, wrapped the whole guy up in an egg roll wrapper, and deep-fried it"? The guys at Yaki's thought that too. The difference is, they actually did it.

East Borough (click here for address and info)
Culver City
This Vietnamese bistro's become a go-to for interesting Asian dishes (pho banh mi and Brussels sprouts with octopus, FTW!), not the least-exciting of which is the roll, which is filled with classic lemongrass and far-more-interesting-than-classic grilled sausage on the inside.

Moe Deli (click here for info)
Various Locations
This truck-staurant rolls around on four wheels just throwing out a shton of amazing egg roll insanity. The Rueben's stuffed with coleslaw and pastrami (!!), while the Big Tuna's got fish and potato salad.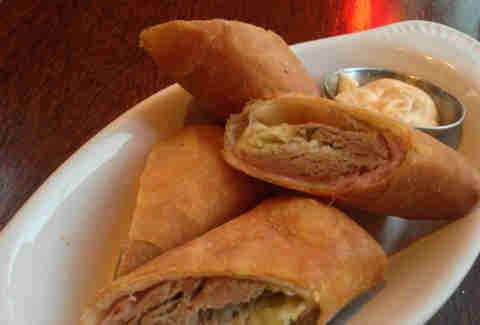 Louie's of Mar Vista (click here for address and info)
Mar Vista
This neighborhood favorite's got some island flavor in its Monte Cristo rolls; they're stuffed with 12-hour-roasted pork shoulder, then ALSO stuffed with ham and cabbage, fried in a lumpia wrapper, and served with spicy bang bang sauce.

North End Caffe (click here for address and info)
Manhattan Beach
Similar to Louie's, this South Bay spot is dropping Kalua pig in its Monte Cristo egg rolls too, but with some Diners, Drive-Ins and Dives cred.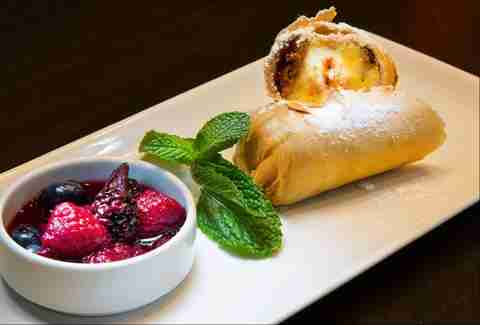 Oliver's Prime Steakhouse (click here for address and info)
West Hollywood
At this new-ish steakhouse, dessert's deep-fried... and that means egg rolls stuffed with cheesecake. Yeah, seriously.

Tapenade (click here for address and info)
West LA
This usually Mediterranean spot's getting its Asian on with this sadly un-fried egg roll (fine, "Spring roll"), which nonetheless is deliciously stuffed with confit chicken and served with a sweeeeeet apricot jam.
Jeff Miller is Thrillist LA's Senior City Editor and thinks more things should be made in egg roll form (we're looking at you, pizza). Follow him on Twitter and Instagram.