The 10 (er, 11) best things we ate at LA Loves Alex's Lemonade food fest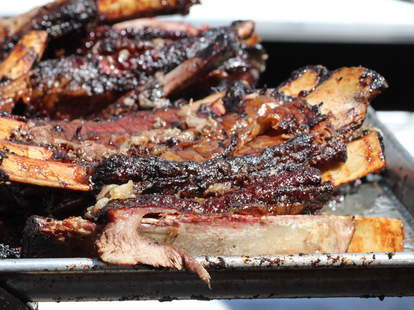 The yearly LA Loves Alex's Lemonade food festival isn't just known for being the fest with the most awkward name to say over and over again (although it certainly is that, too); the annual fundraiser's also got just about the best lineup of chefs/food of any of LA's myriad food festivals. Proof? There was no bite better than Adam Perry Lang's crazy-good short ribs, above (unavailable... anywhere else). Check out this countdown -- complete with mouthwatering food p*rn -- below. And then go eat something. Because hunger is guaranteed.
Jeff Miller
10. Local seafoodery The Hungry Cat blasted a bevy of sea specialties, including fresh-shucked oysters and these Cajun-spiced lobsters.
Jeff Miller
9. The Animal dudes brought the offal on with these grilled chicken hearts, but lost points for making us have to acknowledge that beautiful flowers exist.
Jeff Miller
8. You can be all like, "Roasted carrots? In the top 10?" But then you'd have to be all like, "Oh, they're from Osteria Mozza? Yeah, that makes sense."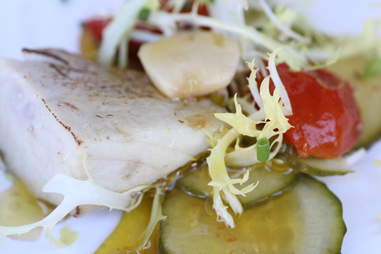 Jeff Miller
7. The dude from Seattle's Lark busted out the flamethrower for this charred hamachi w/ half-dried cherry tomatoes, which -- like most students at Colorado College -- balanced crunch and acid with sophistication.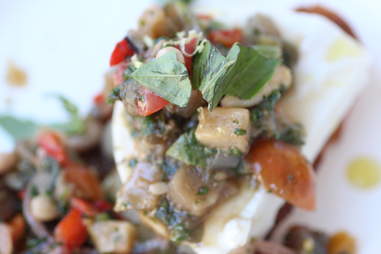 Jeff Miller
6. The chick from Seattle's Tilth decided to dole out caponata w/ fresh mozzarella. Mmmmm, caponata.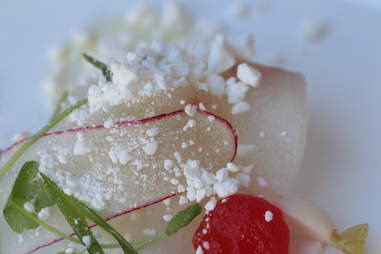 Jeff Miller
5. The Strand House/BLD dude Neal Fraser got all raw with this fluke crudo topped w/ "horseradish snow", aka the Informer's bitter cousin.
Jeff Miller
4. The MB Post guy dropped Vietnamese caramel pork jowl w/ green papaya salad on the plate, packing super-flavor even in this tiny bite.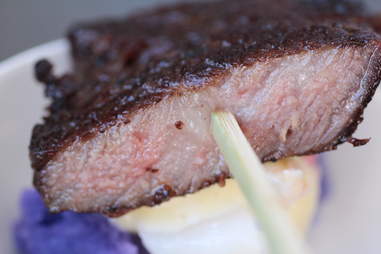 Jeff Miller
3. San Fran repped, w/ the chefs from NorCal's Prospect and Boulevard hitting this multi-faceted surf-and-turf dish, which had a blue cauliflower-like vegetable, a hit of perfectly-steamed lobster, and this nailed-it bite of charred zabuton beef.
Jeff Miller
2. It was sweltering hot outside, so this Louisiana crab pasta (from the NoLa resto Peche) seemed like it may lose out, temperature-wise. Not so: every bite was as majestically rich as the sweat beads that formed from eating it.
Jeff Miller
1. Rumors abound about Angelenos driving to Phoenix just for Pizzeria Bianco's pies. Now, we understand why. Wow.