LA gets a lot of flack from New Yorkers for not having great pizza, to which we say: you're under a foot of snow right now and it's 80 degrees outside here. FACE. Oh, and also, we have a ton of great pizza, in literally every neighborhood in LA. To prove it, here're a ton of great LA pizzas, listed by 'hood:
BURBANK
Best Pizza Place: Dino's
A longtime standby for all the local studios (CBS reprezent!), Dino's does hand-tossed pies made with a proprietary dough, with stellar specialty options like a lasagna pizza (?!) done with fresh, local Italian sausage and ricotta cheese.
CULVER CITY/ PALMS/ WEST LA
Best Pizza Place: The Coop
This delivery-and-take-out joint's locally beloved for 1) NY-style pies, and 2) being named after one of the best characters from Wet Hot American Summer.
DOWNTOWN
Best Pizza Place: Pizzanista!
This Clash-inspired slicery gets down with a killer breakfast pie called the Rise-and-Shine (with an over-easy egg and bacon), and the Meat Jesus (with pepperoni, sausage, and bacon) -- plus, in case that's not enough, they have a special pie on Sundays that's topped with mac and cheese.
EAGLE ROCK
Best Pizza Place: Casa Bianca
Some may say it's declined over the years, but A) those people are liars, and B) there's no question the 50yr-old-plus CB is one of LA's most well-respected pizzerias, made infamous by Pulitzer winner Jonathan Gold in the '90s -- and visited by his disciples daily ever since.

EAST HOLLYWOOD
Best Pizza Place: Desano Pizza Bakery
Not that there's an enormous amount of competition in the hood (except for Osteria La Buca, which, granted, is pretty frikkin' great), but the just-opened Desano is doing Neapolitan-style pies via Nashville, with four wood-burning ovens blowing out pies with Italian-imported ingredients.
ECHO PARK
Best Pizza Place: Pizza Buona
Right on the Silverlake/Echo Park border, this local-fave's a family-run, sweet-crusted pie-ery. Two Boots down the street may have more exotic ingredients, but here, you can taste the love, man.

ENCINO/TARZANA
Best Pizza Place: Mulberry St
Their floppy-crusted pies are an acquired taste, but once you've acquired it, you pine for nothing else. Except their BBQ sauce. Mmmmm.
GLENDALE
Best Pizza Place: Pizza Boy
This family-run pie spot's been around since '88, and they really pile on the toppings -- including pastrami. Yeah. Pastrami pizza. You want that.
HANCOCK PARK
Best Pizza Place: Village Pizzeria
These guys make everything in-house -- meatballs, marinara, sausage, garlic & clam sauce, dough -- for a pizza that's totally unique-to-them. Plus: beer and wine!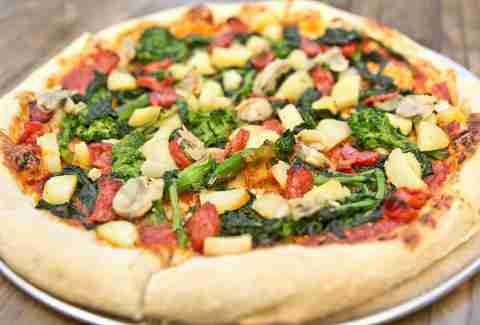 HIGHLAND PARK
Best Pizza Place: Maximiliano
This sit-down, kinda-fancy Italian spot busts out crazy-good, bubbly crusted pies, as well as an always-creative pizza of the month that's worth return visits... especially if it's the Meatlovers pie, with bacon confit (whaaaaa?), fennel sausage, Calabrese sausage, and pomodoro sauce.
HOLLYWOOD
Best Pizza Place: Pizzeria Mozza
It'd literally be impossible to do a "best pizza in LA" list without including Mozza. Nancy Silverton and Mario Batali's always-packed ode-to-cheese-discs is just simply the best in the city. Hint: if you want to get in, wait 'til about 10pm and eat at the bar. The wine tastes better that way, anyway.
KOREATOWN
Best Pizza Place: All Angolo
This hidden-in-a-strip mall shoebox shoots for (and scores with!) dishes from the Romagna region of Italy, including fresh pastas, and yah, pizza biancas that make you glad you passed up the best KBBQ in town (even just for one night).

LOS FELIZ
Best Pizza Place: Palermo
They've got everything from omelets to veal scallopini at this old-school ristorante, but you're here for one thing: the pizza rosa, a thick slice oozing with mozzarella and feta, and gushing with fresh tomatoes.
LONG BEACH
Best Pizza Place: Michael's
Zagat just called this place the #1 Pizza IN THE COUNTRY. In the country. So, yeah, go here.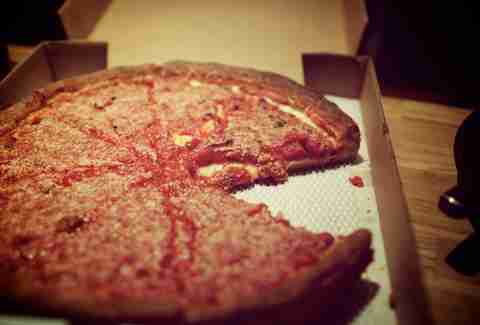 MID-WILSHIRE
Best Pizza Place: Hollywood Pies
This unassuming spot's best known for their deep dish, Chicago-style pies (RESPECT!), but their thin-crusters are shockingly just as good. Just don't expect 'em fast: everything's made-to-order, so it can take an hour or so from order to delivery.
NORTH HOLLYWOOD/STUDIO CITY
Best Pizza Place: Roccos
All three Roccos locations (Wilshire, Culver City, and Studio City) are totally legit, but this one trumps its nearby competition, due to cheese that's perfectly molten and crust that's crisp-where-it-counts-and-moist-when-it-doesn't.

PASADENA
Best Pizza Place: Luggage Room
In just a couple of years, The Luggage Room's reigned supreme over Pasadena's crusty masses, thanks to smashed-ice "slushy" cocktails and pies topped with sausage from meat-masters Lindy and Grundy.
SANTA MONICA
Best Pizza Place: Stella Barra
Crazy-fresh moz and a perfectly bubbly crust are just a couple of the reasons this relatively new Main St. 'za-spot's become an absolute mainstay.

SILVERLAKE
Best Pizza Place: Garage Pizza
Whether you've stumbled out of Jay's Bar, The Satellite, Akbar, The Silverlake Lounge, or really anywhere, they're open 'til 4am. Doesn't hurt that the pizza's actually totally great, too.
SOUTH BAY
Best Pizza Place: Pedone's
This homespun restaurant is the place. It's won literally every award possible from every local publication possible, with credit going to homemade sauce and specialty pies, like their jalapeno/chorizo Pizza Mexicano.
VENICE
Best Pizza Place: Abbot's
Yes, Abbot Kinney also has Gjelina, but who wants to overpay for pizza AND get yelled at, at the same time? No one's screaming at you at Abbot's -- instead, they're going to give you perfectly proportioned pepperoni pie with bagel crust. Yep. Again: bagel crust.
VAN NUYS/SHERMAN OAKS
Best Pizza Place: Barone's
Another classic, red-booth ristorante, only this time, Valley-style. You can do a single-serving 8in house-style guy with sausage, pepperoni, and green onion, or go big and get a monster 2x16in shrimp or clam. But what you're really here for, on Fri and Sat nights, is a buncha dudes who cheese-ily impersonate The Rat Pack and sing.
WEST HOLLYWOOD
Best Pizza Place: Jones
It's an institution for the best reasons: there's always actually-good rock music blaring, there's always actually-good-looking rock girls hanging, and the pizza's super-excellent -- especially after 10pm, when it's only six bucks.
WESTWOOD
Best Pizza Place: 800 Degrees
If you're a UCLA student and you haven't had 800 Degrees yet, you fail. And if you're not a UCLA student and you haven't had 800 Degrees yet, you also fail. It's top-your-own-pizza that's cooked for you in, like, two minutes!!! They definitely win.
Thrillist LA's Senior City Editor, Jeff Miller, would like all the meat on his pizza, please. Follow him at @ThrillistLA on Twitter and @Jeffmillerla on Instagram.