We Rode Shotgun While Danny Trejo Handed Out Tacos and Advice on Life
Dustin Downing/Thrillist
Dustin Downing/Thrillist
Handing a taco to Minnie Mouse on Hollywood Blvd, Danny Trejo suddenly doesn't seem quite as menacing as his fierce, machete-wielding on-screen characters. In fact, he seems downright cheerful. But that doesn't mean the prolific actor and LA native is any less serious about his latest venture: the rapidly expanding empire of Trejo's Tacos.
If you've driven up La Brea Ave near Olympic Blvd in recent months, you've seen Trejo's unmistakable, mustachioed face emblazoned on the sign of his modern taco-focused restaurant. The eatery, which he opened in March with partners Ash Shah and Jeff Georgino, serves sustainably sourced, creative twists on classic tacos like the steak asada with pepita pesto, as well as vegan and gluten-free options like the actually delicious rainbow cauliflower. And chances are you're going to be seeing a lot more of that face -- recognizable from literally hundreds of films including Machete and, yes, Spy Kids -- as he's already opened Trejo's Cantina in Hollywood, launched a food truck that's appeared at every Rams home game, and has plans for another spot in LA and more across the country. Oh, and let's not forget his namesake beer, coffee, and hot sauce.
So when we were invited to take a ride with Trejo in his taco truck through LA, we jumped at the chance -- and learned more about his journey from convict to actor to taco king, his dedication to counseling at-risk youth, and why he's wary of watching a movie beneath the Cinerama Dome.
"I grew up in Echo Park until I got in trouble," Trejo explains as we cruise along Hollywood Blvd. Along the way he waves back at enthusiastic pedestrians who first recognize his face on the side of the truck before doing a double take upon seeing the man himself in the passenger seat. "At about 13, I was going to Thomas Starr King Middle School when I got in trouble and they sent me to Texas. I was supposed to stay in Texas for 3 years, but I... escaped. I lasted about a summer. I love Texas, but the humidity was really bad."
A true LA son, Trejo returned to SoCal as quickly as he could. "When I came back my mom and dad had bought a house in Pacoima, and that's where I then grew up, in the San Fernando Valley. I still live about 5 miles from where I grew up. It's so funny, when people see me they say, 'What are you still doing here?' and I say 'Well, I live here.' I just love the area, the San Fernando Valley is awesome."
Trejo spent roughly 11 years serving time at prisons throughout California for a range of convictions, including armed robbery and drug offenses. During that time he honed his tough and tattooed demeanor -- which would serve him well on screen years later -- and his skills as a boxer, winning lightweight and welterweight boxing titles while in San Quentin.
"Growing up, I went to the penitentiary, and I did all that stuff," Trejo tells us. "And coming out, I dedicated my life to helping other people, and that's how I got into acting, helping someone else."
Years after successfully completing a 12-step program -- he's been sober for over 47 years now -- Trejo was called upon to help a young production assistant who he previously met at a Cocaine Anonymous group and was working to fight a relapse. While offering support and advice to the PA on set -- Trejo hadn't even known the kid worked in film production -- Trejo was offered a part as an extra in the film, Runaway Train, which was set in a prison. According to Trejo, he fit the part better than most of the other extras who didn't seem quite cut out for prison. Upon learning of his past experience in the ring, the filmmakers invited Trejo to train some of the cast for a boxing scene, which quickly turned into a much larger role as the opponent of the film's star Eric Roberts. And the rest, as Trejo tells it, is Hollywood history.
"It just grew from there," Danny says of his extensive film career (over 320 films and counting), as we park Trejo's Tacos truck in front of the historic TCL Chinese Theater in the heart of Hollywood. "The first five years of my career, I played Inmate #1, Bad Guy, Cholo, Mean Guy, you know? I had a career, but I didn't know what type casting was, I just kept working. And then the first time I got interviewed, I was interviewed by some young girl who probably just got out of school who said, 'Danny, don't you feel like you're being stereotyped and typecast?' And I said, 'What do you mean?' She says, 'Well, you're always playing the mean Chicano dude with tattoos.' And I thought about it, and I said, 'Well I am the mean Chicano dude with tattoos!' So, somebody got it right and I turned it into quite a career. I've played the lead in a lot of films now, and so it's like, 'Okay, I'm glad I was Inmate #1. They're even doing a documentary on my life and I think they're calling it Inmate #1."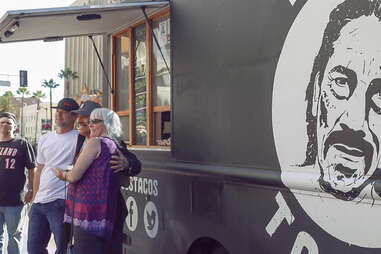 Trejo's foray into the restaurant world began with another on-set conversation, this time with Ash Shah, who has produced the Bad Ass franchise, in which Trejo plays the starring role.
"Getting into the restaurant business was another fluke," Trejo admits as he hands out grilled chicken tacos with salsa verde to the gathering crowd of fans on Hollywood Blvd. He's equally cheerful and happy to pose for photos with excited families and tourists as he is with Minnie Mouse, Spiderman, and the other costumed characters along the bustling sidewalk who are usually trying to convince other people to take a picture with them. Even the LAPD stops by for a taco.
Trejo is also greeted by an overly exuberant "Mr. Muscles" -- easily identified by his signature shirt and hat just as Trejo sports his own likeness on his clothing -- who recalls "pumping iron" with Trejo on Venice Beach back in the '80s. Trejo doesn't remember the prior encounter, "Mr. Muscles" doesn't seem to care.
"My mom always wanted a restaurant, she was a great cook," Trejo tells us. "But my dad was kind of like the Mexican Archie Bunker, you know? He thought women should stay at home. Every time my mom would talk about a restaurant, my dad would say, 'We have a kitchen right there, make us something special.' So, he wasn't a bad guy, it's just that's how it was [for him], women stayed at home."
Trejo, on the other hand, encouraged his mother's dream and continued to carry the culinary torch for her, "I told her one day, 'Mom, I'm going to start making your salsa.' And I was doing a movie called Bad Ass, and Ash Shah was the producer, and he saw that I love to eat and that I love good food, and he does too. We're kind of foodies. So after I told him about my mom, he said, 'Danny why don't you open up a restaurant,' and jokingly I said, 'Yeah, how about Trejo's Tacos.'"
As we pass the Cinerama Dome in the taco truck after leaving the fans behind at the TCL Chinese Theater, Trejo mentions that when he was 18 years old, he helped build the iconic dome. He confesses that his co-workers were not exactly drug-free while constructing the hundreds of concrete hexagonal panels in the San Fernando Valley, which were later assembled in Hollywood. "I get a little skeptical every time I go in there," Trejo admits.
After working together on several movies, including Bad Ass 2 and more recently Bad Ass on the Bayou. Shah approached Trejo with a business plan for an eponymous restaurant. "I took it to my agent Gloria and my secretary Mary, and had them check it out," Trejo says of the offer. "And they said, 'This is the first business plan anybody's given you that you don't have to put up anything.' People come to me with business plans all the time, but most of the time they're crap and ask me to put up $50,000 or something." And with that the Trejo's Tacos enterprise got underway with some serious momentum.
"My mom passed away, but I know she's happy," Trejo says of finally realizing his mother's dream of opening a restaurant. "I know she's telling my dad now, 'See, I told you, we should have been doing this a long time ago.' It's really cool."
With the opening of Trejo's Tacos on La Brea, the actor also came to realize that he and his partners are making other moms (and dads and kids) happy as well, not to mention the locals and tourists who lineup outside the restaurant daily and fill the spacious patio. "Everybody loves tacos," Trejo says. "And what we found at the La Brea restaurant, we started to see a lot of families."
"We've got everything for everyone, we're gluten-free-friendly, we're vegan and vegetarian-friendly, and we also have classic tacos," Trejo says of the extensive menu after we park the truck and settle into the new location on Cahuenga. "I'm really family oriented, and it's a place where families can eat, it doesn't matter your preferences. It's a worldwide food."
Chef John-Carlos Kuramoto, who previously worked at Osteria Mozza and Michael's in Santa Monica, is the executive chef of the restaurants and consults with Trejo to fine tune the offerings. The taco selections, which are loaded with flavor without feeling fussy, include everything from blackened salmon tacos and carnitas with pineapple (for a twist on the classic al pastor), to black pepper tofu with caramelized shallots and fried chicken in a lettuce wrap. "Our idea of a taco at Trejo's is that it's more a vessel," the chef explains to those who might raise an eyebrow to a lettuce wrap. "So the wrap can be a tortilla, it can be lettuce, it can be many different things."
The menu also includes vegan and shrimp tostadas, bowls and quesadillas, and side dishes like an off-the-cob street corn topped with chipotle cream and popcorn. Kuramoto sources many of the ingredients locally, making frequent trips to the Hollywood farmers market, and the corn tortillas are custom-made for the restaurants at legendary La Princesita in Boyle Heights. Trejo's Cantina, which opened in October, offers a slightly more expansive menu than the original, including some larger dishes like a kale salad and Grandma Trejo's hanger steak with a coffee and black pepper rub. He's also added burritos to the menu and is hoping to work with La Azteca Tortilleria, another East LA institution, to create custom flour tortillas.
Trejo is particularly proud of featuring healthy dishes at the restaurants and on the truck, including vegetarian and gluten-free options. "Being Latino, we have one of the biggest populations for obesity, there are so many kids with it," he explains. "If you go to a middle school and look at 10 kids, four of them are obese and two of them are overweight. So we've got to start changing our diet. We've got to do fast food, but we've got to do it good."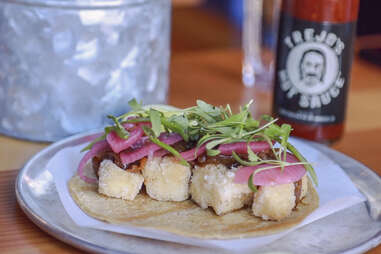 Asked about some of his favorites on the menu, Trejo says, "I love the brisket, the way they cook it is unbelievable. We have a steak that kicks Kobe beef in the ass, it's unbelievably tender and delicious. J-C is a killer chef."
The on-screen tough guy also admits to being a big fan of the vegetarian options, which he discovered while they were developing the menu. "I remember trying one of the tacos and saying, 'This is delicious, what is this?' They said it's tofu, and I said, 'Give me another, but don't tell anybody.' I like that and the cauliflower taco, and they're really healthy."
Trejo's Cantina also offers the added feature of a bar, which includes 34 beers on draught, most of which are from LA breweries. Trejo's Cerveza, the house lager, is made by Boomtown Brewery. You'll also find signature cocktails developed by Mark Hendrix, including a mezcal Negroni, a spicy mango margarita, and a spiked horchata. At both locations there's also aquas frescas, sugar cane sodas, and kombucha on tap. And, as Trejo is a big coffee fan, you'll find a variety of coffee options made with Trejo's roast, including iced "cohcata" -- a delicious mix of nitro cold brew and horchata.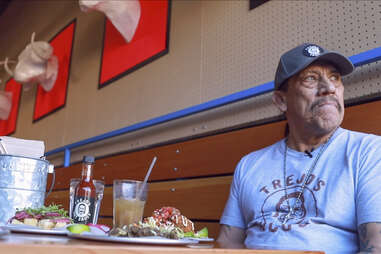 While you may think Trejo has his hands full with starring in somewhere around a dozen films a year, opening multiple restaurants, advocating for animal rescue organizations, standing up for victimized community members, and tinkering with his vintage custom car collection ("Working on the cars keeps me grounded"), he somehow finds time for his biggest devotion. "My passion is taking to kids at risk, that's what I do more than anything," Trejo says. In particular, he works with Western Pacific Rehab and Western Pacific Med/Corp.
"For me being a celebrity means that I can get young kids' attention about staying off of drugs and staying in school," Trejo explains. "It's hard to tell people, but I'm a drug counselor first and an actor second. I'll go to a school any day, any time. Anywhere I work, I'll go to a school and my agent makes sure that they always get me to the baddest school, the school that has the worst gang problems, drug problems, and I just say my piece. They listen simply for the fact that I am a celebrity. I'll say the same thing that their mom or dad is saying, the only difference is they listen. My message is: take drugs and alcohol out of your life, and education is the key to anything you want to do."
So while you'll probably most often see Danny Trejo on screen, playing the shirtless bad dude wielding a machete or some equally intimidating weapon, off screen he'll be playing a costume-less hero to kids who really need one. And at the end of the day, you might just catch him chowing down a black pepper tofu taco.
"We're such an eclectic city," he says. "Tacos are something that we can all come together on."
Sign up here for our daily LA email and be the first to get all the food/drink/fun Los Angeles has to offer.
Danny Jensen is a regular Thrillist contributor who would gladly share another round of tacos with Danny Trejo any day. Wave at him as the truck rolls by on Twitter and Instagram.