All the Amazing Food & Drinks You'll Want to Consume at Desert Trip
Courtesy of NoMad/Francesco Tonelli
With the legendary lineup of classic rockers planned for Desert Trip (aka "Oldchella") and the announcement of additional tickets on sale for the next two weekends, you're probably wondering one thing: what am I going to eat and drink when I get there? Lucky for you, we've got a sneak preview of the festival's exceptional eats and drinks that will be served up by some of LA's best chefs and booze experts.
BS Taqueria -Churros, which will feature additional components by Scott Conant and Jamie DeRosa

| Courtesy of BS Taqueria
Forget the festival-going days of cardboard pizza and tallboys, just like the insane offerings at Coachella, Desert Trip will showcase options typically reserved for white tablecloth joints. And they'll be full-sized dishes, not just tiny festival bites. And because the festival will feature only two bands each day instead of dozens, and the crowd will skew a little older with deeper pockets, the offerings will be divided up into an all-you-can-eat-and-drink "culinary experience" and multiple farm-to-table-in-a-polo-field dinners with Coachella vets Outstanding in the Field.
"We're rocking out a menu that covers what the people want: Tandoori Chicken Crostini, Punjabi Spiced Fried Fish and our super popular Goan Pork Curry," explains Nakul Mahendro of Badmaash. "Badmaash is pushing a wave that's changing the way people think about indian food and culture... the same way that Dylan, McCartney, and the others did in their time. Badmaash means "badass" in hindi... so it's only natural that we rock out with our (curry) pots out. These are some of the biggest rock legends of our time - like Triple-OG-Legendary-ROCK-GODS! After we serve our last plate, Arjun and I are trying to get to the field as fast as possible... watch out for the big bearded indian guys rolling over on anyone in our way. Dylan because of his style and *fuck the man* attitude, the Stones because they are DRIPPING swag, and Paul McCartney because The Beatles.. that's what Badmaash is about."
The Culinary Experience will go down in the Rose Garden, and feature apps, entrees, and passed bites from local hotspots and some New York imports. You'll find options from Broken Spanish, Terrine, Sotto, Pok Pok, Badmaash, Plant Food + Wine, Rose Café, soon-to-open Woodley Proper, The Cannibal, Top Round, Sweetfin Poké, and Genghis Cohen, as well as NY spots like Esh, NoMad (coming soon to LA), and Brooklyn pizza joint Roberta's. On the sweet side, you'll find Blue Star Donuts, Afters Ice Cream, Mallow Mallow, Rocco's Sweet Shoppe, and CoCo Bakes. The cocktails will come from LA nightlife gurus the Houston brothers and Cedd Moses, while beers will be picked by Stone Brewing executive chairman & co-founder Greg Koch, and wine will be chosen by winemaker and somm Rajat Parr. The all-inclusive packages go for $179 for a single day or $499 for the weekend, and the feasts will run from 2pm until the start of the show, so come hungry.
"It's a surreal experience having grown up listening to these bands and now having the opportunity to go to the Trip," explains Chef Chris Oh. "[Our] menu is very Korean-inspired with some of our most popular dishes from Hanjip (Bibimbap, Spicy Pork Bowls, Corn Cheese, etc.). This is great because there are people from all over coming to not just listen to the music, but to experience the food—some of whom might be trying Korean food and flavors for the first time!" He adds, "So stoked to see The Rolling Stones, I've never seen them before live."
Greg Koch of Stone Brewing, an admitted eternal Pink Floyd fan who is stoked to see Roger Waters, says of his beer lineup, "We have brewery owners from literally all over the world attending Desert Fest and representing their beers. SoCal breweries are of course well represented, but we also have a rare opportunity for fans to enjoy specialty beers brought over special from such places as Bamberg, Germany, Wellington, New Zealand, and Milan, Italy. To say which beers I'm most excited about is akin to saying which songs I'm most excited to hear…I don't even want to focus in on one or two, but instead just want to immerse myself in the overall experience."
The Outstanding in the Field Dinners will feature four-course meals prepared by a top-notch lineup of chefs -- including some great collaborations -- with wine, beer, and cocktail pairings and a full bar. Each day there will be three or four simultaneous dinners for roughly 250 people each and you'll find out which one you'll attend when you arrive. There will be dinners with an all-star roster of familiar local names, including Kris Morningstar (Terrine), Michael Hung (Viviane), Chris Oh (Hanjip), Kris Yenbamroong (Night + Market), Marcel Vigneron (Wolf), Michael Voltaggio (ink), Jason Neroni (Rose Café), Evan Funke (upcoming Felix), Bruce Kalman (Union), Josiah Citrin (Mélisse), and more, plus tons of celeb chefs. The all-inclusive dinners run for a whopping $225/person.
"I am collaborating with a fellow chef friend of mine David Varley from The Michael Mina Group on this menu and rather than divvy up the dishes we decided to cook everything together," Chef Marcel Vigneron says of his Outstanding in the Field dinner plan. "An OITF dinner should be inspired by the farmers and ranchers whom obviously always heavily influence our cuisine and this particular dinner is no different. We are also coming into fall so you will see fun autumn ingredients like pomegranates, dates, and chicories on our menu. I'm super psyched to see all the bands but in particular The Rolling Stones because I've never seen them before and I'm a huge fan. 'Some Girls' was the first album that I ever purchased and still love it to this day."
Here's a look at just some of what's in store to eat at the festival: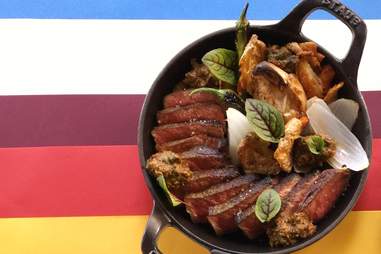 Broken Spanish: Carne asada, Weiser Farms' cabernet onions, fingerling potatoes, salsa quemada

| Courtesy of Broken Spanish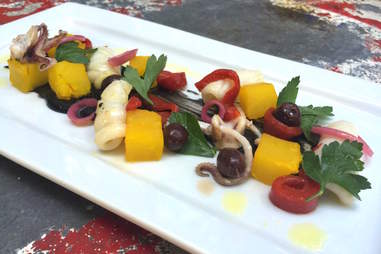 Terrine - Charred squid panzanella with piquillo peppers, and saffron potatoes

| Courtesy of Terrine
Roberta's - Bee Sting pizza with mozzarella, spicy sopressata, and honey.

| Courtesy of Roberta's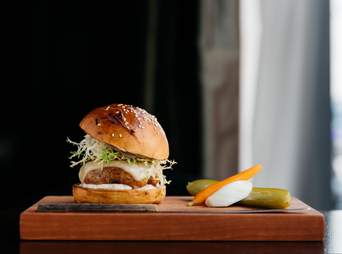 NoMad - The NoMad Chicken Burger with black truffle and shallots, served with a tomato marinated with peaches, almonds & ricotta

| Patrick Michael Chin
Plant Food + Wine - Coconut taco ceviche

| Adrian Mueller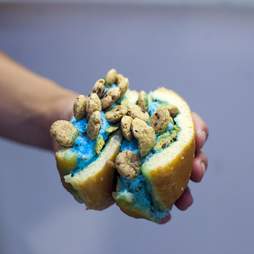 Afters Ice Cream - Milky Buns with cookie monster ice cream and cookie crisp

| Courtesy of Afters Ice Cream
Mallow Mallow - Gourmet s'mores

| Courtesy of Mallow Mallow
Sign up here for our daily LA email and be the first to get all the food/drink/fun Los Angeles has to offer.