There Is a Hidden Beef Jerky Factory Downtown -- That's Been There for Four Generations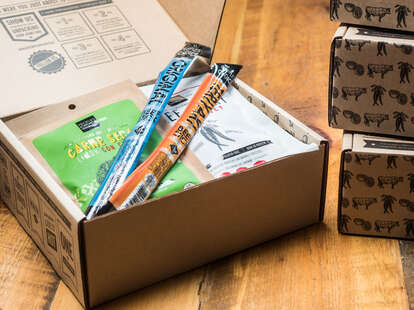 Courtesy of People's Choice Beef Jerky
Courtesy of People's Choice Beef Jerky
Over the last decade, we've seen Downtown transform into something trendier than its former self (we even have a new gimmicky skyscraper glass slide!), so it's sometimes hard to think back to a simpler time -- almost a century ago -- when the area was just full of mom-and-pop shops. What's even harder to imagine is that in the neighborhood, for nearly that long there's been a beef jerky factory operating right under our noses for a good chunk of the last century -- and meticulously run by four generations of fathers and sons.
In an industrial part of Pico Blvd, near Downtown's Fashion District, is a one-story, brick-lined building emblazoned with the words, "Peoples Sausage Co." and covered with a mural of bespectacled men in blue business suits. Although the sign bearing the old company name hasn't been changed out of tradition, the business is now more familiarly known as "People's Choice Beef Jerky." And yes, this is where all the sweet beef-jerky-making magic takes place.
While you can find People's Choice Beef Jerky products at gas stations and online, or even in private labels for supermarkets, what gives the company that je ne sais quoi is that on any given day, you might see a loyal customer ringing the doorbell to the building and getting a chance to purchase single fresh pouches of handmade beef jerky -- from traditional hot and spicy or teriyaki, to newer ones such as Sriracha or garlic ginger -- direct from the employees. This all happens while an album like AC/DC's "Back in Black" is blasting in the background. It's this old-school, family feel that has kept this small company in business for 87 years.
To understand how People's Choice Beef Jerky has been alive and kicking for so long, let's take a look at its history and evolution:
"All in the family"
In 1929, when John Bianchetti was just 18 years old, he founded a meat shop called "Peoples Old Market" on San Pedro St with the help of his sister. Ten years later, he moved the facility over to Pico Blvd, where the business still operates today.
"The whole landscape of the area was very different (then)," Brian Bianchetti, the 28-year-old, fourth-generation owner of the company says.
He and his father, 60-year-old Mark Bianchetti (and third-generation owner), researched old records in Downtown's Central Library to learn more about the history of their family business. They found from an old schematic that Peoples Old Market was situated in the middle of a rather residential area, and served as the neighborhood butcher shop. Nowadays, the houses are gone and replaced with industrial businesses.
It wasn't until 1955 that John Bianchetti's son Paul, who returned to LA after serving in the Korean War, would join his father and work side by side with him for years. When Paul Bianchetti, the second-generation owner, took over the reins, he moved the business towards supplying restaurants with meat.
Mark Bianchetti remembers what it was like when he would work at the factory during school breaks while both his father and grandfather were there. "That's what we did back then, we made different kinds of sausages, we made different types of hot dogs and chorizo," he says. "But that was when I was a kid. We evolved away from that. We did a lot of restaurant business."
What has been constant is that Mark Bianchetti remembers that his family always made beef jerky ever since his grandfather, John, moved the factory to their Pico Blvd location in 1939. "I remember as a kid I could see him cutting it and drying it and doing all that good stuff," he says.
Mark Bianchetti joined the family business in the 1970s after attending law school and realizing it just wasn't his "cup of tea." Growing up, he knew his father wanted him to come work in the family business, but never pressured him to do so. "As time moved on, I saw all the potential and how I could impact [the business] and work with my dad," Mark Bianchetti says. "It just became really meaningful. The bottom line was, one thing led to another and 30-some years later…ay yai yai, I'll be going on 40 years in 2018."
Like his father, he took the business into another direction, one that was almost entirely focused on beef jerky. "The one thing I realized that we were making that was unique was the beef jerky, in the sense that we have a product that we manufacture here and if you want our style, our flavor profile, our product, [then] you have to get it here," Mark Bianchetti says.
He came up with the idea of selling large slabs of beef jerky, the kind that you can find in plexiglass containers at gas stations. It took off and became the bread and butter -- so to speak -- of the company business.
The new generation
Mark Bianchetti never pressured his son Brian to follow in his footsteps. "They always encouraged me to have my own experiences," Brian says of his parents. After graduating college, Brian went on to work at an advertising agency in Chicago before returning home to join People's Choice Beef Jerky about three years ago.
"I wanted to go have my own experiences, both professionally and [by] living in a different place, but I realized I wanted to come back to the business," Brian Bianchetti says. "I think [it was] because of the uniqueness of the opportunity, to be fourth generation and to be part of a family business and keep that alive."
Since Brian's entrance to the company, he's ramped up the advertising and marketing of People's Choice Beef Jerky, something that was never really formally done until now. Brian updated the packaging and now tinkers around with the spices and marinades for the jerky varieties. Previously, the family only sold standard traditional flavors, but now he's developed other ones -- like a Carne Seca line with Latin spices, and limited-edition styles like orange-honey teriyaki, sweet-chili habanero, and a holiday maple brown sugar. Although the traditional flavors are still the company's best sellers, the new ones have opened their business up to entering more "artisanal" markets.
"You hear these words like 'artisanal,' 'authentic,' and 'handmade,' and a lot of companies throw that around and use those terms -- rightfully or not -- but what's funny for us from my perspective of coming from a background in advertising is that our story is [actually] here," Brian Bianchetti says. "We have the tradition, we have the heritage. They're all very real to us and what we do. It's just a matter of telling that story to a larger audience."
How this beef jerky is made
The Bianchetti way of making jerky is a simple one that has pretty much stayed the same since the early days of the company. It's still a mostly handmade process.
It starts off with meat sourced from Northern California ranchers and Angus from Nebraska. The family uses lifter meat that surrounds the rib cage of the animal; Brian Bianchetti says it has a "really nice marbling to it, which it gives it a flavor profile that's really nice."
The meat gets trimmed by hand and then sliced through a machine to get a uniform thickness of strips.
The pieces of meat are marinated in spices inside of a vacuum tumbler, which pulls all the air out of the vat so that the marinade and spices can penetrate the flesh faster.
Then workers lay out each strip of marinated meat on stainless-steel screens before the screens get put into push trucks that end up in ovens.
The meat takes two-and-a-half to five hours to cook, depending on the thickness of the cut. While it cooks at 170 degrees Fahrenheit, the low heat also slowly dehydrates the meat, which causes the beef jerky to have low moisture and be shelf stable.
It's then air dried before it gets hand-packaged in boxes and pouches, and sealed by machinery.
And in case you've ever wondered why beef jerky is so expensive, it's because 10lbs of beef ends up becoming 3lbs of product by the end because you're taking all the moisture out of it, according to Mark Bianchetti.
Employees have been here longer than some of us have held jobs
It isn't just the family who's been in the business for what seems like an eternity. At least four employees there have been there for close to 20 years. It's not to say that nobody leaves, but for being a small company that currently employs 20 people, the ones who do stay are there for a long time.
Ramon Gonzalez, the plant manager, has been at People's Choice for 16 years, and has worked with three generations of Bianchettis. He's known Mark Bianchetti for even longer, around 30 years, when he previously worked at another company in Vernon -- which just so happened to be owned by a friend of Mark Bianchetti's.
"Mark is like family for me," Gonzalez says. "It's a great [work] environment. The relationship between him and I is priceless. The schedule's good -- Monday through Friday. All the people we have working here [are good]."
Mark Bianchetti interjects, "He's overpaid!"
Gonzalez laughs and agrees, "He overpays me."
Jose Soto, the factory's production manager, has been there even longer, at 25 years. He speaks in Spanish as Brian Bianchetti translates. What's been keeping Soto here for so long is that he's worked with three generations of Bianchettis and the people he works with are like family to him.
"I really try my best to treat my employees as family -- and that's not just words," Mark Bianchetti says. "I respect every one of them. They work hard and they do a good job. It's not easy what they do. They're here everyday."
"'Cause you've got personality"
If there's something everyone can agree on, it's that the late Paul Bianchetti was a "character," a common phrase his family and employees all use.
"If he was nice to you, he hated you; if he was mean to you, then he loved you," Gonzalez says, while laughing.
Brian Bianchetti recalls that people would tell him that his grandfather, who was known to be a chain smoker, often swore at them and gave them a hard time. "But I think people understood him and that was his way that he showed affection and that he liked you," he says. "People always talk with a smile on their face when they talk about my grandfather because he was such a character."
Mark Bianchetti says his father was just old-school, and overall, "He had a heart of gold. He was the most generous giving man I've ever met in my life. He was just funny."
On the other end of the spectrum, John Bianchetti, the first-generation owner, was gentle and soft spoken, and also a family man. Mark Bianchetti remembers that when he was growing up, he lived just a block away from his grandfather house. Every Friday, it was a tradition for the family to visit his grandparents and watch TV with them and chat.
"My dad had a great relationship with his dad," Mark Bianchetti says. "He worked with him for eons."
He says that family business isn't always easy and it's tough because you're dealing with family and everyone has to be on the same page in order for it to work. "Not a lot of businesses survive that long because of that, I think," Mark Bianchetti says. "You have to respect the business and you have to respect the hard work that goes into it. If you're not here, it's not going to function."
Despite the challenges, Mark Bianchetti says that he loved getting to spend time with his father, where they worked together for over 20 years, and for most of that time, even drove to work together.
Brian Bianchetti feels that same way, too. "Being back here now for the past few years and working side by side with my dad and being in this environment, I've realized the power of being part of something larger than yourself, in the sense [of being] the fourth generation and [having this history of] all these years and what we do," he says. "I find I get a lot of value from that, a lot of meaning." And a lot of jerky.
Sign up here for our daily LA email and be the first to get all the food/drink/fun Los Angeles has to offer.