7 new LA openings you need to hit right... about... NOW NOW NOW
The list of awesome things that come in sevens is a short one: Hills of Rome, Samurai, Sacraments, and, duh, days of Kwanzaa. Or at least it was a short one until we wrote this story on seven awesome new restaurant and bar openings in LA that include all kinds of cool stuff, from vodka-and-pretzel shakes to kimchi honeycomb tripe.
Egg Slut
Downtown
Not just what all the other hens call you behind your back, Egg Slut's also the name of a former truck-turned-Grand-Central-Market stand, which's got breakfast-only decadence, like this carnitas/chimichurri monster.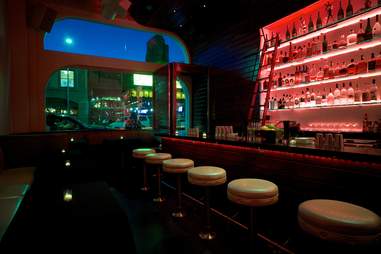 Andrew Stuart/ Powder Room
The Powder Room
Hollywood
From the St. Felix peeps, this tiny, craft cocktailing room'll prop you up on snakeskin stools and ply you with cocktails from Providence and STK vets, including the Morning Star (Tito's, blackberries, grapefruit bitters, citrus juice), and boozy shakes like the vodka-and-pretzel(??)-laden Steel Magnolias.
Blue C Sushi
Hollywood
Now literally right across from the ArcLight Hollywood, this conveyor belted Japaneezery from Seattle offers both raw and cooked deliciousness, from albacore nigiri to fried chicken karaage.
Open Sesame
Open Sesame
Mid-Wilshire
A 15yr fave in Long Beach, this Lebanese restaurant's first location in LA-proper is a traditional-feeling eatery whose owner's dropping down Middle Eastern family recipes, including skewered lamb kebabs, grilled tiger shrimp, and Feta-topped Lebanese-style pizza.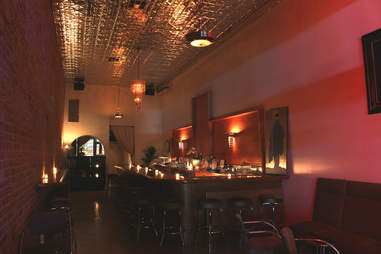 The Know Where Bar
The Know Where [Bar]
Hollywood
This wine-and-beer bar's got no frills -- no, seriously, not even one -- which is kinda what makes it so great; neither dive-y, nor particularly snappy, they're just serving up craft booze in a tiny, stool-and-art-laden room. In other words: you're gonna be a regular.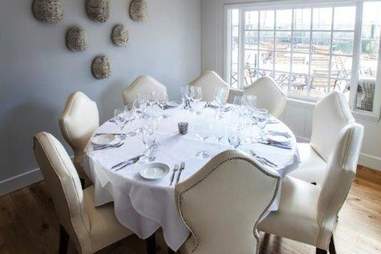 Selanne Steak Tavern
Selanne Steak Tavern
Laguna Beach
Though it's not quite beach season anymore, this white tablecloth'd steakhouse may inspire you to take a trip up the coast: they've got a rare wine list and 10oz prime rib.
B.O.S.
Downtown
This Bruce Springsteen-owned Asian-themed restaurant takes the snout-and-tail thing super seriously, with offal dishes including this roasted bone marrow w/ circulated egg and kimchi honeycomb tripe, as well as a five-course omakase menu w/ a liver terrine and Hunan short ribs.