Downtown is undeniably undergoing LA's fastest facelift, but in a town of plastic and perfectionism, this neighborhood still offers up a refreshing cross section of gourmet and grit. These 13 bars and restaurants are prime examples. DTLA is basically the shockingly hip guy at your aunt's wedding who smuggled in his own moonshine from that organic farm where he works in Wyoming; i.e., you might just fall in love.
Recommended Video
Make This Sushi Burrito at Home, Become a Snack Legend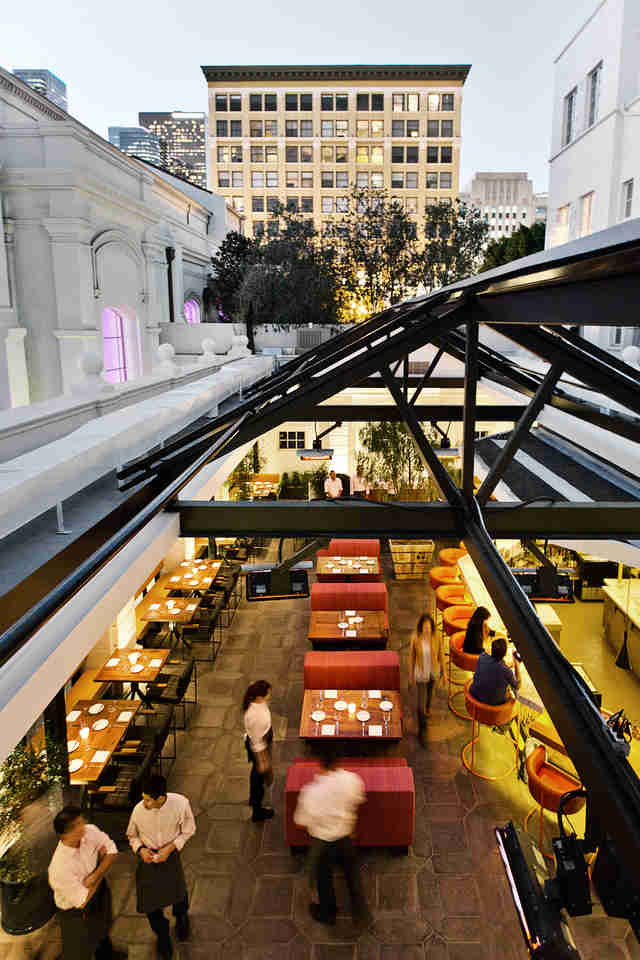 Best meal you'll ever have in (a refurbished) church rectory: Redbird
114 E 2nd St
Great food. Amazing atmosphere. Preach.

580 Mateo St
There's something about exposed bulbs strung about a patio that immediately triggers a Nancy Meyers movie moment. Six or seven glasses of rosé under those little lights and suddenly that perfectly obvious love interest who owns an artisanal bakery for dogs is waiting for you by the door.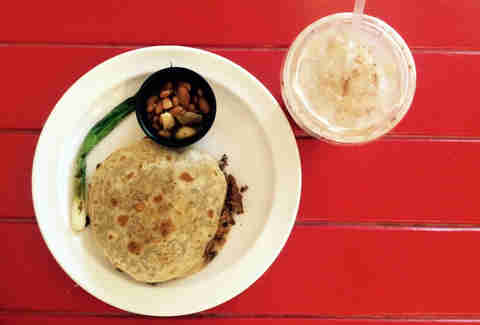 702 N Figueroa St
Go for the simple, authentic fare, not the street view. Split the Vampiro quesadilla with your date and if they can't handle garlic breath, then you know they're definitely Not. The. One.

Best for the elevated bro: Beelman's Pub
600 S Spring St
You've worked really hard in your cubicle today -- those stocks and bonds didn't sell themselves! Go ahead, have a beer or six! Pretend your I'll-be-a-CEO-one-day schedule will eventually lighten up. Soon you'll have time to enjoy the basketball game that's playing in the background, courtside, right? RIGHT... ? Cue beer seven.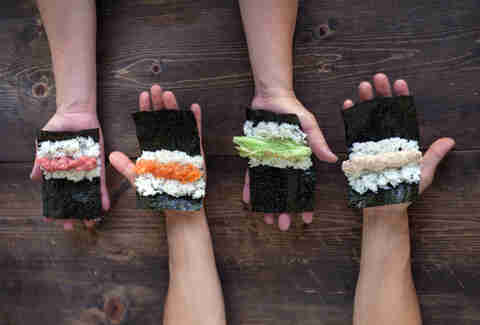 Best power lunch: KazuNori
421 S Main St
Although he's not a personal friend, I'll vouch that Jiro, if he's ever eaten here, dreams of these fast and consistently delicious hand rolls.

332 S Broadway
In such a health-conscious/body dysmorphic metropolis, pasta joints are important. Whether a comfort food or a well-deserved cheat meal. This worth-the-wait BYOB (sans corkage fee!) reminds New York transplants of home, LA locals of what they missed out on growing up, and all the inbetweeners of exactly why they left the place that uses ketchup as the base for marinara. The ma and pa classics like lasagna are well worth the extra CrossFit time.
608 Mateo St
Michael Falso's extraordinary food may be 100% organic raw vegan, but this wellness center isn't just for those looking for Beyonce's approval -- it's for anyone who wants a yoga studio, a grand event space, and a sense of what is giving the Art District its new pulse.

Best dirty dancing: The Lash
34 E 20th St Suite 2
If you know what a Missy Elliott is, and have spent some time with the soundtrack to 2003's standout film, Honey, then this is JUST the place for you. Sometimes, all you need out of a bar is a bar, music that you know the chorus to, and a sweaty makeout partner (or two!). The Lash checks all the boxes and leaves some room for fill in the blanks.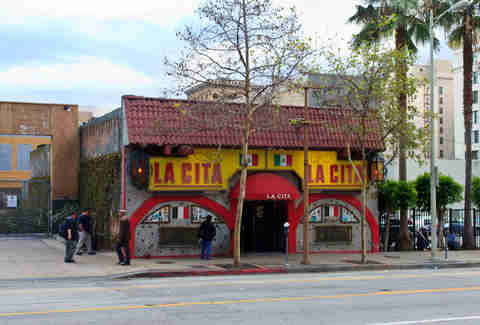 336 S Hill St
This bar is for everyone. Like, literally, anyone. Be it a grandma salsa dancing with her gal pals or Jared Leto lookalikes sipping mezcal on the rocks, La Cita is the obvious answer to Drake's eternal quest to turn up on a (taco) Tuesday.

Best brunch with no fucks: Little Bear
1855 Industrial St
No frills. No pretension. No shying away from brunch turning into dinner via the Bloody Mary Express. And absolutely NO doubt that the waffle burger is handcrafted by the breakfast deities.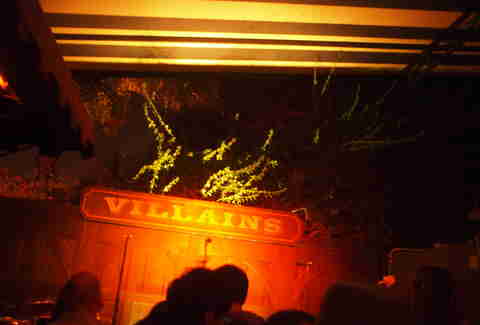 Best should-be-douchey-but-isn't bar: Villains Tavern
1356 Palmetto St
Do you like live music and cocktails in Mason jars? How about fancy beer and shot combos? Does the view of the iconic River Bridges make you feel all LA sentimental? If you answered no to any of the above, maybe stay home and split a salad with your cat instead.
Best for when you aren't footing the bill: Faith & Flower
705 W 9th St
So you just moved to LA to pursue your econ major by surfing every day before climbing the corporate ladder, but now your parents are in town and you need to impress them. Remember to forget your wallet (love you mom!).

BEST DORITO-TOPPED BURGERS: The Escondite
410 Boyd St
... plus an amazing beer list. But honestly, who kept reading after Dorito-Topped Burgers?

Sign up here for our daily LA email and be the first to get all the food/drink/fun Los Angeles has to offer.

Frank Sweeney is a SoulCycle instructor and The Amazing Race binge-watcher. He is currently undergoing a Fat Freeze to recover from his investigations into the aforementioned eateries -- article date logging the experience TBD. Follow him on Twitter: @frankcsweeney.