Man. How much did January suck weather-wise? Crippling Northeastern storms. Boston's worst blizzard ever. And temperatures in LA dipping into THE LOW SEVENTIES. Assuming things get back to normal in February (oh please GOD), and you can finally leave the house again, here's where you're gonna want to go: LA's 17 best bars and restaurants to open in January.
Recommended Video
Make This Apple Brandy Elderflower Sparkler for Your Next Fancy Party
Downtown
This new Mexican restaurant is helmed by a former Patina dude and his Mexico-born wife, who are now in the business of absolutely murdering traditional dishes like ceviches, chicharron chilaquiles, and tacos stuffed with everything from carne asada to crispy sweetbreads.

Encino
West Valley residents pissed that Studio City and North Hollywood have all the great valley gastropubs finally have their OWN reason to gloat: the dude from Surly Goat opened up this gorgeous beer hall in Encino, which has a massive craft menu, a seven-day-a-week happy hour, and a pastrami burger topped with crispy onion rings.
Studio City
What sounds like a smoky college dream concept ("dude, let's open a restaurant dedicated to PEANUT BUTTER AND JELLY SANDWICHES") is now actually a concept concept with a sorta Pinkberry-esque menu that means you can make customized sandwiches with everything from green curry to maple-bacon in your peanut butter.
Burbank
The third location of this Long and Manhattan Beach mini-chain is serving up Simmzy's beloved burgers, as well as a killer craft beer list.
Century City
Westsiders, rejoice: internationally renowned grilled cheese champion chef (yes, it's a thing) Eric Greenspan has brought his acclaimed Mid-City restaurant to Westfield Century City's already-killer food court until mid-April; the menu includes exclusive 'wiches like the Westfield Melt, with sourdough stuffed with muenster, red onion, and short rib.
Mid-Wilshire
The married couple behind Hatfield's closed-up shop on their eponymous spot to open this more casual grill, named after the protagonists of The Odyssey (literary bonus, +2). The move: dry-rubbed smoked short ribs and grilled Snake River Wagyu tri-tip.

Pasadena
The Culver City/Mid-City casual-Italian fave heads to Pasadena, with one of the best new happy hours in the city and a killer pizza-slash-pasta-slash-other-things-that-end-with-the-letter-"a" menu.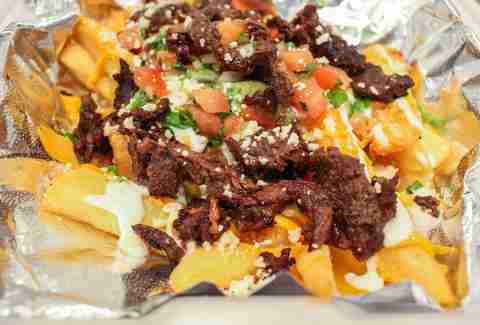 Westwood
So, boba places are a dime a dozen, but boba places with fries that're topped with kalbi beef, Sriracha aioli, pico de gallo, and Cotija cheese? Pretty much only here, yo.

Downtown
Do you work Downtown? Did you know that one of the best pizzerias in LA is there now? DID YOU KNOW THAT IT HAS A FULL BAR? Now you do. Get on it.
West Hollywood
So, a while ago, Zagat called Michael's Pizza in Long Beach the best pizza in the country. Then the chef left and opened this fast-casual spot in WeHo, which is serving up... maybe some of the best pizza in LA, wood-grilled and topped with realness like San Marzano tomatoes and cotto ham. The real winner, though, is the sorta calzone-ish Vesuvio, filled with salame, ricotta, mozzarella, tomato, olive oil, and basil; the menu says it'll serve two, but, yo, that menu is a liar.
Venice
If you live on the Westside, you've probably said, more than once: "why the hell aren't there any good Vietnamese places near me, and also, how do I get the rest of this sand out of my toes?" Thankfully, the first one's been answered: there is, and its has crusty bread stuffed with your choice of caramelized pork belly, fried egg, braised short rib, and more.

West Hollywood
Is it a club? Is it a restaurant? Is it a karaoke bar? It's kind of all of these things -- dark and bumpy with a velvet rope like a club, serving dim sum and pizza like a restaurant, and renting karaoke rooms, like a... uh... karaoke bar.
Baldwin Hills
This actually good mall-staurant comes from a couple of acclaimed Mexican chefs, who now are busting out to-go fried goodness, including a crispy chorizo and potato-packed joint and a fried tortilla stuffed with mole poblano.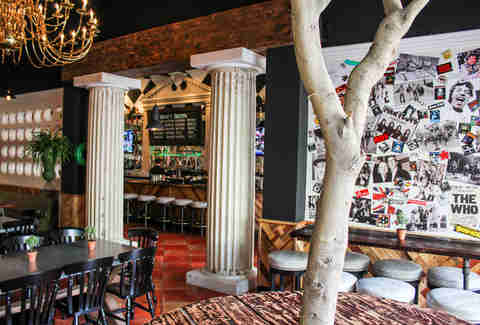 Mid-Wilshire
This new gastropub attached to Busby's is a whiskey lover's heaven, with more than 120 varieties of the brown stuff, which you'll use to wash down wood-fired pizza, steamed mussels in a white wine sauce, and house-made ricotta gnocchi.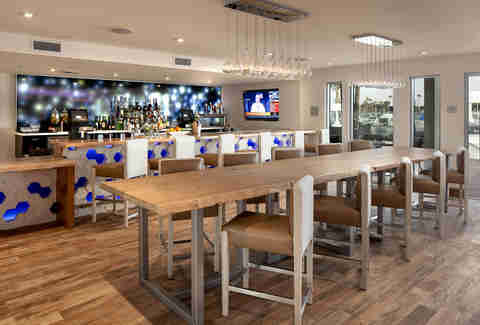 Marina del Rey
The creatively named Marina del Rey Hotel has undergone a $25 million renovation, which includes this restaurant, now oddly named after a forgotten Angelina Jolie movie. It's serving up a menu full of classics, like Alaskan cod fish-and-chips and a prime filet with bordelaise, as well as a full-on brunch that you will full-on want to eat with chilaquiles and an applewood smoked bacon-topped breakfast sandwich.
Santa Monica
This upscale SaMo spot is part of a culinary renaissance by the beach; in this case, it's doling out grass-fed beef with sunchokes, kale, and lemon, plus grilled octopus salad with fennel, radish, and clementine.

Downtown
The Eggslut guy opened up a ramen restaurant in the same center as Chego! in Chinatown. If you're not excited by that, you 1) are dead, 2) have never been to Eggslut, or 3) don't like ramen. In any of those cases, we are very, very sorry for you.
Sign up here for our daily LA email and be the first to get all the food/drink/fun Los Angeles has to offer.
Jeff Miller is putting off eating lunch to finish writing this, and that's clearly a mistake. Hit him on Twitter at @ThrillistLA or Instagram at @JeffMillerLA to make him even hungrier.