5 new breakfast sandwiches to stuff your mouth with this weekend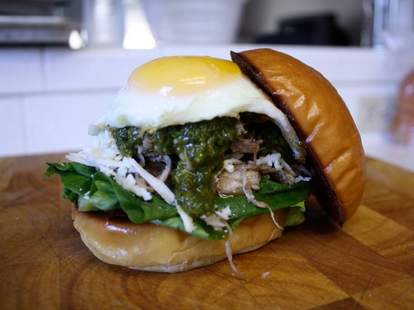 Los Angeles When you don't have time for a leisurely, boozy brunch, there's nothing more satisfying than grabbing a fistful of breakfast. This Mother's Day weekend, show Mom that you don't need a fork to eat like a grown-up, and instead, get one/all of these new breakfast sandwiches.
Torta Company: You love your breakfast burrito -- we totally understand. But this weekend, reconsider your vision of a Mexican-inspired morning, and grab a satisfying breakfast torta. Loteria Grill's Chef Jimmy Shaw delivers the goods on homemade telera rolls packed with scrambled eggs, avo, black beans, chipotle mayo, and optional (hahaha) smoked ham or chorizo. Continue Reading
CiBOTECA: Because you need a good breakfast panini to complement your morning macchiato and Italian lifestyle, this cozy new SaMo deli will have you shouting, "che figata!" Park your Vespa and order up the "BreakFAST", a hot-pressed ciabatta filled with an egg omelet, prosciutto cotto & Montasio cheese, or the "BreakSLOW" without eggs.


Open Air Kitchen + Bar: The Brick+Mortar gang has finally launched their WeHo joint, so start your day right with breakfast on the open-air (you don't say...) patio. Chow down on an English muffin sandwich of eggs, hash, and bacon, but only after you've ordered the Maestro margarita, or hit the top-it-yourself Bloody Mary bar.
Superba Food + Bread: This new Venice staple dropped $65K on a four-deck, Italian bread oven, so you better believe they're going to use it to bring the breakfast. And that's exactly what the newest addition to the Superba family does with their morning sammie: slow-cooked eggs, linguica, and braised kale, all deliciously nestled in the sweet, fluffy goodness of a freshly baked pain au lait.
EggSlut: Okay, this one's not BRAND new, but, goddamn, it's so good. Get in line early at Grand Central Market, and belly up to EggSlut's counter for The Fairfax, a coquettish combo of soft scrambled eggs, chives, cheddar cheese, and caramelized onions, sandwiched between a Sriracha mayo-brushed brioche bun.