The 12 Best New Date Spots in LA
You've had a few months to hit our best-ever date spots in LA, meaning right about now you're probably looking to swipe right on something new. Well, swipe away, swiper: here are the 12 best new date spots in LA.
 
Mid-Wilshire
Wanna impress your date with seats at this brand-new, super-hot churrascaria from the couple behind Sycamore Kitchen, but don't have the, you know, foresight or gumption to make a reservation? The best seats in the house are actually walk-in only -- a countertop right in front of the grill where they make, among other things, an absolutely massive, absolutely outstanding short rib, giving you a conversation starter AND an impressive dish. Win.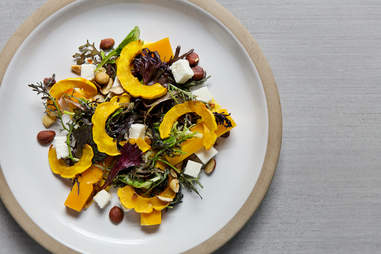 Redbird
Downtown
Uh, Neal Fraser's new, crazy-delicious, high-end restaurant shares a wall with a beautiful former church that's often still used for weddings. This is kind of a no-brainer. Just make sure they're not expecting a proposal. #Awkward!
aestus
Santa Monica
There's a moment in every relationship when you're like, "yeah, I guess this is kind of serious, and also, I'm going to have the grass-fed iron steak, and she'll have the scallops, and we're actually going to share both." It might as well be in a dark-lit, intimate-feeling fancy restaurant by the beach, right?
Neon Retro Arcade
Pasadena
If your date's as rad as you are, they'll appreciate this awesomeness as much as you: for $10 per hour, you get unlimited play on this new-but-old-school-leaning arcade, which has classics like Altered Beast and The Simpsons game (!!!). And if they're not as rad as you, they can just bounce, and leave you to win The Simpsons on your own. Whatever.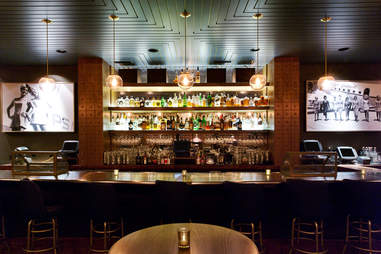 Dylan & Jeni
West Hollywood
This sexy bar's got a retro-airline feel and a lot of dark corners -- making it a perfect first-date spot, because it enables you to make "so, are you just gonna take off, or what?" jokes without feeling desperate. Kind of.
 
Beverly Hills
Okay, the whole concept of this restaurant sounds uber-cheesy: go to Beverly Hills, eat some pasta, and relax with some smooooooth jazz, since they have a nightly show. But here's the thing: the food is surprisingly killer, and the shows have far more range than you'd think, with Sinatra tributes and actually-good jazz performers, meaning you don't have to change venues for a dinner-and-a-show, full-on night out.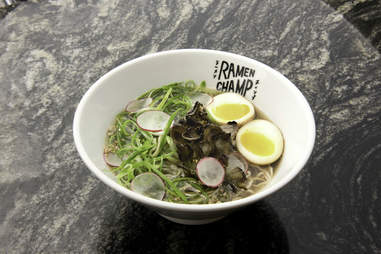 Julian Latif
Chinatown
These super-casual Asian spots are both in the same plaza, which means you can achieve multiple things on a date here: it's cheap enough that you can offer to pay (and figure out pretty quickly whether this is a "date" or just "hanging out"); you can hit two spots in a row, which always means things are moving in a good direction; and, worse comes to worse, you get a bang-bang at two of the hottest new restaurants in town. Even if there's no, uh, bang-bang after.
Shanghai Rose
Sherman Oaks
Trying to get a read on how adventurous your new amore is? You can do way worse than Shanghai Rose, which has a slew of San Gabriel-style dim sum options, but doesn't have chicken feet.
Jesus Banuelo
Mid-Wilshire
The tree-lined patio at this Beverly Blvd French resto is a stunner, as is the food -- the chef used to be at Ray's at LACMA, but here he's busting out a nuts charcuterie plate and boudin blanc w/ roasted apples, as well as a brunch with a totally great gravlax tartine that's served not only Saturday and Sunday, but Friday also -- meaning that an awkward "Hey should we get brunch?", if you had a wild Thursday, no longer means having to figure out a place that actually serves a legit brunch on Friday morning.
Augustine
Sherman Oaks
Your date in Los Feliz is always like, "come over here and meet me at Bar Covell," and you're in the Valley and are always like, "why won't those dudes just open something by me?" Well, they did -- it's just as good, and now sometimes you can both stay at your place. Sometimes.
Cascabel
North Hollywood
Does anything make a date go more smoothly than a couple of margaritas and a plate of bacon-guacamole and chips?
Sign up here for our daily LA email and be the first to get all the food/drink/fun Los Angeles has to offer.
Jeff Miller is taking himself to Ramen Champ tonight. For sure. He's at @jeffmillerla on Instagram and @ThrillistLA on Twitter if you want proof.