While you spent virtually all of August preparing for the Every Simpsons Ever marathon, a whole lot of other people totally didn't... which is how they actually had the time to open LA's 12 best new bars and restaurants of the month, including a bunch of new spots with sick burgers and what might be the coolest looking bar in Hollywood.
Mid-Wilshire
Now open in the old Mezze space, The Nice Guy is the first restaurant from the club dudes behind Bootsy Bellows and Hooray Henry's. It's a mafia-inspired joint focusing on unique, Italian-inspired goodness (duck banh mi pizza!), and cocktails served in flasks (seriously!).

Hollywood
This sammich shop may be set up in a truck, but that doesn't mean it's going anywhere: Free Range will stay stationary in Hollywood in front of Commissary Coffee at the Siren Studio space, where it'll sling stuff like honey/Sriracha-fried chicken biscuits and spicy avocado toast w/ egg.
Hollywood
Formerly a private event pop-up space, Genesis is now a regularly open drinkery above Sassafras, with a look that feels kind of like an abandoned cottage in the woods, and a bar that comes sans cocktail list; you just order what you want, rather than deal with any sort of mixology. Call it an anti-bar bar.
Santa Monica
We already told you about this killer addition to Santa Monica's burgeoning cocktail scene, but it's worth a refresh: drinks in lightbulbs, uni lobster rice, etc., etc., etc.

Downtown
This Downtown eatery's got classics like braised lamb shank and steak & potatoes, but its namesake dish is a little more out there: stuffed pastries filled with ingredients like chicken curry or shrimp scampi, then topped with an egg (!), folded like a burrito, and deep-fried. Read that again. Yep. So awesome.
Pasadena
This "paddock to plate" (yes, that's apparently a thing) meatery (that too!) is focused on super-clean proteins, which means all the from-animal ingredients used to make their half-pound truffle burger and 12oz flat iron are hormone-, steroid-, and antibiotic-free. Yay?

Hollywood
The newest you've-got-to-be-on-the-list-to-get-in-here oontzery in Hollywood actually does double-duty: there's a downstairs cocktail bar with rotating chefs doing small bites seven days a week, and an upstairs dance club on weekends only... so, if you want to dance on Tuesday, too bad?
Koreatown
The newest addition to Roy Choi's empire, this atrium-looking space in the Line Hotel in K-town crushes it with a seasonal menu on cards that feel like a choose-your-own-adventure book. Good news: you don't die on page 122. Instead, you just get some pork schnitzel in a spicy red sauce.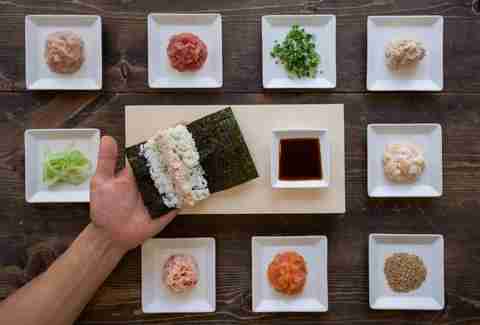 Downtown
The Sugarfish guys bring you this insanely casual, hand roll-only spot, which is great for quick lunches or drive-by dinners. $17.50 (yeah, you read that right) gets you five (yeah, you read that right, too) well-stuffed rolls, including lobster, yellowtail, and blue crab. Yeah, you read that right, too.
Culver City
Formerly Wildcraft Sourdough Pizza, this totally refurbished spot is also totally re-opened after a six-week hiatus, with an all-new menu of Northern Italian greatness including salumi tastings and hand-rolled short rib pappardelle.

Culver City
Sara The Wine Bar is a, um, wine bar (wo)manned by a lady named Sara. Crazy, riiiiight? Oh right: it's also got classic Italian eats like lasagna and Parmesan-topped meatballs to go with the vino.
Downtown
Legit-ifying the most illegitimate thing you regularly get in LA, Dirt Dog is dedicated to bacon-wrapped hot dogs, with a menu that includes a slew of variations on the classic (Portuguese bun, guacamole spread... you get the idea).
Sign up here for our daily LA email and be the first to get all the food/drink/fun Los Angeles has to offer.
Jeff Miller is a Senior City Editor for Thrillist LA, and he kinda wants to dance on Tuesdays. Follow him on Twitter @ThrillistLA and Instagram at @jeffmillerla.