Remember when it was insanely hot outside for, like, a week straight, and you were all, "I'm never ever leaving my house again for anything ever"? Well, it's back to being 70, which means it's time to get back out there, preferably to one of these eight (air conditioned!) new restaurants that opened in May. Oh, and we're making things even easier for you this month and breaking our list down by the best of everything -- from the best new sandwich, to the best new lunch spot, to the best new Valley bar.
Best New Gastropub: Harlowe (click here for address and info)
West Hollywood
The guy from Greenspan's Grilled Cheese is doing the food and crazy-lauded NY bartender Dushan Zaric is doing the drinks at this old Hollywood-feeling Santa Monica Blvd spot -- so whether you're going for solids or liquids, you're in good hands. Also: the whole thing's designed by the guy who did The Thirsty Crow and Sassafras, so the vintage is totally on point/there are a lot of Edison bulbs.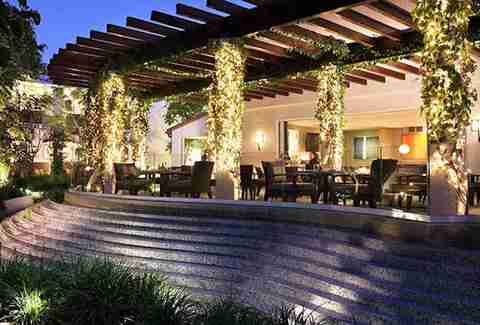 Best New Lunch Spot: Cavatina (click here for address and info)
West Hollywood
Tucked away in the already-tucked-away Sunset Marquis Hotel, this new, sorta business meeting-y restaurant's got a righteous burger and steelhead trout crudo in a location that's mid-city enough for both West-and-Eastsiders.
Best New Brunch: Terrazza (click here for address and info)
Santa Monica
Now open at Casa del Mar, this seafood-centric bistro makes its mark with brunch (more people should make their mark this way), and specifically with a mascarpone-topped buttermilk waffle and a gloriously sunny-side egg-topped pastrami hash.
Best New Valley Bar: Tunnel Bar (click here for address and info)
Sherman Oaks
This craft cocktail bar on Ventura's hidden behind the also-brand-new oyster/seafood spot Tipple & Brine, and has a distinctly rock feel, thanks to photos of Johnny Thunder and Patti Smith. The bar's run by a former Honeycut/Varnish guy, who's doing reformed classics (the sloe gin-based, Cuba Libre-esque Cuba Reforme) as well as "celebratory beverages" including a three-rum Hurricane.
Best New Patio: Stafford & Mathis Kitchen (click here for address and info)
Downtown
Now open at the Luxe Hotel right across from L.A. Live is this bold, new restaurant, which has two menus -- one a molecular gastronomy-laden list of chicken liver terrines and rhubarb chickens, and the other a more traditional grouping of linguini & clam and garlic-fennel mussels. Doesn't matter which you order off of, as long as you do it on their monstrous, just-in-time-for-Summer patio.
Best New Pastrami: Wexler's Deli (click here for address and info)
Downtown
The dude who used to be the chef at Mezze (RIP) is so food-obsessed, he literally had recipes on placards AT HIS OWN BAR MITZVAH WHICH HE HELPED CATER HIMSELF, so it's no surprise that the hand-cut pastrami he's shaving at this new stand in the Grand Central Market's selling out on the daily.
Best New Other Sandwiches: Paninoteca (click here for address and info)
Beverly Hills
The guy from Scarpetta apparently got bored of making incredible spaghetti and decided to open this hidden-in-the-back-of-his-main-restaurant sandwich shop, which's got egg-topped, three-day roasted porchetta (wut), chicken Parm, and house-roasted beef.

Best New View: Malibu Pier Restaurant and Bar (click here for address and info)
Malibu
The name says it all: this restaurant's right on the pier, which means you're right on the water, which means they're serving for-real sustainable seafood, like baked stuffed crab and artichoke-abetted sole.
Jeff Miller is the editor of Thrillist Los Angeles, and really could eat that pastrami right about now. He's at @thrillistla on Twitter and @jeffmillerla on Instagram.