Because, lately, your lunch game has been a lot more 2013 Los Angeles Lakers and a lot less 2010 Los Angeles Lakers, make D.J. Mbenga proud by getting back into championship lunch form this weekend with these five new LA sandwiches:
 
Blood Sausage Hero
Hero Shop (address and info)
Downtown
The Downtown sando outpost from the Black Hogg team has been steadily turning out solid banh mi-inspired 'wiches, and since Halloween is lurking around the corner, they're dropping a new blood(y) sausage and peppers hero, with smoky Spanish morcilla sausage and rich house pâté, topped with sautéed pasilla peppers, pickled daikon, carrots, cilantro, and jalapeños, all cradled in a crunchy baguette.
Crispy Chicken Sandwich
Faith & Flower (address and info)
Downtown
Downtown's gorgeous jewel of a restaurant 1) was just named one of the best in the US by Esquire, and 2) is now doing a prix-fixe, 30-minutes-or-less lunch, which means 3) burgers, rock shrimp rolls, and these beautiful creatures: fried chicken sandos with roasted tomato aioli and pickled onions.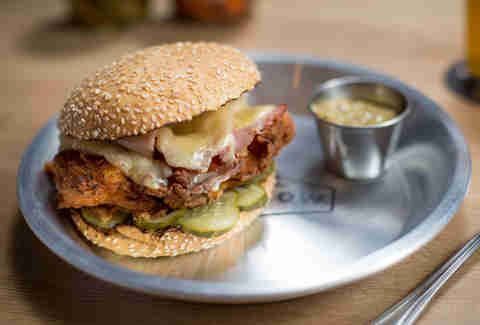 Fried Chicken Sando
Holy Cow BBQ (address and info)
Brentwood
Proving that being a BBQ joint doesn't mean you can't also do awesome fried chicken sandwiches (because you totally can, guys!), check out this new sandwich topped with a buttermilk-battered breast, Gruyere, and honey ale mustard on brioche. Yes.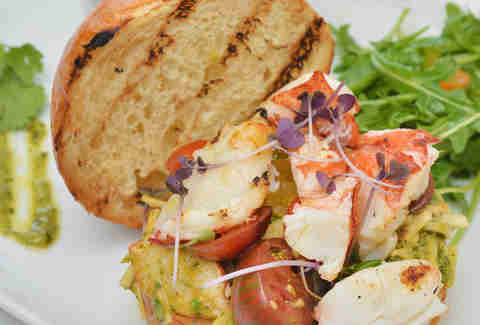 Maine Lobster Roll
Fig and Olive (address and info)
West Hollywood
This schmancy-ish spot is doing a new schmancy-ish sandwich with grilled lobster tail tossed with a basil olive oil mayo, harissa, scallions, and crunchy apple and celery root, served up on a thyme-spiked brioche bun. Because, duh, brioche.
Lamb Reuben
Rivabella (address and info)
West Hollywood
Remember that time when you were like "man, what could make this Reuben even tastier"? Well, Chef Luigi Fineo (no relation to Mario) totally heard you, and he's like, "what if I sous vide this lamb for four hours with tons of Reuben-style spices and serve it up with pickled red cabbage, homemade Russian dressing, and Swiss on dark rye bread? Would that do it for you?". The answer is yes.
Sign up here for our daily LA email and be the first to get all the food/drink/fun Los Angeles has to offer.
Danny Jensen is currently stuffed between two pieces of bread himself. He's @dannyseamus on Twitter.