5 brand-new sandwiches in LA that're way better than your sad lunch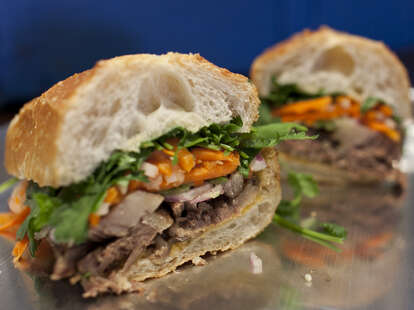 Los Angeles Celebrate the supreme simplicity of one of our greatest modern marvels -- Captain America!... wait, no... sandwiches! -- this weekend by chomping into one (or all! Try for all!) of the five best new sandwiches around town.
Bison Meatloaf at Stamp Proper Foods: A: Can meatloaf be healthy? B: Do you care? (A: Yes; B: No). Gather the herd, and stampede (get it??) into this new Los Feliz marketplace below the Mess Hall for a juicy slab of low-fat/high-flavor bison loaf served on sourdough, along with spicy ketchup, sharp cheddar, and no regrets. Continue Reading
Fatty Brisket at Hero Shop: Chef Eric Park of Silverlake's Black Hogg lays down the sandwich law at his slick, new, banh mi-inspired Downtown nook. The monstrous fatty brisket -- loaded with slow-roasted Angus beef, pickled daikons, cilantro, jalapeños, and chili mayo -- will utterly humiliate your coworker's pepperoni pizza Lunchables.


Citrus Sardine & Shaved Fennel at PICNIK: Even if you consider yourself the Abe Froman of LA, you'd be forgiven for diverting from your kingly favorite at this new Pasadena sausage house, where you can score a Summery sammich made with house-cured sardines, mustard seed vinaigrette, and shaved fennel all plopped on a fresh baguette. And in case you wanna make it a liquid (and sandwich) lunch, order up a cold one from the extensive and rotating craft beer menu.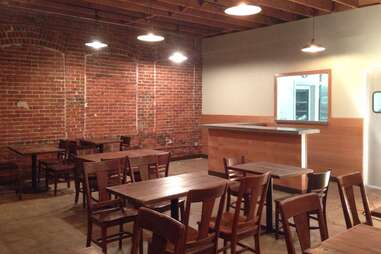 Pulled Pork at Trencher: If your shop is named after the Middle Ages' precursor to open-faced sandwiches, it's pretty much a requirement that you get Medieval when it comes to putting meat on bread. Trencher does exactly that with this new, fluffy brioche bun packed with roasted and rubbed pork shoulder, spicy habanero slaw, and Coke-less cola sauce.


Chicken Oysters Po' Boy at Art's Table: This must-eat po' boy comes loaded with the oysters-of-the-land: delectable dark meat chicken coveted by izakaya experts and food nerds alike. At this new SM casual spot, they're fried-up with a cornmeal crust and bun-ed along with bacon chips (!) and habanero mayo, and served with a side of potato strings and Brussels sprouts slaw.