The 11 Best Southern Food Spots in LA
With a smattering of comfort food restaurants opening in the last few months, LA has taken its already next-level Southern eats to the next next next NEXT level, one that thankfully still includes lots of muffulettas. Here are the 11 best of 'em, along with what to order at each:

Downtown
What you're getting: Crescent City Fried Oyster Po'Boy
One of the most beloved-yet-under-the-radar openings of the last year, TLJoNO aims for and accomplishes straight-up recreations of NoLa's finest food, including crawfish mac & cheese and this must-eat sandwich, both crispy and chewy at the same time.

Downtown
What you're getting: Frog legs
Grossed out by frog legs? Sucks to be you. The Southern specialty is straight-up fantastic, and this new spot has chefs straight from New Orleans ready to prove it to you.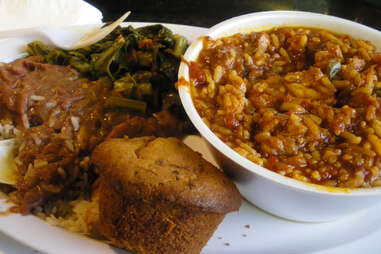 Mid-Wilshire
What you're getting: Gumbo
Okay, so someone who just moved to LA from NoLa might house this gumbo from the beloved longtime Farmer's Market stand and be a little let down -- the flavor's not as deep as it can be in the actual South, and the spiciness just doesn't have the expected kick. That said, though, in a land where there's not a ton of options, this is the best of them. Plus, the collard greens are fantastic.

Agoura Hills
What you're getting: Biscuits and gravy
This Agoura restaurant is NOT a Southern food spot -- in fact, the chef is from Germany, about as far away as you can get. But he's versed in sausage, and the little chunks of the protein are the key to this creamy, buttery, crazy-good dish.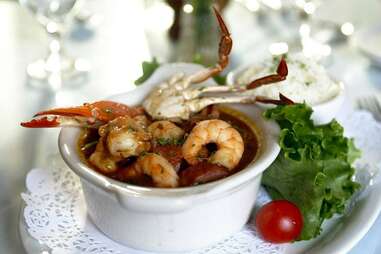 Leimert Park
What you're getting: Crawfish etouffee
If you're looking for old-school Southern cooking, you can't get older-school than Harold & Belle's: they've been at it since 1969, making everything from meatloaf to catfish. The go-to is the creamy etouffee, though, like everything else there it's made with a tried-and-true recipe passed down through generations.
Multiple locations
What you're getting: Fried catfish
You're going to sit in this no-frills restaurant in Inglewood, or Carson, or Leimert Park, and order the catfish, and probably the mac & cheese, and hopefully you'll be with someone else so you can also get some rice and beans and ribs. You're gonna take a bite. And then you're gonna take a whole bunch more.
Inglewood
What you're getting: O.G. Orlean Muffulettas
This beloved deli (which is expanding with locations opening soon in Carson and Downtown) serves up specialties from two very disparate-yet-great American cities -- which, no coincidence, ranked #1 and #2, respectively, on our list of the best food cities in the US. O&Y goes for purity, which's why the Muffuletta stands apart: no gourmet newfangledness, just classic mortadella, salami, capocollo, Swiss, provolone, and olive salad smashed between gluten goodness.

Long Beach
What you're getting: Oxtail (Sundays & Wednesdays only)
A favorite of BBQ master Bigmista, Sal's has classics like BBQ shrimp and gumbo seven days a week, but they bring out the big guns on Wednesday and Sunday -- not just the oxtail, but turkey necks and Southern-fried turkey chops, too.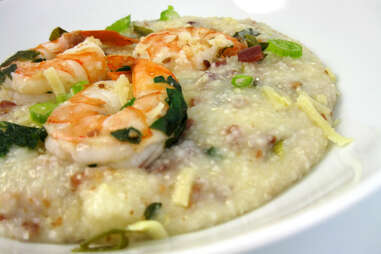 Mid-Wilshire
What you're getting: Shrimp & grits
It's easy to drive past this no-frills, neighborhood mini mall spot with a genre-less name and not look twice. It's also a mistake. Chef/owner Alisa Reynolds' food is infused with deep-South joy, which makes its way into everything from the pumpkin pie to the perfectly creamy, perfectly savory shrimp & grits.
Various locations
What you're getting: Beignets
This roving breakfast-mobile is all about the beignets (no treble), based on the classic recipe from Cafe Du Monde. Are they as good as the originals? They're covered with enough powdered sugar that it really doesn't matter.

West LA
What you're getting: Pecan pie
Wait, the BURGER place? Yep: the pies are also extraordinary, and the well-crusted pecan pie is one of The Apple Pan's best (we can't call it THE best, 'cause, well, that'd be the banana cream pie).
Sign up here for our daily LA email and be the first to get all the food/drink/fun Los Angeles has to offer.
Jeff Miller is the Editor of Thrillist LA, and really wants to walk down Bourbon St right now. You can commiserate with him at @jeffmillerla on Instagram and @ThrillistLA on Twitter.