The good thing about the best pizza in LA? Um, hello -- it's the best. The less-good thing about the best pizza in LA? You've already eaten your way through most of it. And that's exactly why we've assembled this: our list of the 13 best under-the-radar pizza places in Los Angeles, none of which you'll find on any of the most recent "Best Of" pizza lists from the LA Times, LAist, LA Weekly, or us.
Recommended Video
Ghost Kitchen: How This NYC Restaurant Is Responding to Coronavirus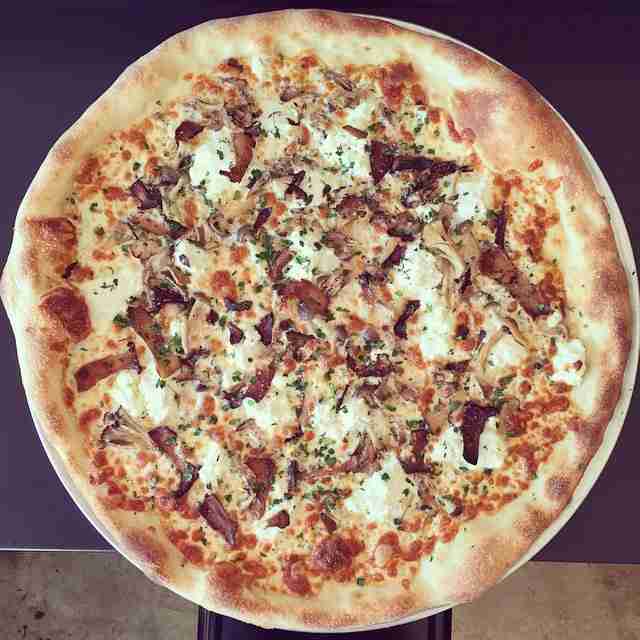 Mid-Wilshire
Okay, this is kind of cheating: since this simple-feeling, NY-style slicery opened less than a month ago, it hasn't had time to make its way into anyone's "Best Of" lists yet, which is our way of saying you should go now and beat the line. It's from the guys behind some of LA's best burgers (Golden State), best breakfast burritos (Cofax), AND best BBQ (Bludso's). It's one list away from utter mayhem.
 
Valley Glen
This Valley staple is one of those places that's been a neighborhood favorite for so long it's easy to forget it exists. Don't. Instead, make the trek for oozing, dripping, Neapolitan-style pies, served the same way since 1945.
Venice
Like the pizza at Gjelina (which's made a ton of "Best Of" lists), but don't like the, uh, attitude there? Check out the mellower, close-by South End, which does similarly puffy personal pies with similarly high-end ingredients (if you've got the munchies, you're definitely going to want the High Sign w/ smoked bacon, mozzarella, Fontina, and thyme).
 
Silverlake
This recently opened, not-the-Eastside Eastside favorite is cranking out all sorts of deliciousness in a wood-burning (get it???) oven, including a white pie with Brussels, smoked mozz, and crispy pancetta.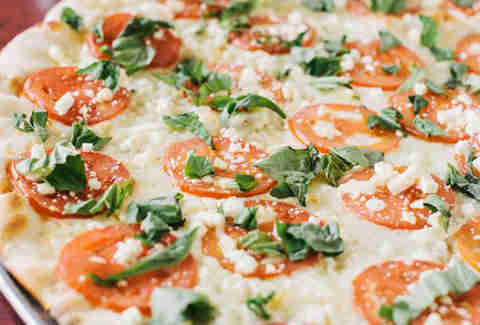 South Pasadena
Another neighborhood spot that deserves more widespread recognition, Mamma's has been filling the stomachs of Pasadeners for years with aged, hand-tossed dough made with secret-imported-from-somewhere-proprietary-water and baked in a 700lb brick oven.
 
West Hollywood
Vito's only serves 18in pies -- take it or leave it -- which come in all sorts of unusual variations. Our favorite? The serrano-sauced pie, with sautéed onions and your choice of chicken or meatballs (get the meatballs).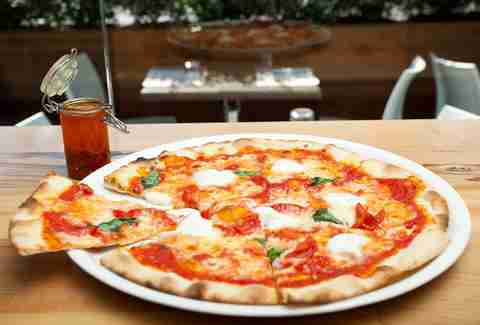 West Hollywood
This sorta-schmancy Robertson Blvd Italian spot's got two lauded chefs making Southern Italian pies, once of which you're pretty much required to order at least once (/every time): La Pugliese -- a doughboy with mozzarella, rapini, sausage, roasted tomato, burrata, and caciocavallo cheese.
 
Koreatown
This beloved strip-mall spot serves homemade pies inspired by the Romagna region of Italy, which means deeply flavorful red sauce atop a thin crust topped with classic ingredients: crispy pepperoni, breaded eggplant, etc., etc., etc.
Westchester/Playa Del Rey
You know when your friend is all like, "let's get pizza. But not from a chain. Let's get the good pizza". Yeah, this place capitalizes on that. And they should. Because it's ridiculously good (oh, they also have a pizza topped with BBQ chicken and FRENCH FRIES. So there's that, too).
 
North Hollywood
An iconic logo isn't all this standby offers: they've got customer graffiti-covered walls, monster subs, and of course, quality pies, with a deeper-dish style than most LA 'za.
Downtown
When they opened, we told you all about their Nutella pizza -- but the truth is that in the year since, Pellicola's proven to be the most reliable pie Downtown, with a simple, 'til-3am menu of killer, fresh ingredients cooked into a perfectly bubbly crust.
 
Eagle Rock
The only pizzeria anyone ever talks about in this 'hood is Casa Bianca, and that's a shame: Brownstone crushes too, with $1.99 slices (!) and high-quality, classic toppings.
 
Mid-Wilshire
One of those delivery pie spots that's always better than you'd expect, Apollonia's is notable both for great versions of classic ingredients (organic produce! Homemade sauce!) and crazy-exotic ingredients (rattlesnake sausage! RATTLESNAKE SAUSAGE!).
Sign up here for our daily LA email and be the first to get all the food/drink/fun Los Angeles has to offer.
Jeff Miller is Thrillist LA's Senior City Editor and he'll have the pepperoni, thanks. He's at @jeffmillerla on Instagram and @ThrillistLA on Twitter.