Boldly going where no pizza joint has gone before, Pellicola Pizzeria -- a Downtown slice-house from a lauded NY pizza dude and the guys behind Seven Grand -- just dropped the pinnacle of sweetness: Nutella Pizza, a wondrous ode to the hazelnut-chocolate spread that got you through that time Joey and Dawson broke up. And also that time Joey and Pacey broke up. And also that time... Dawson and Pacey broke up?
Recommended Video
You Can Now Get Artisanal Twinkies Delivered to Your Door in NYC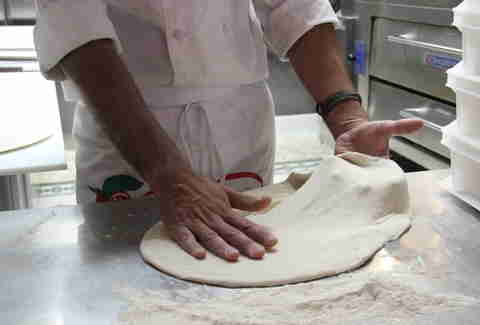 This isn't just a matter of making a regular pie and tossing Nutella on it. Unlike every other pizza made in the history of mankind where you try to get the air to the edge of your dough, the challenge here is "keeping the air inside"...
... so that when it goes in the oven...
Why's it gotta puff? 'Cause it's STUFFED WITH NUTELLA and you basically have to make it like a giant sandwich. A giant, NUTELLA PIZZA SANDWICH!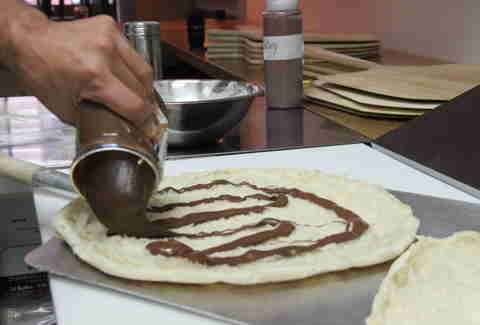 Once the bad boy's cut open, he hits it with an enormous amount of Nutella...
... and tops it with a crunchy layer of almonds. Nuts, right?
From there, he takes the other slice of dough and sandwiches both together...
... sprinkles it with a crazy amount of powdered sugar, 'cause it ain't sweet enough yet...
... and of course, another spiral of Nutella. Just in case.
In the words of Donatello when you stole the full-life pie in Turtles in Time (even though your little brother had less health and totally needed it), "Pizza time!"
Oh, and did we mention they're open 'til 3a?
Previous Venue
Next Venue
Venue Description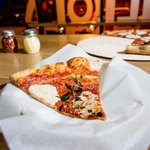 1. Pellicola Pizzeria
421 8th Street, Los Angeles, CA 90057
The 213 LA guys (who are behind some of LA's best bars, including the Varnish and Seven Grand) seem to always get it right, and this downtown pizzeria is no exception. Pellicola serves pizzas by the slice or by the pie, and flavors range from simple pepperoni to loaded vegetarian. It's open late every night (1am Sunday-Wednesday, 3am Thursday-Saturday), and black-and-white Italian movies are projected on a big screen nightly, so you'll likely want to sit and stay a while. Come extra hungry though -- Pellicola makes must-try Nutella dessert pies.