The Umami Burger guy wants to feed you chocolate fried chicken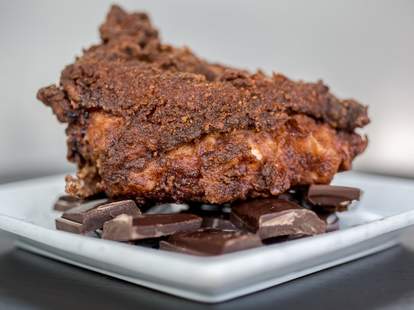 For the last year, you've likely heard rumblings that the Umami guy was part of a crew opening up a restaurant that's merging two of life's most extraordinary foods: fried chicken and chocolate. Well, ChocoChicken is now open, and we've got the deepest-cut look you'll see anywhere.
Dustin Downing
If you're still thinking, "Wait, fried chicken AND chocolate?", then um, yes: the chicken's brined in a secret recipe for 36 hours (!) before being dipped into a secret spice blend that includes bittersweet chocolate powder (wut?), giving the chicken a totally unique flavor and chocolate-y mouthfeel. You can order by the piece...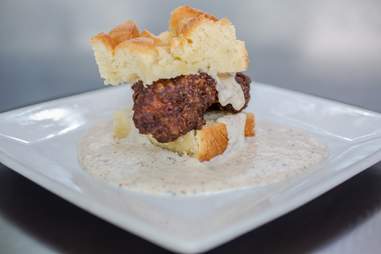 Dustin Downing
... or as part of a sandwich on a Monkey Bread biscuit (bacon or "regular") that's smothered in homemade gravy...
Dustin Downing
... or topped with 'slaw on a brioche, served alongside cocoa-dusted fries and sauces including a chocolate ketchup. A CHOCOLATE KETCHUP.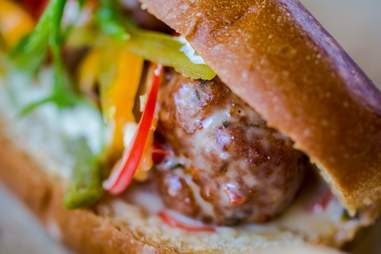 Dustin Downing
Next-next level? This is a sandwich stuffed with meatballs THAT ARE ALSO STUFFED WITH CHOCOLATE. Man, this place is heaven.
Dustin Downing
You're going to want to wash down the food insanity with drink insanity, and they've got you covered at this massive bar, which's got great drinks like...
Dustin Downing
The Choco-Chocolate Martini: Grey Goose, vanilla, milk chocolate, dark chocolate, and espresso.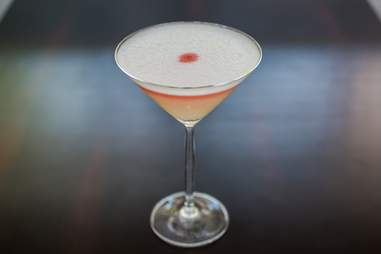 Dustin Downing
The Zero: Grey Goose, lemon juice, egg white, Peychaud's Bitters.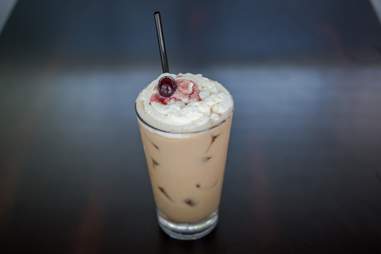 Dustin Downing
The Angry Cock: Bwahahahahaha, "The Angry Cock"! Oh, right: bourbon, creme de cacao, walnut bitters, egg white, root beer, and alcoholic whipped cream.