Every single course at an omakase-only sushi joint from a tsunami survivor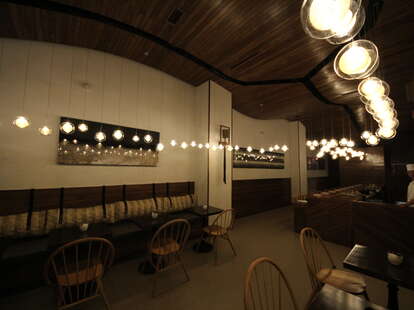 All images by Jeff Miller
Not just what you call James Bond's Quartermaster's nigiri roll, Q Sushi's also a new omakase-only restaurant whose chef owned a teenie-tiny sushi bar in Japan before the tsunami knocked his original location out and he was poached by a trio of lawyer restauranteurs to open this crazy-traditional, sexily-designed spot. The omakase'll include about 20 courses of his choice, every night. What's it like? Glad you asked...
Hiro's name should be spelled with an 'e', because he'll be yours, saving you from the plight of less-than-fantastic sushi with superpowers like...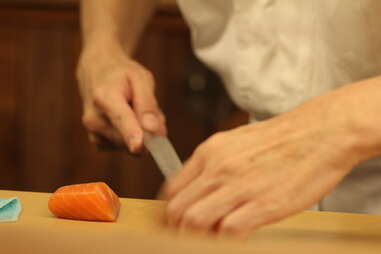 ... and fresh wasabi-grating! Yes, everything'll be made in front of you, and yes, the fish'll change depending on what's fresh, and yes, yes, yes -- we ate all 20 courses and took pics of every one...
You'll start with seared mackerel sashimi, topped w/ just a hint of scallion...
... and move on to impossibly tender surf clam, with cucumber and a creamy uni sauce.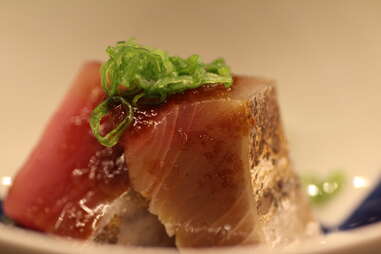 We're obviously just at the beginning, but here's your first MVP: bonito topped with a house-made onion sauce...
... and here's the next one: radish-topped monkfish liver, mild enough that it won't scare-off sushi newbies, and unctuous enough that it deserves its nickname: the foie gras of the sea.
Actually, you're not gonna believe this, but even the house-made miso's next-level. It's reduced for extra thickness, and then layered with onions for full-bodied flavor.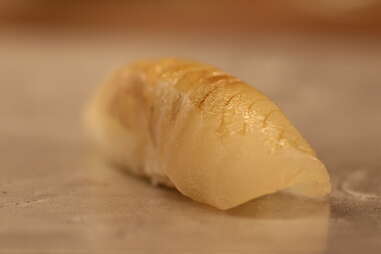 OH BOY HERE WE GO. Fluke, topped w/ scratch soy sauce, atop a vinegary traditional rice that's less sweet (and more al dente) than the somewhat-sweet stuff at some of the best LA sushi joints.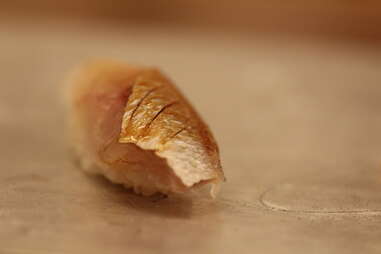 This here's salty Japanese baby snapper...
... marinated Spanish bluefin and house-made pickled ginger...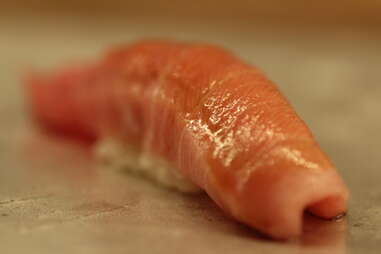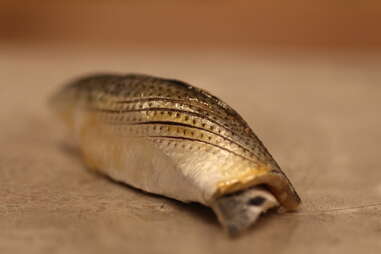 ... and the hard-to-find sport fish shad, marinated in vinegar and salt for major, major flavor.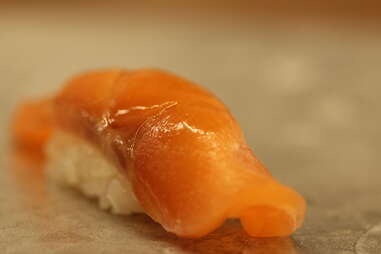 You thought they were done? Bwahahaha--no. You're gonna eat some Scottish salmon...
... some New Zealand golden-eye snapper, which you'll devour using your slappers-only...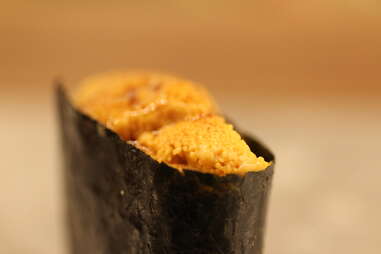 ... and uni, surprisingly from San Diego rather than Santa Barbara.
Inago, aka sea eel, is served light on the sauce, in order to bring out its natural flavor...
... while the tamago, aka egg, is ground and cooked with shrimp to give it a savory umami flavor, which makes it pair greatly with the traditional sweetness of the dish.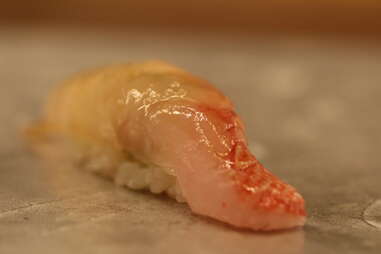 That's where the set menu ends... unless you want more. You want more, right? Something stupid-good, maybe? Here comes "idiot fish"... and it has an amazingly buttery finish.
You're going to want this toro roll...
... and, if you have room (editor's note: you have room), this white shrimp.