The ultimate Los Angeles food fest calendar
LA is home to many, many months of many, many, MANY outdoor food festivals, which is all the more reason to have a calendar that maps out all the ones happening between now and December. Now, where do you think we could find one of those... ?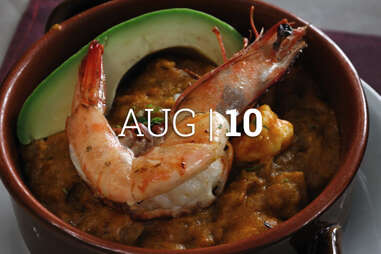 The food: Ecuadorian (think potatoes w/ roasted pig and fish ceviche)
The entertainment: Ecuadorian musical groups, a raffle (winner gets two plane tickets to Ecuador!), and folklore customs
What else: F-R-E-E admission, and the 16th annual parade (celebrating Ecuador's Independence Day) starting at 11am
The food: Ramen, duh (with noodlers from LA, SF, Vegas, and Japan helping you get your slurp on)
The entertainment: DJs with silly names like Icy Ice and DJ Koki playing all weekend long
What else: The World Gyoza Eating Championship. Yep... that's happening.

The food: Three hours devoted to the American staple and its essential sides (with bites from top spots like Eggslut and Superba Food & Bread)
The entertainment: A DJ, 'natch, and (OMFG!!!!) a balloon artist
What else: Homie festival planner Josh Lurie at Food GPS has literally thought of everything. For when you're sick of fried chicken, they've got cupcakes from Sprinkles and ice cream from McConnell's.
The food: With eats from celebrity chefs that include Mozza's Nancy Silverton and Top Chef's Marcel Vigneron, this three-day event is comprised of mini-events like a Hinoki & the Bird lunch and a cooking demonstration by Iron Chef Morimoto
The entertainment: They haven't announced music yet, but performers in the past have included Questlove and Train
What else: Each night's got an invite-only after-party that gets wild. Last year's included live mermaids (seriously).

The food: 72hrs of good, old-fashioned BBQ, with a highly anticipated rib cook-off. It may not be in LA proper, but it's worth the day trip.
The entertainment: Traditional country music from the Grand Junction band on Friday, and a little blues for your soul on Sunday
What else: Cantinas serving beer and wine, plus... line dancing? You're damn right line dancing.

The food: TBA -- guests are asked to dress in white (Diddy-style) and bring food and beverages for themselves and others. Think of it like a potluck... but with sexy strangers.
The entertainment: Mingling (some may call it networking) with fellow Angelenos
What else: Get your Maps app ready -- the location of the pop-up is revealed the day of the event
The food: Apparently the most "authentically LA" event of the season, The Taste 2014 will feature fare from popular LA restaurants like Mud Hen Tavern, Eveleigh, and The Church Key
The entertainment: Knife skills and culinary demos from LA's crème de la crème at most events, plus -- 'cause he can't self-promote enough -- Thrillist Editor Jeff Miller's Black Crystal Wolf Kids will play the opening party on Friday
What else: Never been on the lot? Here's your chance; the festival takes place at Paramount Pictures Studios.
The food: This Asian-themed fest is taking over Santa Anita Park after spending time earlier this Summer in Orange County and Downtown, with bites of ramen, skewers, and gyoza
The entertainment: Over 200 attractions, including crafts and games, along with a dance floor and DJ
What else: Bobasaurus, the largest cup of boba tea, will be on display. Hopefully someone doesn't accidentally drink it (WIIIIIIIINK).
The food: For $20, you can get a full-on lobster lunch. Plus, there are other vendors doling out chowders, fried lobster, and more.
The entertainment: This is as much a music fest as it is a food fest, with something-for-everyone bands including '80s-rockers Berlin, metal-mariachi mash-uppers Metalachi, and indie-doo-wop updaters The Damselles & TC4
What else: There's a pirate camp. With a pirate show. Yes. Pirates.
The food: This fest is all about cheesy Italian food: pizza, stromboli, more pizza, more stromboli...
The entertainment: There's always a slew of Italian-American singers, dancers, and more, plus -- usually -- Jimmy Kimmel. But everything's still up in the air right now.
What else: Carnival rides and games, mostly for kids. Or big kids.
The food: Pizza, pasta, and more from a crapload of great carb-ateurs, including Deluca Trattoria and Naples Ristorante y Pizzeria
The entertainment: Live opera... if that's your thing
What else: Admission comes with drink tickets. For the opera.
The food: Still TBA, but last year, chefs from Short Order and Beachwood BBQ blasted the red rooster goodness down attendees throats
The entertainment: Also TBA, but likely a DJ and more
What else: Craft beer, cocktails, and the guy who wrote the book on Sriracha signing autographs
The food: Just as the weather starts to cool down (or not, whatevs), spend the day Downtown sampling two traditional Mexican stews: menudo (beef tripe and hominy stew soup) and pozole (chicken, pork, chili peppers, and hominy stew soup)
The entertainment: Live music TBA
What else: A beer & wine garden, and a Thanksgiving-timed giveaway of 100 free turkeys
The food: Multi-national tamales from Mexico, Nicaragua, South America, and more
The entertainment: Cultural crafts and cultural festival games. Cultural.
What else: Beer & wine garden and TBA live entertainment

Jessica Ingber is a Thrillist contributor, and in case you need her, she'll just be over here, signing up for pirate camp. Follow her on Instagram, matey.