LA's 11 best under-the-radar burgers
Flintridge Proper
Flintridge Proper
Ever notice how all of those "Best Burgers in LA" lists mention the same 20 hamburgers? While yes, Apple Pan, Father's Office, Golden State, Umami, Hungry Cat, and Rustic Canyon all make really, really good burgers, this is actually a city with like a billion burgers -- so there's gotta be other great burgers out there, right? RIGHT?!? Right.
These are those burgers; a collection of under-the-radar gems that haven't appeared on any of the latest "Best Burgers in LA" lists from 1) LAist, 2) the Los Angeles Times, 3) Eater LA, 4) Los Angeles magazine, or 5) LA Weekly.
The Restaurant: The Larchmont (click here for address and deets)
The Burger: The Larchmont Burger
The formerly not-very-special Larchmont Grill was quietly taken over last year by a team that includes chefs from Chez Panisse and Caulfields, and they've put out this burger that ranks among LA's best ever: perfectly cast iron-seared grass-fed beef w/ cave-aged Kaltbach, buttered onions, slow-roasted "overnight" tomatoes, and house-made aioli on a brioche. (See those fries in the back? They're ridiculous, too.)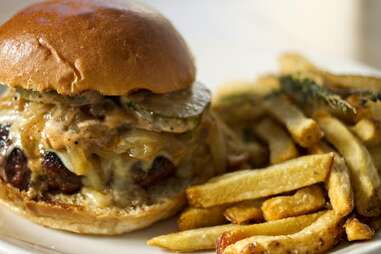 The Restaurant: Mess Hall Kitchen (click here for address and deets)
The Burger: The Mess Burger
You'll end up wearing some of this burger... in particular, the smokey sauce... and the slow-cooked onions... and the pickles... and the cheddar... and you'll be totally fine with it.
The Restaurant: JNJ Burger Shack (click here for address and deets)
The Burger: The Four Finger Beef Burger
It's called the Four Finger burger because it's stacked as high as four fingers -- in other words, this guy's monstrous. For $7, you get your weekly allotment of awesome: two hand-pressed patties topped with cheese, two hot dogs, bacon, and a fried egg. Pro tip: their BBQ spot next door has incredible homemade spicy sauce you're gonna want to dip this ground beef sandwich into.
The Restaurant: Mo's Fine Food (click here for address and deets)
The Burger: The Royale with Cheese
This long-standing casual restaurant's been doling out great burgers since 1995. They got rid of a top-your-own-burger bar a few years ago (RIP), but still do both custom jobs and this signature burg, which's got tempura pickles (?!?), white cheddar, crispy polenta, and Marsellus Wallace's soul.
The Restaurant: Dog Haus (click here for address and deets)
The Burger: The Motley Bleu
So, this place just won every damn award at Pasadena's Cheeseburger Week, but can't get any critical acclaim? What's up with that? Just look at this thing: a Hawaiian roll with a juicy patty, topped with bacon, arugula, onions, and a smattering of not-too-strong-but-totally-delicious bleu cheese.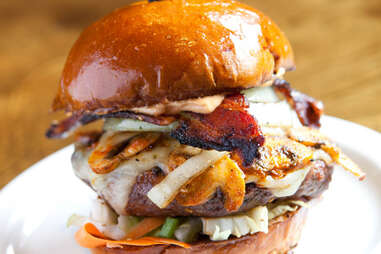 The Restaurant: Slater's 50/50 (click here for address and deets)
The Burger: The Sriracha Burger
Somehow, we left this off our list of epic LA Sriracha dishes, but we're totally down to make up for it here. All of Slater's patties are made with a half-bacon, half-beef blend that's unlike anything you've ever tasted. This man-held is next-leveled with hot sauce COOKED RIGHT INTO THE BURGER, and then topped with a mushroom sauté, pepper jack cheese, and thick-cut Sriracha-bacon ribbons... 'cause you've obviously won a prize. And that prize is obesity!
The Restaurant: Flintridge Proper (click here for address and deets)
The Burger: The Proper Burger
Even if they didn't have an amazing burg, it'd be worth a trip to this way-East (and okay, kind of North, too) casual spot, since they have the largest gin selection in the world (seriously!). So order a Pimm's Cup with this kinda-upscale Big Mac: a grass-fed, house-ground patty with homemade American cheese, homemade Thousand Island dressing, shredded iceberg, and optional (hahahahahahaha) twice-smoked bacon.
The Restaurant: Seoul Sausage Co. (click here for address and deets)
The Burger: BBQ Beef Burger
Have you ever gone to KBBQ and thought, "You know what would make this even better? If they ground all this meat up, put it in a patty, and topped it with pickled onions"? These guys clearly thought that too.
The Restaurant: Blue Dog Tavern (click here for address and deets)
The Burger: El Scorpion Burger
This right-where-the-405-meets-the-101 beer bar's quietly made the Valley a place you actually want to go to, thanks to a great selection of brew-dogs and burgs like our pick, the El Scorpion, which's topped with jalapeno cheese sauce, re-refried beans, and homemade tortilla chips.
The Restaurant: The Standing Room (click here for address and deets)
The Burger: The Neapolitan
Calling this place a restaurant is really not accurate. It's a deli counter in the back of a liquor store, with no seats or tables at all. But the South Bay-favorite totally destroys in its burger game, with a slew of options with crazy ingredients... like this guy, which uses an Angus beef patty abetted by short rib trimmings, a layer of cheeses, is topped with an egg and more short rib, and then stacked atop truffle fries. Somewhat ironically, standing is going to be hard once you're done.