France's foodie publication throws a sweet eating fest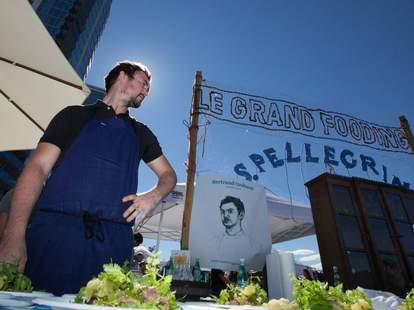 Photo by Francesca Signori
Easily the most awkward thing you'll say out loud today unless you go visit your friend who sells seashells by the sea shore, Le Grand Fooding Crush Paris --> LA is the first local edition of a decade-old international food fest from an internationally renowned foodie magazine that's bringing some of the best chefs from Pareee to Los Angeleeee to prepare an outdoor, picnic-style feast for two days alongside some swell local toques. Who are these people? They include..
Gregory Marchand: His Paris restaurant is named after your favorite style of non-Eskimo kissing (Frenchie), and it's booked two months or more ahead; for Le Grand Fooding he'll be doing lamb sliders, aka what they called the show when they slashed the budget in the eighth season and replaced the actors with young sheep. Photo by Noah Fowler

Ludovic Lefebvre: The thick-accented Taste judge's working with the Animal dudes to finally open his own LA resto, Trois Mec, after all those years of LudoBites pop-ups. He'll be previewing the tiny, set-menu space w/ typically kinda-weird-sounding but likely flavor-exploding orange-candied barbecued carrots with mascarpone

Jean-Francois Piege: This double-Michelin-starred chef was voted by his peers as Chef of the Year a couple years ago; here, he's gonna collab with the Chateau Marmont woman on what sounds like the most epic mash-up since, well, people started using the word "mash-up": drinkable pizza. Yep. Drinkable. Pizza.
Photo by Noah Fowler