Literally. Eat. The. Entire. Menu.
Corazon Y Meil's a kind-of-Latin gastrobistro from a former Animal chef in the not-as-far-away-as-you-think (10min from Downtown!) hamlet of Bell, and they've got one of those insane menus that makes it impossible to decide what to get. Which is why you no longer have to: on weeknights, a group of up to five people can tell 'em to "Fire The Menu", and you'll get literally everything they're serving for about 20% off the price it'd be if you ordered the items individually. And, to help you prepare to lay off the menu, here are some damn sexy photos of the top 10 things you could end up stuffing your face with.
10. This is a fun date, mostly because it is wrapped in crispy bacon and served w/ whipped Cotija cheese.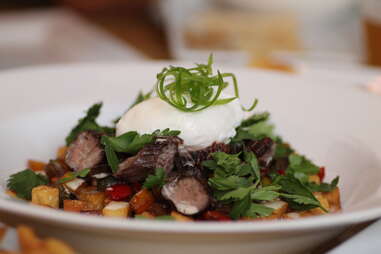 9. This poached-egg-and-BBQ-steak-topped "lomo hash" could have been called loco hash, because it was crazy, crazy good.
8. A Chilean-spiced dessert so tasty, it inspired this Facebook comment: "That chocolate thing... we don't even have a name for it, it was so good. Can we refer to it heretofore as "The Chocolate Event"? Like the Tunguska Event, but with chocolate? ...'Then came that fateful June afternoon: the day of The Chocolate Event.'" So yeah, get that.
7. The "scariest" of the top 10, and not because you're eating vegetables: underneath those frightening onions are super moist, extra flavorful... chicken hearts.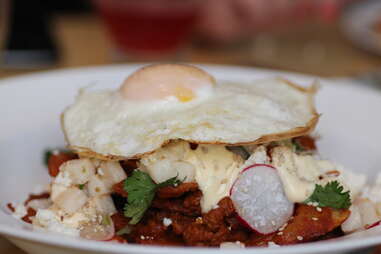 6. These surprisingly not-heavy-tasting wild boar chilaquiles were picked at... then picked at some more... then, somehow, they totally disappeared into a skinny girl's gullet. Radishes and all.
5. There were three similar sandwiches, but only one could win a place in the countdown -- a burger, a lamb burger, and this pork belly monster, which has hints of Animal's classic sliders in its prep. So, yeah, this one is the winner.
4. You gotta drink something -- and this Michelada isn't included in the Fire The Menu price, but, yo, order it anyways. Seriously. Look at that lime.
3. This is a fried avocado, covered in coconut crust, and served with a mango & habanero chutney. When you cut into it, it's perfectly green and creamy. Plus, unlike most crazy-fried food, you don't need to avoid eye contact with carnies while eating it.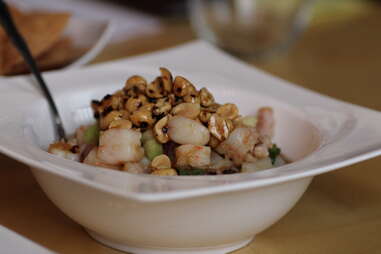 2. Somehow this Asian-influenced ceviche of shrimp, octopus, and burnt peanuts rises above its cured-seafood peers, thanks to chewy-not-tough tentacles and a marinade with umami-hints of Worcestershire sauce and the sea.
1. The champion, without question: this ENTIRE G-DAMN 2LB TURKEY LEG that's so tender you can rip the bone right off, which sits atop gloriously greasy bread and is topped with coleslaw. Winner, winner, turkey dinner, indeed.