Because (obviously) the dude who runs the blog Food GPS has teamed with the dude who wrote The Sriracha Cookbook, on October 27th, the first-annual LA Sriracha Festival is happening. It's a DJ-backed ode to the only cock-sauce that's socially acceptable to keep in your pantry, which is inarguably the greatest hot sauce on the planet. So what does the $49 admission get you? Glad you asked

Food: A schload of LA's best restos are doling out spicy treats, with must-haves including Guerilla Tacos (a tortilla stuffed w/ honey dates, cauliflower, and cashew-Sriracha chile negro), Short Order (a toast piece w/ smoked albacore, tumeric, garlic, Meyer lemon, tomato jam, and lacto-fermented Sriracha), and the above-pictured Beachwood BBQ braised-and-glazed Sriracha rib, of which you're unlikely to be left with spares. Get it? GET IT?

Drink: Because you're obviously going to need something to wash down all that heat, they've got top bar-dudes Josh Goldman and Matt Biancaniello making... spice-spiked mixed drinks (well there goes that idea), including a concoction of mezcal, tequila, passion fruit, and homemade Sriracha. They've even managed to spice the non-alcoholic offerings with spiced-up ginger ale. And if you absolutely must give your taste buds a break, there'll also be brews from Eagle Rock, Beachwood, and Firestone Walker

Dessert: Yeah, like they weren't gonna go there: super-lauded ice creamery Scoops has made a Rooster Sauce scoop. But they neglected to pair it with a Tums scoop, so you're on your own there.
Recommended Video
You Can Now Get Artisanal Twinkies Delivered to Your Door in NYC
Previous Venue
Next Venue
Venue Description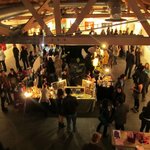 1. Lot 613
613 Imperial St, Los Angeles, CA 90021
Lot 613 is home to a ton of LA-based events and lively happenings. Most nights are filled with elaborately decorated music-based parties, or even Sriracha Festivals. No matter the reason, this place always throws a good time.